iOS 8.2 Update on iPhone 6 Plus: Impressions & Performance
Read our early iOS 8.2 review on the iPhone 6 Plus to decide if you should install this major update now or wait until closer to the Apple Watch release date in April.
Apple's iOS 8.2 update arrived in the afternoon on March 9th after the Apple Watch event. The update delivers a range of fixes, increased stability and installs the Apple Watch app that is required to pair with an Apple Watch and to install Apple Watch apps. For now the only thing you can do is watch Apple Watch videos, but it will be the way to control what is on your Apple Watch once that release arrives.
After a lengthy beta test the iOS 8.2 update is now available for any device that runs iOS 8. The free update is easy to install while connected to WiFi and there is a long list of fixes.
The iOS 8.2 update is a major upgrade that packs in dozens of listed fixes and many more improvements that Apple doesn't call out in the list of what's new in iOS 8.2 change log. With larger updates like this some users are more concerned about the performance and what it might do to older devices. On a new device like the iPhone 6 Plus these concerns are not as great, but after a botched iOS update last year even new iPhone users are reading iOS 8.2 reviews before installing.
After spending several hours testing the iOS 8.2 update on the iPhone 6 Plus it is time to share our early iOS 8.2 review to help users decide if it is worth upgrading today.
Here are our early impressions of the iOS 8.2 update on the iPhone 6 Plus.
iOS 8.2 Installation
Use our iOS 8.2 update guide for a complete walkthrough on how to install the iOS 8.2 update on any device without connecting to a computer. In less than a half-hour I was able to download and install the iOS 8.2 update. This time will vary depending on your connection speed. This is a big update so prepare to wait if you are on a slow connection. Use our iOS 8.2 release tips to get your iPhone 6 Plus ready for the update.
Read: Why You Should Install iOS 8.2 Now
The iOS 8.2 installation on the iPhone 6 Plus took longer than on my iPhone 6, but it restarted after a few minutes with no issues or missing apps. The new Apple Watch app installed to the main home screen, pushing a frequently used app to another page, but this is easy to fix.
iOS 8.2 on iPhone 6 Plus Performance
This is an early review of the iOS 8.2 update specific to the iPhone 6 Plus. Keep in mind that with different apps, accessories and use cases your experience may vary slightly from mine. The chances that we use the same apps and iPhone 6 Plus accessories is slim and these things come together to deliver the iOS 8.2 performance and stability on our devices.
Apps
After installing the iOS 8.2 update I tested some of my favorite iPhone 6 Plus apps to see how they handle the new update. After testing Facebook, Messages, Safari, Gmail and Netflix I did not run into any issues. I updated all the apps on the iPhone 6 Plus after installing iOS 8.2. Ideally you should update before installing the update, but if you do run into problems the best thing to do is make sure you are running the latest version of the app. Other apps like Slack, Asana, LastPass, Hangouts and Alien Blue are working well in quick tests this evening.
iOS 8.2 Battery Life
It is too early to make any bold claims about the iOS 8.2 battery life on the iPhone 6 Plus, but the good sign is that there is no major change. Normally a problem will present quickly with fast battery draining and excessive heat without any abnormal app use. That is not the case, but I need to test more to deliver a full review of iOS 8.2 battery life.
WiFi, Cellular Data & Bluetooth
Large and small iOS updates can cause major problems with connectivity so this is one thing that I test as soon as the installation completes. FaceTime and regular calls work well and the iPhone rings when I get a call on another iPhone with the same Apple ID. AirDrop works without any problems to a Mac and to another iPhone. The AT&T LTE connection is strong and the iPhone 6 Plus shows as a hotspot on my MacBook Pro Retina.
The WiFi connection is good on the home network and when connected to another phone that acts as a hotspot. Bluetooth works well, connecting to a Bluetooth headset instantly.
Bugs & Issues
So far I am not experiencing any iOS 8.2 problems, bugs or issues on the iPhone 6 Plus. This is expected on a new device, but it's not an all clear yet. Over the next several days I will test the iPhone 6 Plus iOS 8.2 update for any problems that may surface with extended use.
Speed
There is no surprise the iPhone 6 Plus iOS 8.2 update does not slow the device down. I cannot notice a difference in speed from iOS 8.1.3 to iOS 8.2 on this device. For a new iPhone this is to be expected, but we will monitor for any changes in performance that arrive after extended use.
Should You Install iOS iOS 8.2?
If you plan to buy the Apple Watch you need to install iOS 8.2 on your iPhone 6 Plus. That doesn't mean you need to install it today, more than a month before the Apple Watch release.
Read: Why You Shouldn't Install iOS 8.2 Today
For users who are experiencing one of the many iOS 8.1.3 and iOS 8 problems that this update fixes, there are no show stopping issues that warrant a warning to wait to install the update on the iPhone 6 Plus.
If you have no major problems with the current version of iOS 8 that your iPhone 6 Plus is running you may want to wait three or four days just to make sure no annoying iOS 8.2 issues surface.
7 Awesome iPhone 6 Plus Cases
Spigen iPhone 6 Plus Cases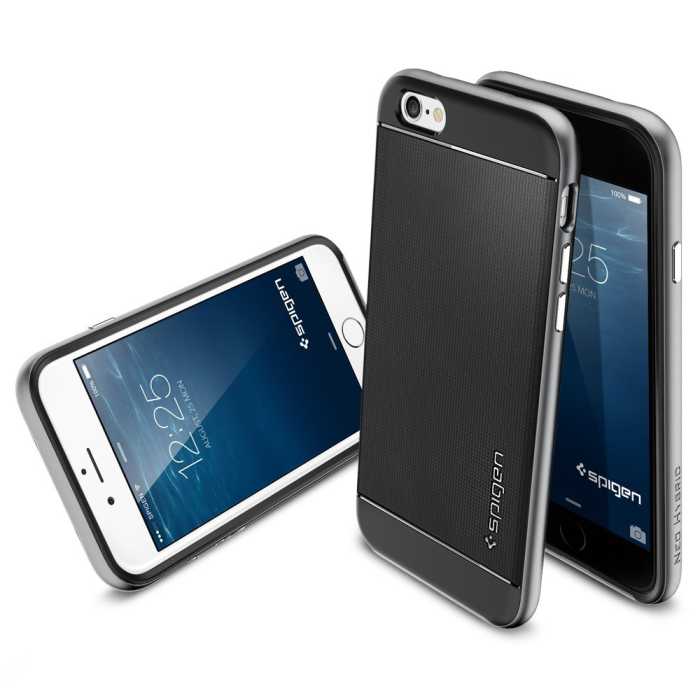 If you need an affordable iPhone 6 Plus case, Spigen is one of the best options you will find. Spigen offers a wide variety of iPhone 6 Plus cases from super thin to protective options and even a few iPhone 6 Plus wallet cases.
The company also offers an iPhone 6 Plus case with a kickstand, which is an excellent way to easily use that big screen for movies, videos and FaceTime.
Check out all of the Spigen iPhone 6 Plus Cases on Amazon starting at $7.99.