iOS 8.2 Release Date Inches Closer
iOS 8.2 is nearing its release as Apple has issued the third beta to the upcoming iOS 8 update, which includes several bug fixes, one of which fixes an issue that caused opening Messages conversations to take a long time to open.
iOS 8.2 will be a rather big update, mostly because it will be the first iOS 8 update to support the Apple Watch, as the betas have included the WatchKit software development kit thus far, allowing developers to create apps for the new wearable.
iOS 8 will also be the first version of iOS since 2010 to include a x.2 update, with the last time being on iOS 4 when Apple released iOS 4.2 as an update.
However, it doesn't like iOS 8.2 will be a very big update as far as new features and changes are concerned. The biggest new thing will be Apple Watch support, but that will obviously only be aimed at users who buy an Apple Watch when it eventually releases early next year.
However, we should expect the update to fix a lot of bugs and hopefully improve performance, especially on older iOS devices like the iPhone 4s and the iPad 2, which are the oldest iOS devices that support iOS 8.
As for the jailbreakability of iOS 8.2, the current TaiG jailbreak that's available for iOS 8.1.2 works with iOS 8.2 up to the second beta, although it's possible that might work with the third beta as well, provided that Apple didn't patch up any exploits.
The Chinese dev team that goes by the name TaiG released a jailbreak that works with the latest iOS 8 update, which is iOS 8.1.1. However, the jailbreak also works with the iOS 8.2 beta, meaning that you can technically jailbreak an iOS 8 update that isn't even out yet, which is rather impressive.
Read: iOS 8.2 for iPhone & iPad: What You Need to Know Right Now
Of course, jailbreak developers have claimed to have successfully jailbroken beta versions of iOS updates in the past, but never before have those jailbreaks been available to the public until now.
Apple released its iOS 8.1.1 update last month as a minor update to the iPhone and iPad, but it also patched up the Pangu iOS 8 jailbreak, meaning that users who were running iOS 8.1.1 could not jailbreak their devices, at least until TaiG jumped in. The iOS 8.1.1 update was mostly meant for the older iPhone 4s and the iPad 2 in order to fix a handful of bugs and improve performance overall.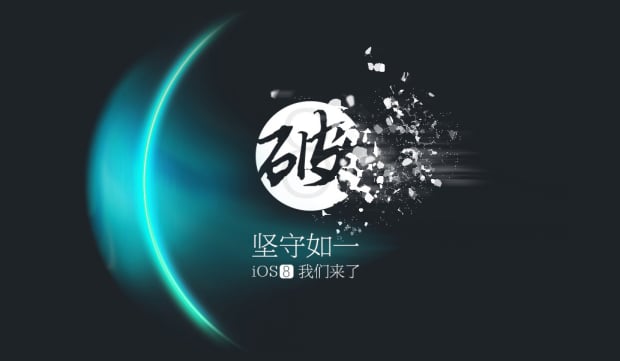 Apple's patching up of the Pangu jailbreak in iOS 8.1.1 really isn't too surprising, as Apple has been known to patch up jailbreak exploits with its next iOS update. This could mean that iOS 8.2 could come patched up when it eventually releases to the public, so don't get your hopes up for an iOS 8.2 jailbreak right out of the box.
The TaiG jailbreak currently only works on Windows machines for the installation process and there's no word on whether or not a Mac version will be on the way, but we wouldn't be surprised to see it soon enough.
Just like with Pangu, TaiG is a Chinese-based jailbreak, so the website and the installation instructions are mostly in Chinese, but we have a how-to guide that will take you through the process of jailbreaking your iPhone or iPad running iOS 8.1.1. However, if you've been brave enough to install the Pangu jailbreak in the past when it was mostly in Chinese, then you should be able to handle the TaiG jailbreak without much trouble, although there are a few added steps that you'll need to be aware of.

This article may contain affiliate links. Click here for more details.