iOS 8.3 on iPhone 5: Is It Worth Installing Now?
Three weeks ago, Apple released a brand new iOS 8.3 update for the iPhone, the iPad and the fifth-generation iPod touch. With this three week milestone in mind, we want to take a look at how the iOS 8.3 update is holding up on the iPhone 5 and help you decide if it's worth installing now ahead of the company's upcoming iOS 8.4 update.
Earlier this year, Apple confirmed the release of a new iOS 8 release in the form of iOS 8.3. Apple didn't make the announcement on its website or on stage during an event, rather, it confirmed the update with a release of a private iOS 8.3 beta update.
In the weeks after the release of the first iOS 8.3 beta, Apple released several more beta updates including two for the non-paying public. The public iOS 8.3 beta represented Apple's first free iOS beta and it could foreshadow the future. With an iOS 9 release rumored for later this year, we could very well see the company extend its public beta to the next major iOS release.
Three weeks ago, Apple finally took the iOS 8.3 beta out of its two beta programs and released it to iPhone, iPad, and iPod touch users all over the world. The update, as expected, brings huge changes to iOS 8 users including enhancements and bug fixes. Among them, a redesigned emoji keyboard that introduces 300+ new emoji characters. It's a significant update and it will serve as the bridge to Apple's next iOS 8 update, iOS 8.4.
We've been taking a deep dive into the iOS 8.3 update in an effort to provide feedback to iPhone, iPad and iPod touch users. Apple likes to tout the benefits of its incremental releases but they often bring problems to iOS users. iOS 8.3 is no different.
With that in mind, we want to revisit the iOS 8.3 update at the three week mark. This quick iOS 8.3 on iPhone 5 review at three weeks will take a look at performance and features and it will hopefully help some of you that are still straddling the iOS 8.3 fence. We continue to get questions about the iOS 8.3 update's merits so we know that there are still people struggling to come to a decision.
Here's what you need to know about the iPhone 5 iOS 8.3 update, three weeks after its release.
iOS 8.3 Performance
I've been using the iPhone 5 iOS 8.3 update for three weeks now and so far, performance has been good on my version of the iPhone 5. For reference, I've owned this iPhone 5 since launch. That said, here's how the iOS 8.3 performance breaks down at the three week mark:
I have about 50+ applications on the iPhone 5. I've done some trimming now that the iPhone 6 serves as my daily driver, the iPhone 5 a backup. Believe it or not, I use about 30-35 of these apps on a regular basis. And after three weeks of continual use, I haven't found any major issues with any of the third-party applications I have on board. iOS 8.3 is agreeable, at least for the moment. If you are running into problems, you should update, reinstall or get in touch with the developer.
I've spent three solid weeks with the iPhone 5 iOS 8.3 update. Not once have I run into issues with Wi-Fi, Bluetooth or LTE. I was traveling last week and I relied heavily on the iPhone 5 for streaming music over Bluetooth. I connected it to a number of different Bluetooth speakers and I never had a problem. Same goes for Wi-Fi and the various routers that I used.
I've owned the iPhone 5 since 2012 and I have an unhealthy obsession with monitoring battery life. So, you should believe me when I tell you that I have yet to encounter any serious battery drain issues on the iPhone 5. Not in 2012. Not in 2013. Not in 2014. Not in 2015 with iOS 8.3. It's still solid. Definitely a confidence booster.
I haven't run into any noticeable issues with the iOS 8.3 update in the three weeks that I've used it on the iPhone 5. That doesn't mean that there aren't problems, some people are seeing them, I just haven't noticed anything. I'm one man with one device. It would be impossible to cover all of that ground. What I can tell you though is that iOS 8.3 is very stable, not surprising given the length of its beta and the length of its bug fix list.
While I've had my fair share of speed issues with iOS 8, iOS 8.3 is actually treating the device pretty well. I still run into occasional lag and sluggishness, especially when opening folders or multitasking, but it's definitely a lot smoother than iOS 8.2. It's definitely not as fast as it once was but I think it's about time I tempered my expectations. This is a phone that's going to turn three years old this year.
iOS 8.3 Features
One of the nice things about iOS 8.3 is that it comes with some new features on top of its laundry list of bug fixes. Better yet, I think at least some of these features are going to be useful for most iPhone 5 users.
iOS 8.3 delivers an enhanced emoji keyboard that also comes with 300+ new emojis. The new emoji keyboard's design is an upgrade over the one found in iOS 8.2 below. It's spacious and it's a whole lot easier to find emojis. You know you've been in a situation where you can't find a specific emoji. This makes that headache a little more bearable, even on the iPhone 5's tiny 4-inch display. This keyboard alone has made my move to iOS 8.3 worth it. I'm not kidding.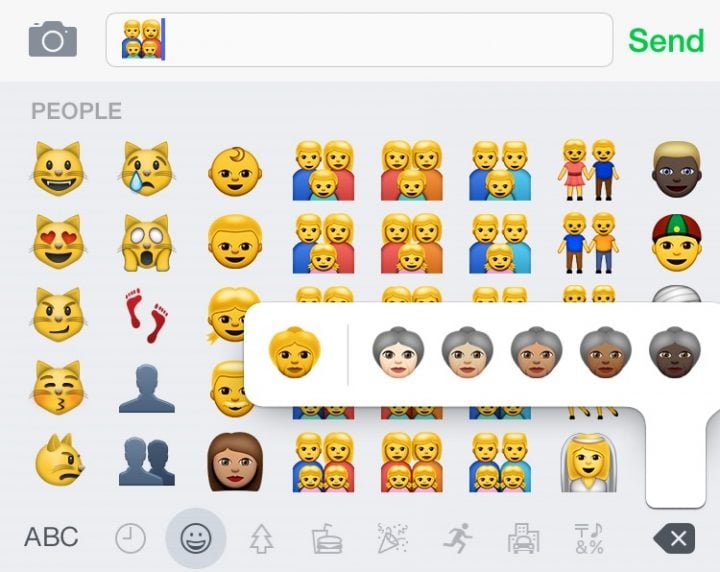 I've also been raving about the new security measures that Apple's baked into Messages. It's now extremely easy to report spam messages to Apple. I get a ton of spam messages and I've reported about five different numbers in the past three weeks. I haven't seen any repeat offenders yet.
Is iOS 8.3 for iPhone 5 Worth Installing Now?
iOS 8.3 isn't perfect on the iPhone 5 but it's much better than iOS 8.2, iOS 8.1.3 and iOS 8.1.2. At least on my model. I haven't run into any significant issues yet. The emoji keyboard is wonderful. And while the iPhone 5 isn't as fast as it used to be with iOS 7 and iOS 6 on board, it's usable. After three weeks, iOS 8.3 is holding up well on this fossil of a phone. I think for most of you, iOS 8.3 is going to be worth it.
iOS 8.3 comes with tons of bug fixes, security updates (these are extremely important if you don't jailbreak), a collection of small and useful features, and it also comes with the Apple Watch app if you didn't install iOS 8.2. If you've been looking for an excuse to move to iOS 8, I think iOS 8.3 is the perfect excuse.
If you're leery, know that you can still downgrade back to iOS 8.2. You can also wait for Apple to release iOS 8.4 though a release may not come until the summer, around the start of WWDC 2015 in early June.