iOS 8.4.1 Release Could Spoil iOS 8.4 Jailbreak
An iOS 8.4 jailbreak was released late last month alongside the iOS 8.4 update, but the honeymoon stage for jailbreakers may come to a swift end as Apple has released the first beta to iOS 8.4.1.
The beta arrives just two weeks after Apple released iOS 8.4, which came with a handful of bug fixes and performance improvements, as well as the highly-anticipated Apple Music streaming service.
It's not known what fixes and improvements come with iOS 8.4.1, but we wouldn't be surprised if Apple ended up patching the iOS 8.4 jailbreak and tossing those fixes in with the iOS 8.4.1 update. Even if the patch isn't included with this first beta, it's very possible that Apple will include the patch when they release the final version of the update to the masses, as the company has done several times in the past.
Of course, it's unknown whether or not Apple will patch up the iOS 8.4 jailbreak in iOS 8.4.1, but the Cupertino-based company has done it before, and it will likely happen this time around as well. Apple isn't a fan of the jailbreaking community, and while jailbreaking isn't seen as dangerous by any means, Apple calls it a security risk, which means they have to fill in those exploits and patch them up.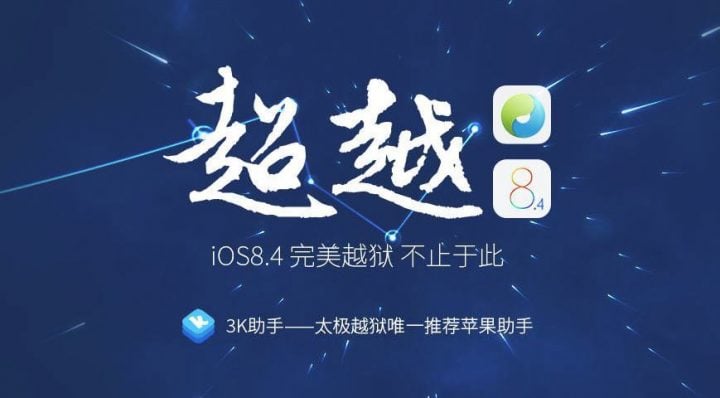 However, it's safe to say that iOS 8.4.1 will likely be the last iOS 8 update for Apple, as they'll look to put all of their focus on iOS 9, which is in beta form right now and will launch publicly later in the fall, most likely at the same time when the iPhone 6s releases or a couple of days before.
It's unknown when iOS 8.4.1 will release to the public, but it should arrive within the next few weeks. If the update does patch up the iOS 8.4 jailbreak from TaiG, that means the jailbreak would've only lasted around a month before getting patched, which is a bit unfortunate because jailbreakers were hoping that it would last throughout the summer until iOS 9 released.
Read: Best iOS 8.4 Cydia Tweaks
In any case, the jailbreaking community has had a fairly busy past few weeks. An iOS 8.3 jailbreak released just before the arrival of iOS 8.4, and then about a week later the iOS 8.4 update released, quickly followed up by an iOS 8.4 jailbreak from the TaiG dev team. Since then, Both the iOS 8.4 jailbreak and Cydia have seen constant updates that fix bugs, security issues, and other general problems.
In a word, the iOS 8.4 jailbreak has been marvelous so far, performing well on my iPhone 6 and my iPad mini 2.
In any case, it's safe to say that in a few weeks when the iOS 8.4.1 update releases, jailbreakers will no longer be able to update to the latest version of iOS and jailbreak their devices. Of course, it's still possible that TaiG can exploit iOS 8.4.1, as there's always a way in even with new security patches, but we'll have to wait and see what happens.
However, it's not too late to jailbreak your iPhone or iPad right now if you haven't done so yet. You can jailbreak iOS 8.4 either on Windows and Mac this time around, as a new Mac jailbreak tool was recently released, which allows users to jailbreak their devices on their Macs, instead of having to find a Windows computer to use.
Both Windows and Mac jailbreak tools are easy to use and only take a few minutes to jailbreak your device. There are a few things you'll need to do beforehand, like turn off Find My iPhone and disable the passcode, but after that it's smooth sailing and requires that you only sit and wait for the process to complete. Once it's done, you'll be greeted with a jailbroken iPhone.