iOS 8.4 on iPhone 5s: Impressions & Performance
iOS 8.4 on iPhone 5s isn't the typical operating system update we're used to seeing from Apple. The company responsible for the iPhone, iPad and iPod Touch, frequently launches sweeping upgrades with new feature and extras. When it's not doing that, Apple is deploying small updates with bug fixes.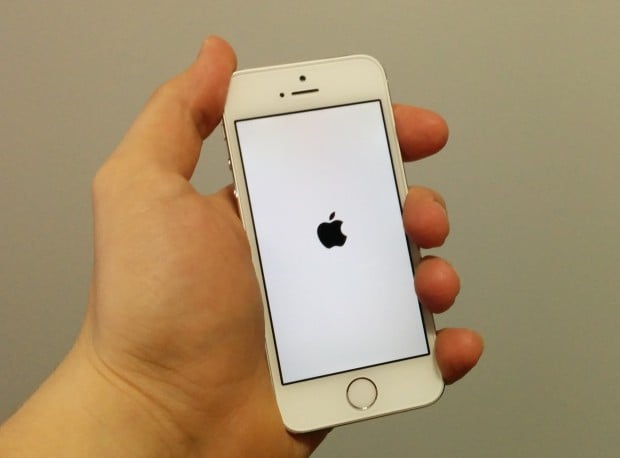 iOS 8.4 on iPhone 5s comes packing one of the most significant changes we've seen to the iPhone since iOS 8. Included in the update is Apple Music, the dedicated subscription and streaming service Apple announced this year at its Worldwide Developers Conference. Here's some early iOS 8.4 on iPhone 5s impressions, and a breakdown of the changes you can expect when you download the update to your device over the next few days.
iOS 8.4 on iPhone 5s: Installation
Installing iOS 8.4 on iPhone 5s was pretty simple. In fact, it was pretty painless compared to past updates from Apple.
All told, the download package for the iOS 8.4 on iPhone 5s is 222MB, firmly placing it in the category of things you don't want to rely on your iPhone 5s' data connection for. The actual install was just as painless as the update download. After ten minutes and a reboot, iOS 8.4 was on my iPhone 5s, ready for me to interact with.
iOS 8.4 on iPhone 5s: New Features
All of the important changes you'll notice in iOS 8.4 for the iPhone 5s are contained in a single app: Music. Rather than put Apple Music into yet another app that some users will drop in a folder, Apple refreshed the dedicated Music app that's already existed on iPhone 5s for some time.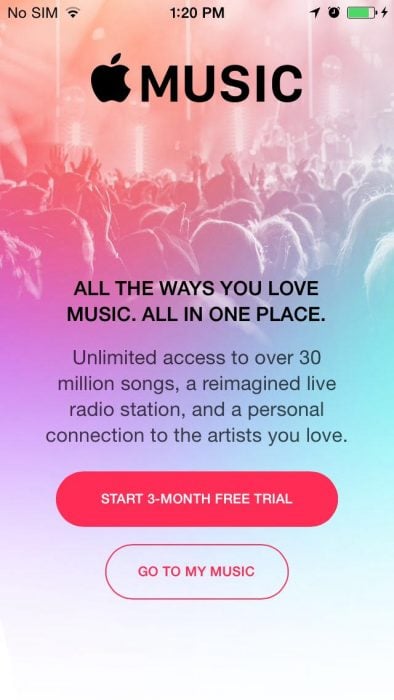 Launching the refreshed Music app introduces you to the Apple Music service and asks you if you'd like to prioritize your music collection, over Apple Music. Everyone gets offered a generous three-month subscription when opening the app.
Apple Music is both a free and paid subscription service. For free Apple Music users get to browse top artist charts and keep track of their favorite artists using a dedicated social network called Connect. Your library — that is the music you've purchased from iTunes — sits in a Library area on the far right, called My Music. Apple Music automatically follows the artists you've purchased in the Connect social network. It also gives you options to created Stations based on any song in your library. Stations, are algorithmically created by the Apple Music service itself.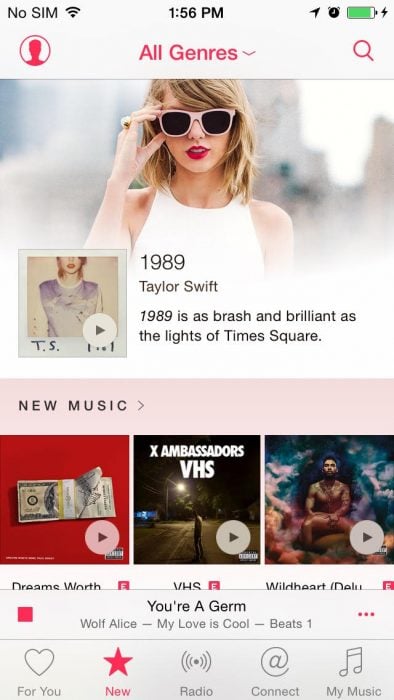 Read: Apple Music in iOS 8.4 Impressions
iTunes Radio stations as we've known them are now joined by a dedicated area called streaming music radio station called Beats 1. As songs are played in Beats 1 their information surfaces, allowing you to add them to your collection or playlists. Music creators and content creators have dedicated area in the new Music app introduced in iOS 8.4 for iPhone 5s. It's called New, and playlists created by Apple's music editors live there. Finally there's a For You section, which asks you for information about what you like and finds more music for you to listen to. From directly through the app, you can add music to play offline if you're subscribed to the service.
iOS 8.4 on iPhone 5s: Bug & Bug Fixes
New features are focused on Music, but bug fixes in iOS 8.4 for iPhone 5s are pretty widespread. Audiobooks are now built into the iBooks app and they have their own dedicated Now Playing screen. The updates also include the ability to pre-order audiobooks. There's a new Chinese font and a new option for disabling Auto-Night themes. Apple Watch apps paired with an iPhone 5s no longer install themselves automatically. Apple has also addressed some random iPhone 5s rebooting issues caused by Unicode characters sent to people.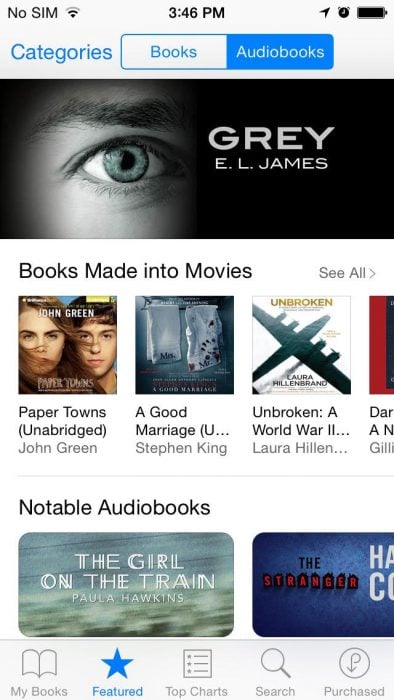 So far, I've been unable to find any significant bugs caused by the iOS 8.4 on iPhone 5s download. Battery life seems just as great as it has always been. No Apple-made apps have crashed on me either, though Microsoft's OneDrive has stopped working correctly. I've been unable to recreate the issue in OneDrive apps on other platforms.
iOS 8.4 on iPhone 5s: Should You Download?
If you like the way the Music app worked in previous versions and already have a subscription service, you can safely hold off on download iOS 8.3 on iPhone 5s. Beyond the Unicode characters issue, you won't miss out on any huge big fixes or security upgrades.
Just because you can doesn't mean you necessarily should skip iOS 8.4 on iPhone 5S. Apple Music is by far the most fully featured services to have ever come from Apple. Music lovers will appreciate all the new ways they can find music.