We'll show you some of the most useful iOS 8 hidden features that will help you do more with your iPhone and iPad without the need to go out and buy a new iPhone.
The iOS 8 release delivered hundreds of small new iOS 8 features, including some that are tough to find. These iOS 8 hidden features will help you save time, let you do a bit more with your iPhone or iPad and hopefully make up for some of the iOS 8 bugs that are still causing problems.
This is a quick tour through the lesser known iOS 8 features. You don't need any special access to turn these on. They are hidden iOS 8 features because they are stuck behind menus and deep in the settings, leaving them out of sight for many users.
iOS 8 is a free update for the iPhone, iPad and iPod touch 5th generation. It runs on the iPhone 4s and newer, iPad 2 and newer and the newest iPod touch.
Read: 41 Hidden Siri Features
Let's get started learning about the iOS 8 hidden features and tricks that can help you use the iPhone better and smarter with iOS 8 installed.
See All Photos in an iMessage
In iOS 8 you can see all photos that a contact or group sent as part of an iMessage conversation without scrolling through days and days of text. Go to Messages -> Tap on the conversation -> Tap on Details -> Scroll down to see photos. You can tap on an individual photo to see it larger and use the share button in the lower left to save or share a particular image.
Quickly Fix Capitalization in Typos
Sometimes you need to add a capital to the start of an auto suggestion where the phone doesn't think you need one, or perhaps you need to correct a capitalization in text you already typed. Instead of tapping and placing the cursor just right all you need to do is select the word. this should show the auto suggestions for it, and you can then press shift to capitalize the first word.  Double tap shift to turn on Caps Lock and capitalize the word.
Use Siri Without Touching the iPhone or iPad
Any device that can use Siri now lets you use the digital assistant with voice activation when the device is plugged in. This also works when you are using a battery case for charging. It's especially handy for short tasks in the car or while in bed with the phone charging. Turn this on by going to Settings -> General -> Siri -> Allow Hey Siri.
Now whenever the iPhone or iPad is plugged in you can use Siri without using your hands. Just say, "Hey Siri."
If you activate Siri when you aren't plugged in by holding the home button you can say Hey Siri to ask another question as long as the Siri screen is still active.
Photo Editing
in iOS 8 you can quickly open up any photo you want to edit inside a more full featured photo editing app right from the Photos app where you are browsing your photos.
When you get to a photo you want, Tap Edit. Then tap the small circle with three dots icon on the bottom row of edit options. If you don't see this you'll need to download a photo editing app that connects to the main Photos library such as Camera+ or Scanner Pro.
The first time you'll need to tap on More and then toggle on the apps you want to use. From then on just tap the app icon to quickly open the photo in that app for editing.
Safari Extensions
https://youtu.be/M5FHs0YzYkY
You can use Safari Extensions on the iPhone or iPad to login to a website using touch ID, add something to your to-do list and much more. This depends on what apps you have installed. The two most popular options for logging in to a website using Touch ID are LastPass and 1Password.  After you download these apps or a to do list like Wunderlist, you're ready to go.
Tap on the share button in Safari -> scroll over to More and tap on it. Toggle LastPass, 1Password and other apps on and change the location. After you do this they will stay on and in that location.
The next time you hit Share in Safari you can tap on the app icon to activate the feature. With LastPass you use Touch ID to autofill your login information on a web page. There are many other options available.
Find Out What Song is Playing
Siri can know listen to music and find out what song is playing without the need to download a third-party app, open it and launch it. This is powered using Shazaam. Open Siri and say, "What's Playing?"
Siri will listen for a few seconds and then show you the name of the song and artist with a link to buy it in iTunes. If you want to find it somewhere else you can always press the Siri button and say, remind me to buy artist name – artist track later and Siri should add it to a reminder list.
Add a Medical ID to Your iPhone
Instead of using an ICE contact (In Case of Emergency) you can use a new Medical ID feature that puts your important health information and an emergency contact on the lock screen. This allows a first responder or ER to know if you are allergic to something and who to call if something happens to you.
Open the Health app -> Tap on Medical ID -> Create Medical ID. Enter the information you want to share. Keep in mind this is visible without your passcode.
To see a Medical ID slide to the pass code screen, tap on emergency and then on Medical ID.
Do Not Disturb A Single Message Conversation
Sometimes you cannot stand to see one more text message from your boss on the weekend, or your friends are going overboard with plans for a party while you are trying to work. You can't turn on Do Not Disturb for your entire phone during the middle of the day, but in iOS 8 you can set Do Not Disturb for a single message thread. You'll still get the messages, and they may show alerts on a car, but they won't make noise on your iPhone. The other person will never know you put them on Do Not Disturb.
Go to Messages -> Tap on the conversation -> Tap on Details -> Do Not Disturb. Make sure you turn this off later if you need to get notifications. You can't set one that expires.
Try iCloud Photo Library
iCloud Photo Library is still in beta, but you can turn this on to see every photo you take across all of your devices. This is a cool way to keep all of your photos backed up to the cloud and accessible on all of your devices. This is a great way to keep your photos and videos handy without the need to buy an iPhone with more storage.
Go to Settings -> iCloud -> Photo Library -> On. This takes a little while to turn on. It's a good idea to go with iPhone optimized images so you don't use all your storage.
Quick Reply
When you get a notification in iOS 8 you can pull down to start a quick reply. This only works in some apps that are updated for iOS 8. The most common use is with the Messages app. When you get a notification, just pull down and you can reply to the message from any screen. If you choose to stop the quick reply the text is not saved.
Take Better Looking Photos with Exposure
In the iOS 8 camera you can control the exposure of a photo by moving the small sun icon next to the focus square. Tap on a subject and then tap on the small sun to slide it up or down. This delivers a brighter or darker image and can help you make a subject visible that would otherwise be too dark or too bright. The video above outlines this.
Recover Deleted iPhone Photos
If you delete a photo from your iPhone you can recover the deleted iPhone photos with a few taps in iOS 8. There is a new Recently Deleted Album on the Photos -> albums page. Tap on this and then on the photo or photos you want to restore. Tap on Recover to move the photo back to your Recently Added Album. These photos only remain for a while, and the main screen shows how much longer until they are deleted.
Hide iPhone Photos
You can hide iPhone photos in iOS 8 so that they don't appear when someone is swiping through your your main album and moments. They still show up in the Hidden Album, so this isn't foolproof, but it will keep nosey people from swiping across your sensitive photos.
Scan Your Credit Card
When you make an online purchase you can use a new prompt to scan a credit card into the iPhone to autofill the information in Safari. This is a handy way to use your iPhone to make purchases on a new website. Just avoid doing this in public where anyone can see your card.
When you are ready to check out, tap in the credit card field and you should see an option to Scan Credit Card. This will auto fill most of the information for you.
Family Sharing
In iOS 8 you can turn on Family Sharing to allow all of your apps, music and movies to show up on family member's iPhones. This is way better than sharing an Apple ID across all devices and it even includes support for child iTunes accounts that require approval for purchases.
Check out how to set up iTunes Family Sharing for more on how this works.
What's New in iOS 8
iOS 8 vs iOS 7 Walkthrough - Home Screen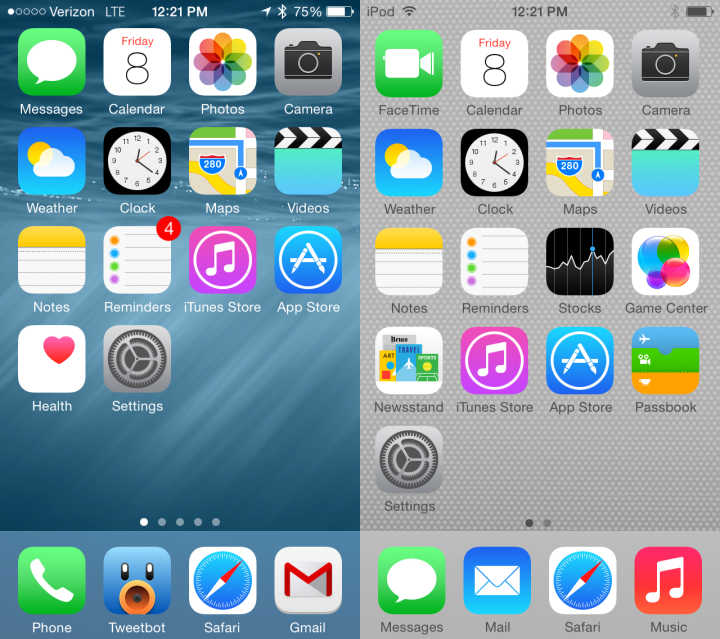 We start our iOS 8 vs iOS 7 walkthrough with the iPhone home screen, which is where you'll start your iOS 8 experience after an update this fall.
These screens are incredibly important as you see them anytime you turn on the iPhone or need to choose an app to launch. There is no way around using them, so Apple needs to make sure they work just right.
As you can see in the iOS 8 vs iOS 7 comparison above, there is no change between the home screen in the new iPhone software. Apple changed the status bar and some other small visual changes in iOS 7, but there are no updates for iOS 8.
We could see Apple change the home screen slightly for iOS 8 for the iPhone 6. The new iPhone will feature a larger 4.7-inch display with a higher resolution. This is something Apple may use to add more icons to the screen. Or they could stick with the current layout, it's tough to tell.

This article may contain affiliate links. Click here for more details.