iOS 8 Jailbreak: Don't Count On it Just Yet
Apple announced iOS 8 earlier this week, and it's full of new features that users can't wait to start using. However, the new version won't be available to the public until the fall.
Jailbreakers are already becoming curious about the state of the iOS 8 jailbreak and whether or not we'll see one. Furthermore, this also has been igniting conversations about whether the iOS 8 announcement will finally make way for an iOS 7.1.1 jailbreak public release.
Unfortunately, the answer is probably a big no, and it boils down to the release window of iOS 8 and whether or not Apple patches the jailbreak exploits at any time over the summer when they release several beta versions over the next few months.
Many users have been waiting patiently for an iOS 7.1.1 jailbreak, and developers will be keeping a close eye on the iOS 8 betas to see if the exploits get closed off. The general consensus is that once Apple patches up the jailbreak exploits that were used in past versions of iOS, jailbreak developers will release the iOS 7.1.1 jailbreak.
However, don't count in this being anytime soon. In the past, Apple has usually waited until the last beta or so before patching up any jailbreak exploits, which means that it won't be until around late August before the company finally gets around to doing that.
The truth is, jailbreak exploits are too valuable to be wasted on each and every iOS update and released right away, mostly because they take a lot of effort to crack, and Apple know it can easily patch up the exploits once it knows how the jailbreak works. This is why you never see a jailbreak right after a new version of iOS releases.
As for an iOS 8 jailbreak, it's almost certain that we'll see one, but probably not until well after the new version gets released to the public. With iOS 7, the new version was released in September of last year, and a jailbreak didn't arrive until a few months later. It's not known if that same timeline will apply with iOS 8, but it's probably guaranteed that Apple will make iOS 8 a bit tougher to crack.
New Features in iOS 8
The new version of iOS comes with a very similar user interface that practically remains unchanged from iOS 7, but it includes some very cool features that we've seen before in other apps, but are coming to iOS natively.
First off, iOS 8 now comes with interactive notifications, which allow users to manage and respond to them right from the Notification Center. So if you get a text message you can tap on it to reply to it right there without having to open up the Messages app. You can also swipe away notifications to dismiss them — much better than the current double-tap "clear" method.
These notifications work a lot like Android's notification system, and that's certainly not a bad thing. They also work on the lock screen, and the Facebook integration even allows you to "Like" or comment on a Facebook post directed at you, right from the Notification Center.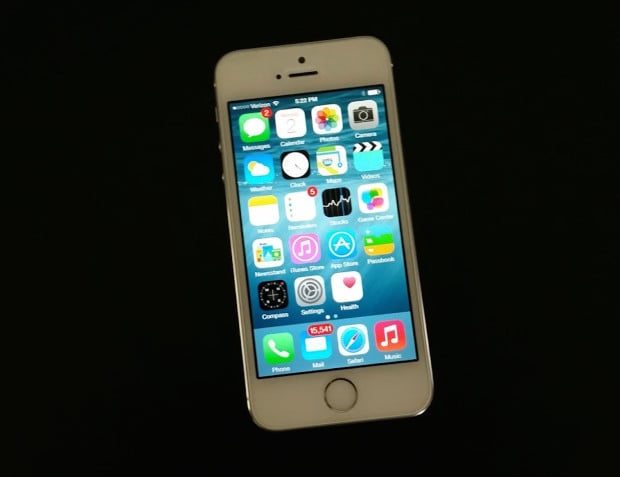 As for the app switcher, it's still the same overall look and design, although Apple has now added "Recent Contacts" or "Favorites" (whichever you prefer in the Settings) for which you can tap on a contact and call or text them from right there.
Spotlight Search in iOS 8 also remains relatively the same as iOS 7, but Apple added more things that you can search for, including searching for apps, points of interest, news, and songs (even on iTunes).
Apple also announced a keyboard feature called QuickType, which is essentially predictive typing that's very similar to what we've seen on Android with the Google Keyboard and SwiftKey. It learns your typing habits over time and provides you with suggested words as you're typing.
In the Messages app, you can now finally remove certain contacts from group conversations and also give a custom name to group chats as well. Furthermore, you can enable Do Not Disturb for just certain conversations, so that you'll still receive text messages from a friend, but you can quickly mute any incoming notifications from your mom.
Also in Messages, you can share your location with whomever you're chatting with, as well as record a quick audio or video message and send it to them immediately. We've seen these features in other apps as well, including Snapchat and WhatsApp, but they're now integrated into iOS, which is really cool.
As for new apps, Apple has announced HealthKit for iOS, which acts a centralized app to view all of your health data, like your step count, heart rate, calories burned and even data on how well you're sleeping throughout the night.
Apple has also partnered with a handful of healthcare providers, and HealthKit will allow these providers to receive and transmit reading data from patient checkups.
Of course, Siri wasn't left out of the update circle. Apple added some great new functionality to Siri, including the ability to talk to Siri without even having to touch your iPhone (just say "Hey, Siri"). This is obviously a lot like "Ok, Google" for Android devices.
Siri also gets Shazam integration with iOS 8, with the ability to recognize a song played on the radio or at a bar.
Apple says that iOS 8 will arrive at some point in the fall, with a specific release date still under wraps. However, multiple beta versions will be releasing over the summer for developers to try out.

As an Amazon Associate I earn from qualifying purchases.