iOS 8 on iPad Air: First Impressions and Performance
Back in June at WWDC, Apple announced that it would be delivering a new iOS 8 update to iPhone and iPad owners this fall. Earlier this month, Apple confirmed the iOS 8 release date and today, the company rolled out its successor to iOS 7. With the release date now upon us, it's time to take an initial look at iOS 8 on iPad Air, Apple's current 9.7-inch iPad.
Last October, shortly after the iPhone 5s launch, Apple took the stage again to announce brand new iPads, one of which was the 9.7-inch iPad Air. The iPad Air replaced the iPad 4 and it, and the iPad mini with Retina Display, helped usher in Apple's new iOS 7 update. iOS 7, as many of you know, delivered some big time changes to Apple's mobile operating system.
Since then, the iPad Air has been the recipient of countless iOS updates including Apple's most recent iOS 7.1 update, iOS 7.1.2. Today though, the current iPad flagship is getting its first major iOS upgrade in the form of iOS 8, an update that made another debut last week alongside the iPhone 6.
iOS 8 made its debut several months ago though Apple showed off the final version at its iPhone 6 launch on September 9th. It also tagged the iOS 8 with a public release date of September 17th. For months, the iOS 8 update has been poked and prodded by developers and today for the first time the final iOS 8 release is available to the public
As expected, Apple pushed the iOS 8 update around 10AM PST delivering the goods to iPhone 5s, iPhone 5c, iPhone 5, iPhone 4s, iPad Air, iPad mini with Retina Display, iPad 4, iPad 3, iPad 2, iPad mini, and iPod touch fifth-gen users. Now that we've been able to spend some quality time with the public release, we want to take a look our first impressions of the iOS 8 update for iPad Air.
Installing iOS 8
Before installing iOS 8 on the iPad Air, I first installed it on the iPhone 5. As I noted in my first impressions of iOS 8 on the iPhone 5, the installation process was painless and took around 30 minutes or so. I figured that the iOS 8 installation process for a newer device like the iPad Air would be even smoother than that. I was wrong.
Midway through the iOS 8 download process, I was greeted with an unknown error that stopped my download dead in its tracks. The download had been going for at least 10 minutes so this was a bit surprising. I clicked out and then, not following my own advice, I started to panic because it looked like the update had bricked my iPad.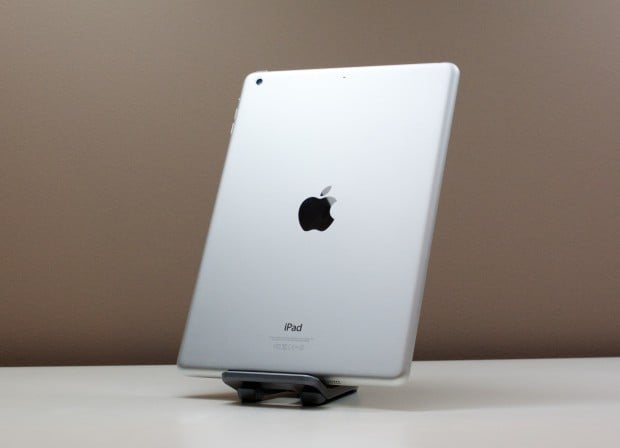 I quickly unplugged my Lightning cable and then performed a quick reset by holding down the power button and home button for about 10 seconds. When the device powered back on, it told me that I needed to plug in to a computer and load up iTunes.
So, I did that and I was immediately greeted with one option and one option alone. I needed to restore my iPad. Tried that and because this was about 20 minutes after the initial iOS 8 release, Apple's servers produced an error. At this point, I figured the only sensible thing to try was a manual update. I quickly downloaded the proper file, Option clicked on Restore iPad… and about 20 or so minutes later, my iPad Air was rocking iOS 8.
The whole process probably took me an hour. Moral of the story is, be sure to set aside some time to download and install iOS 8. You never know what might pop up. Also, follow my advice and stay calm. There's probably a fix for whatever issue comes along.
iOS 8 Performance
Remember, when it comes to the performance of iOS updates like iOS 8, I like to look at five different areas in particular. Those areas are: Applications and how they're performing post update, battery life and whether there is abnormal drain, random bugs or hiccups, Wi-Fi and Bluetooth performance, and overall speed. After spending some quality time with the iOS 8 update for iPad Air, here's what I've found.
Apps
iOS apps will often cause applications to start acting crazy. In the past, I've dealt with random crashes, random freezing, and other performance issues post-iOS update. The bigger updates tend to cause more trouble than the little iOS updates so I was certainly nervous going into the iOS 8 upgrade for the iPad Air. After all, apps are the lifeblood of my iPad.
I don't have every single app that you have, plain and simple. So instead of downloading every app on the App Store, I'll single out my experience with some of the more popular iOS applications. I've taken a deep dive into Facebook, Twitter, Instagram, Google Chrome, Netflix, Spotify, Soundcloud, Google Maps, Google Hangouts, Pandora, The Weather Channel App, and YouTube. I also play a lot of games on the iPad so I've thrown in Angry Birds Space, Kingdom Rush, Tiny Wings, and a graphics intensive game called The Room 2.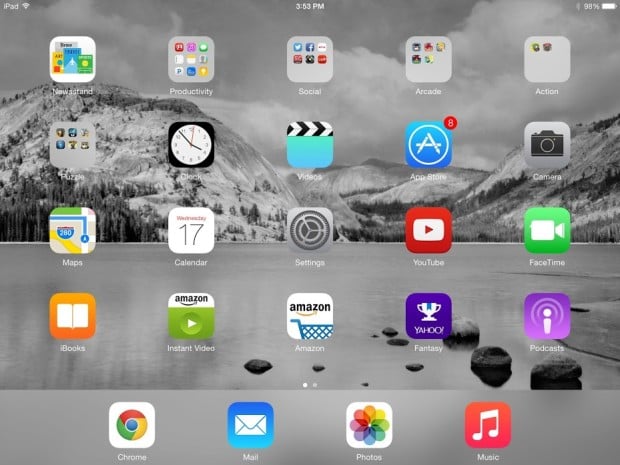 This is probably going to come as a bit of a shock to you, it was certainly a shock to me, but all of these applications, Facebook included, are running marvelously after the upgrade to iOS 8. I honestly have not come across a single issues, on the iPad Air at least, in the hours after downloading and installing the final version. Even Netflix is working fine.
Now, this doesn't mean that you won't run into problems. It also doesn't mean that I won't run into problems down the road. It simply means that everything is going smoothly right now. Applications have a funny way of acting up in the days and weeks after an iOS update so while I'm optimistic, I realize that there's a good chance something goes wrong in the days ahead.
iOS 8 Battery Life
I've installed a lot of updates on my iPad Air though iOS 8 is the largest one to date. Prior to iOS 8, I never had a problem with my iPad Air battery life. I typically can go a full day or more without having to put it on a charger. So far, iOS 8 has delivered the exact same battery life performance and I'm hopeful that this remains intact for the foreseeable future.
In the hours after installing the update, I haven't noticed any abnormal battery drain and I haven't experienced any slow charging. The iPad Air is still holding a fantastic charge, something that I've grown accustomed to ever since I bought it. I haven't seen much fluctuation since the day I picked it up and I'm confident that battery life will remain solid on my iPad Air in the days ahead.
Connectivity
I don't have 4G LTE connectivity on my iPad Air so I can't speak to how that's performing but what I can tell you is that Wi-Fi and Bluetooth are both working fine. I rely on Wi-Fi because I don't have cellular data and so far, speeds have been up to snuff. I also haven't witnessed any abnormal slowdown or any dropped connections.
Bluetooth is also solid and I was able to quickly, and efficiently, connect the iPad Air to my Bose Soundlink Mini and play some tunes from Spotify. No, I did not play U2.
Miscellaneous Bugs & Issues
I've only had the iOS 8 update on my iPad Air for about four hours. That's not enough time to deem iOS 8 bug-free but it is enough time for me to relay some feedback.
Thus far, I've yet to stumble upon any noticeable bugs, flaws or game changing issues. The update appears to be very stable for a major update though bugs typically show themselves in the days, weeks and even months after release. There are more than likely bugs on board the iOS 8 update but it's still early in the game.
This is important because iOS 7 caused random reboot issues for iPad mini with Retina, iPhone 5s and iPad Air owners last year before Apple plugged up the memory leak. I've seen no such issues in iOS 8.
Speed
iOS on the iPad Air has always been fast and fluid. Unlike my iOS 7.0 experience on the iPhone 5, iOS 7.0 performed very well on the iPad Air thanks to the powerful hardware tucked inside. Nothing's changed in iOS 8. The software is still very fast and I've yet to experience any abnormal sluggishness or slowdown.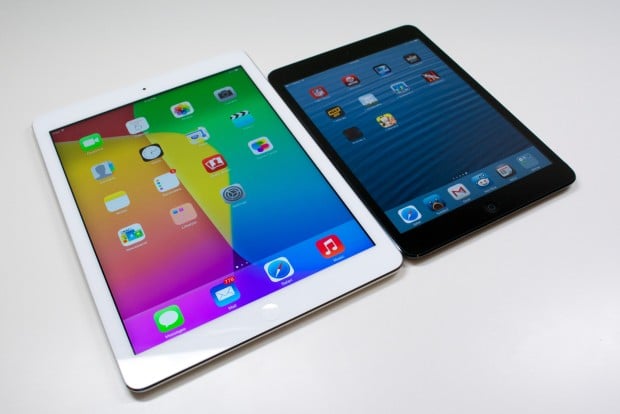 I'm hearing that the iPhone 4s and iPad 2 iOS 8 updates are causing problems but I'm liking what I'm seeing from iOS 8 on the iPad Air. At least thus far. Given how new it is, it should be one of Apple's top performers. I'm not worried about it at all.
iOS 8 Features
iOS 8 doesn't look much different than iOS 7 and after installing it, you're probably not going to be able to tell that you're running a brand new operating system. Underneath the surface though, there is plenty to discover and as I've found out, there is plenty to like about iOS 8. These are my initial impressions of some of the iOS 8 features that jumped out at me.
Battery Usage
The battery usage tool located in the Usage section of iOS 8's settings is quickly becoming one of my favorite parts of the iOS 8 update. This battery life usage tool will allow you to monitor individual applications for battery drain, something that will help you to conserve precious battery life during a road trip, on a flight, or just during your normal work day. I typically use my iPad on all three.
I've looked it an unhealthy amount already though I suspect once I nail down the worst offenders, Google Chrome is already at the top of my list, I'll start to look at it far less. To me, this is one of iOS 8's small but extremely useful features that I think many of you iPad Air users are going to love. After all, battery life is essential when you take the iPad traveling. This will help you manage it better.
iMessage
I've been looking forward to the changes to iMessage ever since Apple showed them off on stage at WWDC. Like battery life, the Messages application is a key component of my every day iPad use. I message a lot. Co-workers, friends, family, you name it. I find myself sending hundreds messages a day without really knowing it.
In iOS 8, Apple expands on the capabilities of its Messages application. You can now name your group threads to keep things organized. You can remove yourself from group messages. You can set Do Not Disturb on for individual people. You can easily share your location. You can look at your attachments that you shared with friends and family. Most of this is done through the Details tab in the top right corner.
These features, along with the battery usage tool, are probably going to end up being the iOS 8 features that I use the most moving forward. They're both essential and both have been a long time coming. I'm glad they're here.
Multitasking
Apple's iPad multitasking leaves a whole lot to be desired. It simply can't match up with the powerful features found on the Samsung Galaxy Tab S or Microsoft Surface. Those devices allow you to run two apps on screen at the same time. That's something that I'd love to see on the iPad and it's something fortunately is rumored for the future. Problem is, it's not here now.
What is here now is an upgraded version of Apple's so-called multitasking. Yes, you still have the cards that you can swipe away but you also now have little circles above those cards that provide easy access your most recent contacts. Tap on a circle and you're able to call that person, send them a message or make a FaceTime call. It also gives you easy access to your Favorites if you swipe to the right. I can see myself using this a lot.
Keyboard
As I noted in my iPhone 5 impressions, I don't know how I feel about the changes Apple made to the keyboard.
In iOS 8, the keyboard will supposedly be able to predict what you'll type next to provide a more fluid way of typing. It has done a fairly good job at that so far but I still find the keyboard to be intrusive and distracting, even on a 9.7-inch iPad. Perhaps, it will take some getting used to (god forbid) and I'll wind up using it for texts and email down the road.
Camera & Photos
The camera and Photos applications deliver some changes as well. I never shoot photos or video with my iPad Air, it's too big and not a good alternative to my phone, but I suppose if I did I'd love the new capture timer that Apple's added that lets you set a timer for photos. It's a small addition but certainly one that should be welcomed by iPad photographers.
Thanks to the new Photo app, you now have the ability to quickly edit your photos in-house. The options aren't as powerful as an app like Afterlight but they're free.
Photos is now smarter about sorting your photos and videos as well making them much easier to find. Those of you that take a lot of photos or video will also appreciate the new smart search that allows you to easily find a photo or video from years ago. I've already found some horrible photos that I had completely forgotten about.
Obviously, there is a lot more to iOS 8 but it's going to take time to comb through its features. There are well over a 100 new iOS 8 features on board, some of which take months to discover. These are just the features that stood out to me in the hours after the iOS 8 update's arrival.
Should You Install iOS 8?
There's a lot to like about iOS 8. I think the battery life tool and the changes to iMessages are going to be big for many iPad users and those honestly just scratch the surface. iOS 8 delivers over a hundred new features, big and small, and I'll be taking a deeper dive into those over the next week or so.
So far, I haven't noticed any major performance issues on the iPad Air, not surprising given that iOS 8 is its first update. Battery life is solid, I haven't discovered any catastrophic bugs, and connectivity is stable.
If you're nervous or if you don't care about what iOS 8 has to offer, wait a few days or a few weeks for the dust to settle. Apple is poised to deliver some upgrades to iOS 8 in the next few months including bug fixes. For most of you though, iOS 8 is going to be worth the install. It builds on the foundation left behind by iOS 7 and delivers promise of its own.

This article may contain affiliate links. Click here for more details.