iOS 8 on iPad mini with Retina: Impressions & Performance
Back in June at WWDC, Apple announced that it would be delivering a new iOS 8 update to iPhone and iPad owners this fall. Earlier this month, Apple confirmed the iOS 8 release date and yesterday, the company rolled out its successor to iOS 7. With the release now upon us, it's time to take an initial look at iOS 8 on iPad mini with Retina Display, Apple's current 7.9-inch iPad.
In October, shortly after the iPhone 5s launch, Apple took the stage and announced brand new iPads, one of which was the all-new iPad mini with Retina Display. The second-generation iPad mini replaced the original iPad mini and it, and the iPad Air, helped usher in Apple's new iOS 7 update. iOS 7, as many of you know, delivered some big time changes to Apple's mobile operating system.
Since then, the iPad mini with Retina Display has been the recipient of countless iOS 7 updates including Apple's most recent iOS 7.1 update, iOS 7.1.2. Yesterday though, the current iPad mini flagship got its first major iOS upgrade in the form of iOS 8, an update that made another debut last week alongside the iPhone 6.
iOS 8 made its debut several months ago though Apple showed off the final version at its iPhone 6 launch on September 9th. It also tagged the iOS 8 with a public release date of September 17th.
As expected, Apple pushed the iOS 8 update around 10AM PST delivering the goods to iPhone 5s, iPhone 5c, iPhone 5, iPhone 4s, iPad Air, iPad mini with Retina Display, iPad 4, iPad 3, iPad 2, iPad mini, and iPod touch fifth-gen users. Now that we've been able to spend some quality time with the public release, we want to take a look our first impressions of the iOS 8 update for the iPad mini with Retina Display, one of Apple's most popular mobile devices.
Installing iOS 8
Shortly after the iOS 8 update was released, I fired up the updates on my iPhone 5 and the iPad Air. The iPhone 5 installation process went smoothly, the iPad Air installation process did not. After dealing with the iPad Air process for more than an hour, I decided to hold off on the iPad Air with Retina iOS 8 update until the smoke around the release settled.
Last night, I made my move and installed the iOS 8 update on the iPad mini with Retina. And boy, what a difference a few hours makes. Instead of taking an hour, I got the iOS 8 update up and running on the iPad mini with Retina in about 25 minutes or so. It was an extremely painless process and the complete opposite of my experience with the iPad Air.
We've been hearing about all sorts of installation problems in the aftermath of the iOS 8 release date. While I can't solve every single one, I can point you in the right direction. If you do these things before you install the iOS 8 update, there's a good chance that you're going to come out unscathed. The better the preparation, the smoother the process. I came prepared last night.
iOS 8 Performance
When it comes to the performance of iOS updates like iOS 8, I like to look at five different areas in particular. Those areas are: Applications and how they're performing post update, battery life and whether there is abnormal drain, random bugs or hiccups, Wi-Fi and Bluetooth performance, and overall speed. After spending some quality time with the iOS 8 update for iPad mini with Retina Display, here's what I've found.
Apps
As many of you know, apps have a tendency to go haywire after major iOS updates. The frequency of these issues has declined over the years though and the iOS 7 release treated applications quite well. That is to say that problems, at least for me and the rest of the GBM team, were pretty minimal. Still, I'm always apprehensive before updating.
This year, developers have worked pretty hard to get compatibility updates out to iPhone and iPad users. The App Store has been flooded with updates and I've installed them all in the hopes that the applications on my devices would benefit from them. And I'm happy to report that most of my apps are working fine, at least right now.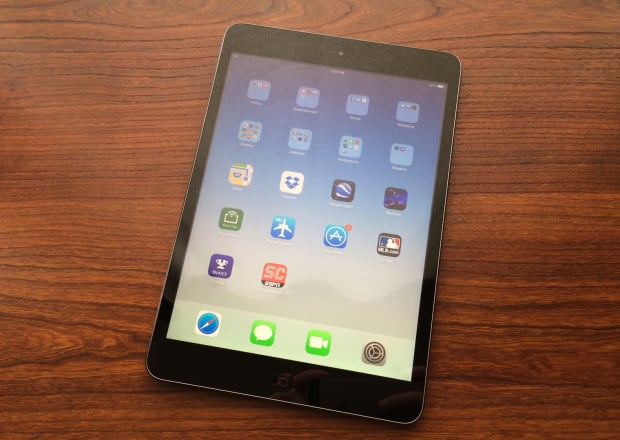 I've taken a deep dive into Facebook, Twitter, Instagram, Google Chrome, Netflix, Spotify, Soundcloud, Google Maps, Google Hangouts, Pandora, The Weather Channel App, and YouTube. I also play a lot of games on the iPad so I've thrown in Angry Birds Space, Kingdom Rush, Tiny Wings, and a graphics intensive game called The Room 2 as well.
All of these applications seem to be working fine after the iOS 8 upgrade. I locked up once with Chrome but Chrome lockups happened all the time in iOS 7 on both iPads and my iPhone 5. It's nothing new. Facebook on the iPhone 5 is giving me problems but the application seems to be working fine on the high-powered iPad mini with Retina Display.
Now, this doesn't mean that you won't run into problems. It also doesn't mean that I won't run into problems down the road. It simply means that everything is going smoothly right now. Applications have a funny way of acting up in the days and weeks after an iOS update. In fact, we're already seeing complaints from iPad users. My experience though has been solid.
iOS 8 Battery Life
Battery life on the iPad mini with Retina Display was very solid across all iOS 7 updates so I was hopeful that battery life would remain stable after installing iOS 8.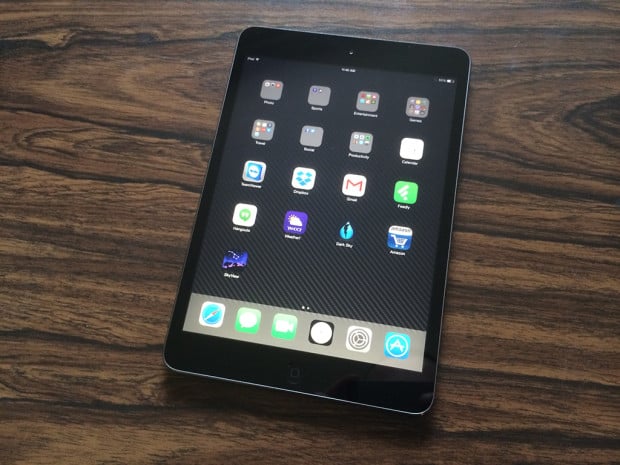 For now, iOS 8 battery life appears to be very stable. I haven't noticed any abnormal battery drain or any charging issues. I'm hearing that some iPad mini with Retina users are actually seeing a bump in battery life after installing iOS 8 but I honestly haven't noticed any major differences between iOS 7 and iOS 8. Keep in mind, I've had the update on board for less than 24 hours.
If you are having some battery life issues, I recommend taking a look at our iOS 7 battery life tips. We'll have some iOS 8 specific battery life tips up soon though they will likely include many of these same tips. These aren't guaranteed fixes but they will point you in the right direction if you're noticing some abnormal battery drain.
Connectivity
The iPad mini with Retina Display I'm using is a 4G LTE enabled model on AT&T's network. So far, AT&T 4G LTE speeds appear to be working just fine. I can say the same for Wi-Fi and Bluetooth. I've had no trouble pulling down fantastic speeds and I was able to connect to several Bluetooth devices including my trusty Bose SoundLink Mini.
iPad users are complaining about Wi-Fi issues after installing iOS 8. And while I'm not seeing any, I can point you in the direction of a possible fix. It's not a cure all fix, but these tips might alleviate the issues that you're working with.
Miscellaneous Bugs & Issues
I've only had the iOS 8 update on my iPad mini with Retina for about four hours. That's not enough time to deem iOS 8 bug-free but it is enough time for me to relay some feedback.
Thus far, I've yet to stumble upon any game changing issues. The update appears to be very stable for a major update though bugs typically show themselves in the days, weeks and even months after release. The stock Mail application has crashed twice for no apparent reason and the keyboard, at times, has been a little sluggish.
I am not seeing any random reboots, an issue that plagued the iPad mini with Retina Display on iOS 7.
Speed
iOS on the iPad mini with Retina Display has always been fast and fluid. Unlike my iOS 7.0 experience on the iPhone 5, iOS 7.0 performed very well on the iPad mini with Retina Display thanks to the powerful hardware (64-bit A7 processor) tucked inside. Nothing's changed in iOS 8. The software is still very fast and I've yet to experience any abnormal sluggishness or slowdown.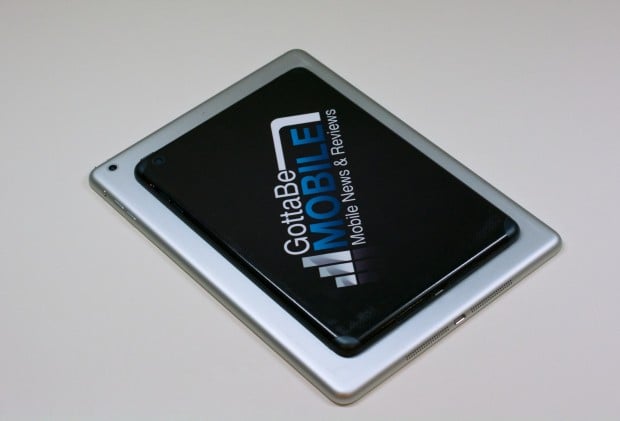 I'm hearing that the iPad 3 and iPad 2 iOS 8 updates are causing problems with users reporting general sluggishness but I'm liking what I'm seeing from iOS 8 on the iPad mini with Retina Display At least thus far.
Given how new it is, it should be one of Apple's top performers. I'm not worried about it at all.
iOS 8 Features
iOS 8 doesn't look much different than iOS 7 and after installing it, you're probably not going to be able to tell that you're running a brand new operating system. Underneath the surface though, there is plenty to discover and as I've found out, there is plenty to like about iOS 8. These are my initial impressions of some of the iOS 8 features that jumped out at me.
Battery Usage
Battery life is essential on the iPad and particular, on the iPad mini with Retina Display with 4G LTE. This is a device that's supposed to be taken on-the-go where you may not have quick access to a Lightning cable.
The battery usage tool located in the Usage section of iOS 8′s settings is quickly becoming one of my favorite parts of the iOS 8 update. It will allow you to monitor individual applications for battery drain, something that will help you to conserve precious battery life during a road trip, on a flight, or just during your normal work day. I already find myself looking at it far more than I should.
I think this is a feature that iPad mini with Retina users, especially those with LTE, should take a look at. Be careful, you might end up like me, looking at it every 10 minutes.
iMessage
When I'm at home, I often find myself iMessaging with my iPad. So, needless to say, I'm excited about the changes that Apple delivered inside its iOS 8 update.
In iOS 8, Apple expands on the capabilities of its Messages application. You can now name your group threads to keep things organized. You can remove yourself from group messages. You can set Do Not Disturb on for individual people. You can easily share your location. You can look at your attachments that you shared with friends and family. Most of this is done through the Details tab in the top right corner. These are all features that I've been using in the past 24 hours.
I don't think the iPad is going to replace the iPhone as my go-to device for messaging friends and family, especially with the large screen iPhone 6 on the way, but these improvements should find themselves amongst my most used iOS 8 features on the iPad.
Multitasking
Multitasking on the iPad leaves a whole lot to be desired, especially when Samsung tablets afford users the ability to run two apps on the screen at once. iOS 8 doesn't change much but it does bring one noticeable change.
Little circles above those familiar multitasking cards now provide easy access your most recent contacts. Tap on a circle and you're able to call that person, send them a message or make a FaceTime call. It also gives you easy access to your Favorites if you swipe to the right. I can see myself using this a lot on the iPhone and now that I can call people from my iPad, I might start using it on the iPad as well.
Keyboard
While I'm mixed about the predictive typing feature on the iOS 8 keyboard on the iPhone 5, the iPad mini with Retina Display's display offers enough space where I don't feel cramped typing. The iPhone 5's 4-inch display is, in my opinion, is too small. I can't use the feature comfortably. On the iPad mini and iPad Air, I can.
Widgets
One hard to find feature that I think I'm going to absolutely love are the new widgets that are now a part of the notification system. Head to the Today tab in the Notifications tray, select Edit, and at the bottom you will find a list of compatible apps. These are not notifications, they are simply widgets that live inside the Notifications tray to deliver pertinent information.
For instance, I occasionally use OpenTable to make a reservation. The OpenTable widget will remind me about my reservations when I go into the notification tray. There are a ton of other widgets as well and we should see developers continue to produce useful ones.
This is key on a device like the iPad mini with Retina Display. I typically use my iPad to digest all of the daily news at the end of the day and with things like OpenTable, Hotels Tonight and the upcoming ESPN widget, I'll be able to check on important information with one easy swipe.
Should You Install iOS 8?
There's a lot to like about iOS 8. I think the battery life tool and the changes to iMessages are going to be big for many iPad users. I also think the widgets are going to be a feature I start using a whole lot moving forward. Those, of course, just scratch the surface. iOS 8 delivers over a hundred new features, big and small, and I'll be taking a deeper dive into those over the next week or so.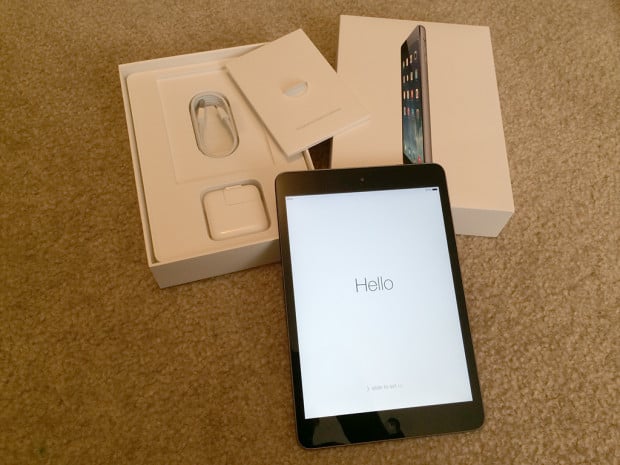 So far, I haven't noticed any major performance issues on the iPad min with Retina Display, not surprising given that iOS 8 is its first update. Battery life is solid, I haven't discovered any catastrophic bugs, and connectivity is stable.
If you're nervous or if you don't care about what iOS 8 has to offer, wait a few days or a few weeks for the dust to settle. Apple is poised to deliver some upgrades to iOS 8 in the next few months including bug fixes. For most of you though, iOS 8 is going to be worth the install. It's not a massive update but it builds upon the foundation left behind by iOS 7.

This article may contain affiliate links. Click here for more details.