iOS 8 on iPhone 4s: First Impressions and Performance
Back in June, Apple announced that it would be delivering a new iOS 8 update to iPhone and iPad owners this fall. Earlier this month, Apple confirmed the iOS 8 release date and today, the company rolled out its successor to iOS 7. With the release date now upon us, it's time to take an initial look at iOS 8 on iPhone 4s, Apple's aging former flagship.
Three years ago, the iPhone 4s helped usher in a new era of iOS. Apple's iOS 5 update arrived stock on board the iPhone 4s and delivered a number of new features, tweaks and enhancements that helped to improve and unify the iOS experience on the iPhone, iPad and iPod touch. The iPhone 4s also marked the arrival of Apple's virtual assistant, Siri.
Since then, the iPhone 4s has been the recipient of countless iOS updates including last year's iOS 7 update and Apple's final iOS 7 release, iOS 7.1.2. Earlier this week, the former iPhone flagship got  its third major iOS upgrade in the form of iOS 8, an update that made its final debut last week alongside the iPhone 6 and iPhone 6 Plus.
iOS 8 was first announced at WWDC in June though Apple showed off the final version at its iPhone 6 launch on September 9th. It also tagged the iOS 8 with a public release date of September 17th. For months, the iOS 8 update has been poked and prodded by developers and today for the first time the final version, and all of its new features, are available to the public.
As expected, Apple pushed the iOS 8 update around 10AM PST, delivering the goods to iPhone 5s, iPhone 5c, iPhone 5, iPhone 4s, iPad Air, iPad mini with Retina Display, iPad 4, iPad 3, iPad 2, iPad mini, and iPod touch fifth-gen users. Now that we've been able to spend some quality time with the public release, we want to take a look our first impressions of the iOS 8 update for iPhone 4s.
Installing iOS 8
I always install iOS updates on their first day of availability. And this means that I typically run into trouble. This year was no different. While the iOS 8 installation process went smoothly on my iPhone 5 and iPad Air with Retina Display, I ran into some major issues on the iPad Air. The installation process took nearly an hour and it was riddled with errors. With this in mind, I waited to install on some of the other devices I have laying around, devices that include the iPhone 4s.
With the iPhone 4s now discontinued, iOS 8 likely represents its last major update. And thus, it's an important update for you iPhone 4s users. You want to know whether it's worth jumping from iOS 7.1.2 or below to iOS 8. And that's what I want to help you with here.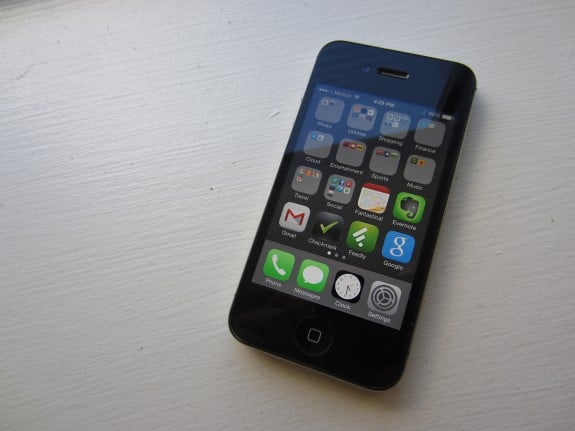 The iPhone 4s installation process was a bit difficult given that the device is only 16GB. iOS 8 requires nearly 5GB of storage when installing Over-the-Air through settings and thus, I was forced to install the update through iTunes. The installation process wasn't nearly as painful as the iPad Air's installation process but it still took some time.
I estimate that from start to finish, I was able to get iOS 8 up and running on the iPhone 4s in about 30 to 40 minutes. This of course was on day one when servers were crunched. You will probably fare better now that the dust has settled. Just remember to follow these steps before you install iOS 8 on your iPhone 4s, it's going to help.
iOS 8 Performance
Remember, when it comes to the performance of iOS updates like iOS 8, I like to look at five different areas in particular. Those areas are: Applications and how they're performing post update, battery life and whether there is abnormal drain, random bugs or hiccups, Wi-Fi and Bluetooth performance, and overall speed. After spending some quality time with the iOS 8 update for iPhone 4s, here's what I've found.
Apps
When I fired up iOS 8 for the first time on the iPhone 4s, I tried to open up some well known apps for testing. I singled out Google Chrome, Twitter, Soundcloud, Instagram, Uber, Yelp, Google Maps, and Spotify. Right off the bat, Chrome, Twitter and Soundcloud instantly crashed and brought me back to the home screen. Uber also crashed immediately when I opened it up as did Yelp. Spotify and Instagram both opened and worked as they normally would on your iPhone or iPad.
This being an old phone, I had a feeling I knew what the problem was: App updates. So, I went to the App Store to try and install 24 app updates. And yes, I did this over Wi-Fi. If you do it over cellular you're going to incur some big costs.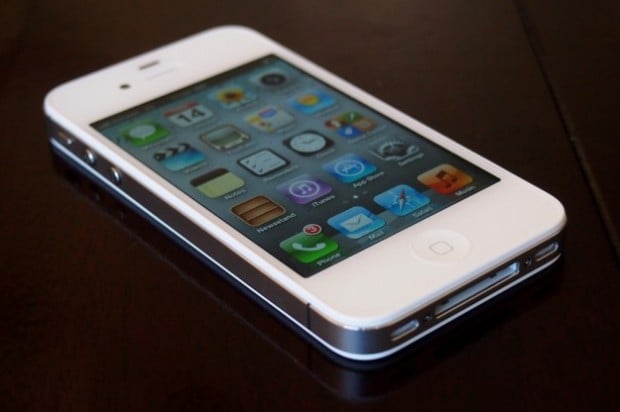 The process took a long time, hours, to get all of these apps downloaded and installed. And even then, I continually ran into issues when trying to install apps. For whatever reason, Google Chrome refused to download like the others. The iPhone 4s prompted me with an "Unable to Download Apps" error that vanished after I uninstalled the apps the App Store refused to update.
For the most part, updating these applications has done the trick. I've still seen some random crashes, Twitter is one of the biggest culprits, but at least the problem apps now open on occasion.
I should also note that the download process sucked up a ton of battery.
iOS 8 Battery Life
During this app fiasco, the iPhone 4s' battery life plummeted. However, this is not indicative of the overall iPhone 4s battery life. While it's not as good as the battery life on my iPhone 5s, the battery life on the iPhone 4s is still pretty solid and on par with the battery life I got in iOS 7. I haven't noticed any insane drain and the phone charges as fast as it usually does. This, of course, could change as time goes on.
If you are having battery life issues on your iPhone 4s, check out our iOS battery life tips. They should help you get the most out of your iPhone 4s and fix any battery life issues that you may have encountered after the iOS 8 update. I've heard from several iPhone 4s users who claim that they're getting bad battery life so I'm sure there are more of you out there.
Connectivity
Bluetooth is working fine. I was able to pair the iPhone 4s up almost immediately with my Bose SoundLink Mini speaker. Wi-Fi is also working normally and speeds are fast. 4G speeds over AT&T are also as fast as they were in iOS 7. Like battery life, this could change in the weeks ahead, though I'm confident that all of these will remain stable moving forward.
Miscellaneous Bugs & Issues
Maybe the biggest issue that I've encountered thus far is keyboard lag. The keyboard on the iPhone 4s, at least my iPhone 4s, is just insanely slow. Like, I don't want to use it anymore slow. It's that bad. Messaging is one of the apps that I use the most on the iPhone and iPad and these problems are extremely discouraging.
So far, this is the only noticeable bug (besides app issues and sluggishness), if you can call it that, that I've found in iOS 8. Apple's stock apps seem to be working well and I haven't seen anything jump right out at me. That could change in the next couple days as I spend more time digging around the iPhone 4s' new operating system.
Speed
This is another area where the iOS 8 update for iPhone 4s falters. It's not surprising given the device's age but that doesn't change the fact that it's a potential headache waiting to happen.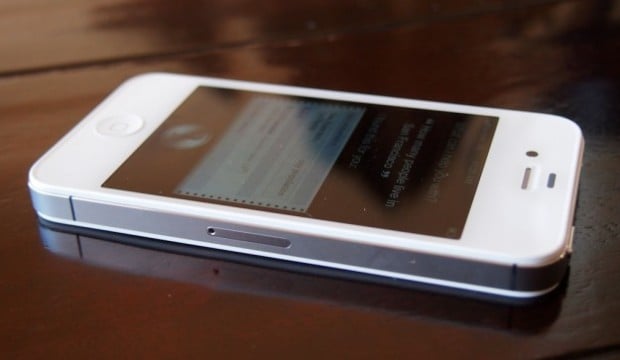 The iOS 7 update was decently fast on the iPhone 4s. It wasn't iPhone 5 or iPhone 5s fast but it was usable. Speed and fluidity in iOS 8 has clearly taken a hit and it appears that I am not alone in this. There's an overall sluggishness that's afflicting the iPhone 4s and it makes using the phone a chore. Animations are slow, transitions are slow, apps open up slow, it's a mess.
I am going to try and do a little clean up over the next few days to try and improve the overall speed of the iPhone 4s but at this point, I'm not sure if it can be saved.
iOS 8 Features
iOS 8 doesn't look much different than iOS 7 and after installing it, you're probably not going to be able to tell that you're running a brand new operating system. Underneath the surface though, there is plenty to discover and as I've found out, there is plenty to like about iOS 8. These are my initial impressions of some of the iOS 8 features that jumped out at me.
Battery Usage
I haven't noticed any abnormal battery drain on the iPhone 4s but that doesn't mean that I'm not going to be closely monitoring it going forward. Who knows what will happen a few weeks down the road.
Fortunately, Apple now makes this a little bit easier with a new battery usage tool located in the Usage section of Settings. It will allow you to monitor individual applications for battery drain, something that will help you to conserve precious battery life during a road trip, on a flight, or just during your normal work day. I already find myself looking at it far more than I should, especially on a problem device like the iPhone 4s.
iMessage
In iOS 8, Apple expands on the capabilities in Messages. You can now name your group threads to keep things organized. You can remove yourself from group messages. You can set Do Not Disturb on for individual people. You can easily share your location. You can look at your attachments that you shared with friends and family. Most of this is done through the Details tab in the top right corner.
This feature is a godsend for iPhone and iPad users and it's one that should become an integral part of my iOS 8 experience on the iPhone 4s. And unlike some of iOS 8, the feature is working quite well. If you message a lot, these features are worth looking at. They're a help and not a burden.
Camera & Photos
Both the camera and Photos application deliver some changes that I think are going to play a huge role for many of you moving forward. The camera app c0mes with some smaller changes including a new time lapse feature that I'll probably never use and a new capture timer that I probably will use quite a bit. It's still not on par with Samsung's camera application but these features do push the app in the right direction.
Thanks to the new Photo app, you now have the ability to quickly edit your photos in house. The options aren't as powerful as an app like Afterlight but they're far more convenient and for some, easier to use.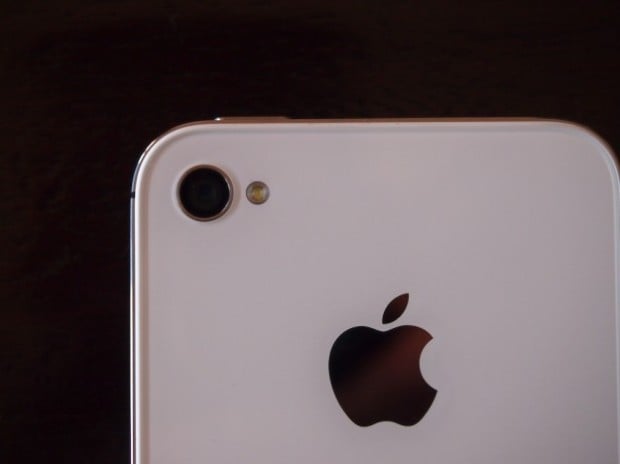 Photos is now smarter about sorting your photos and videos as well making them much easier to find. Those of you that take a lot of photos or video will also appreciate the new smart search that allows you to easily find a photo or video from years ago. I already love this feature especially on an old device like the iPhone 4s that's filled with oldies but goodies.
Keyboard
The predictive keyboard is growing on me but I still think it's a bit distracting and cramped, especially on a 3.5-inch screen. I'm feeling cramped on the iPhone 5's 4-inch screen as well.
Widgets
One hard to find feature that I think I'm going to absolutely love are the new widgets that are now a part of the notification system. Head to the Today tab in the Notifications tray, select Edit, and at the bottom you will find a list of compatible apps. These are not notifications, they are simply widgets that live inside the Notifications tray to deliver pertinent information.
For instance, I occasionally use OpenTable to make a reservation. The OpenTable widget will remind me about my reservations when I go into the notification tray. There are a ton of other widgets as well and we should see developers continue to produce useful ones.
Should You Install iOS 8?
At this point, the iOS 8 update for the iPhone 4s is hard to recommend. It's extremely sluggish at times, apps are inconsistent, and we've run into an assortment of other smaller problems that could cause you headaches going forward. iOS 8 does come with some fantastic features but they're brought down, at least for now, by the overall performance.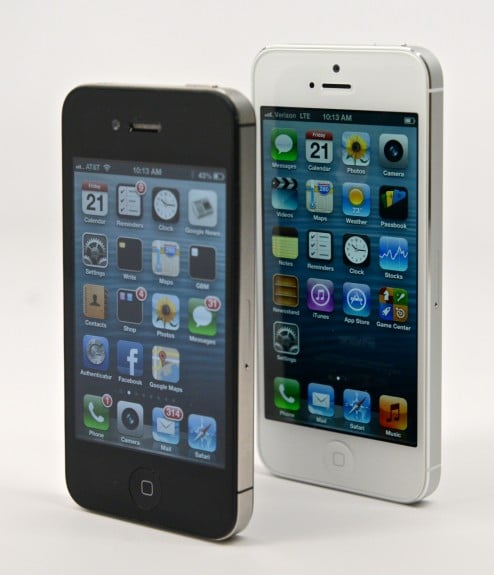 These problems won't affect all of you, so you'll want to proceed at your own risk. At this point though, it might be best to take a wait and see approach as we dig into the update more and the dust settles from around what is believed to be the iPhone 4s' third and final iOS update.