iOS 8 Release Date Approaches
Apple's elusive iOS 8 release date for iPhone and iPad is fast approaching and the update is now reportedly in the process of clearing one of its final hurdles ahead of its public release.
In June, Apple announced an iOS 8 release for the fall. The company did not say exactly when it would release the iOS 8 update for iPhone, iPad and iPod touch only that it would release the update out of the beta process sometime later on this year. After five betas and with iOS 8 and iPhone 6 release date rumors swirling, it's clear that we're closer than ever to the iOS 8 release.
A new report from BGR suggests that Apple is one step closer to the release of its new iOS update. New iOS 8 details suggest that the company today released the iOS 8 beta 6 to its carrier partners and that the update needs to be approved by September 5th, just four days ahead of the suspected iPhone 6 launch date on September 9th.
Apple's iOS 8 beta 6 update is chock full of fixes that are aimed at improving the all-around experience inside the new update and also to ensure a smooth transition from iOS 7 to iOS 8 later this year. iOS 8 is coming with a number of new features but it will also bring bug fixes and enhancements for iOS 7 issues as well.
The publication claims that the iOS 8 beta 6 was released in private because of how close Apple is to the release of the iOS 8 Gold Master (GM) update. Apple's iOS 8 GM will serve as the company's final beta release and it's an update that should mirror the public iOS 8 release that's pegged for September alongside the new iPhone 6.
It's still not clear when Apple will release the iOS 8 GM though rumors point to an arrival in early September shortly before the iPhone 6 launch event on September 9th.
With an iPhone 6 launch date set for September 9th and an iPhone 6 release date rumored for mid-September, the iOS 8 release date will likely set down somewhere between September 9th and the end of September with September 17 pegged as a possibility. Apple always releases its new iOS software to older phones and tablets before releasing it on its new iPhone.
The company is expected to deliver a concrete iOS 8 release date on September 9th alongside two new iPhones, the 4.7-inch iPhone 6 and the 5.5-inch iPhone 6. Both are expected to run iOS 8 out of the box.
Apple's iPhone 6 is rumored to be a significant upgrade over the iPhone 5s with rumors pointing to a redesign, larger higher resolution displays, an improved rear camera, a new A8 processor with M8 co-processor, and more. The device is expected to challenge top Android devices like the LG G3, Samsung Galaxy S5 and the Samsung Galaxy Note 4.
iOS 8 will be arriving for a number of new devices including the iPhone 5s, iPhone 5, iPhone 5c, iPhone 4s, iPad Air, iPad mini with Retina, iPad mini, iPad 4, iPad 3, iPad 2, and iPod touch fifth-generation. The update will not be coming to the iPhone 4.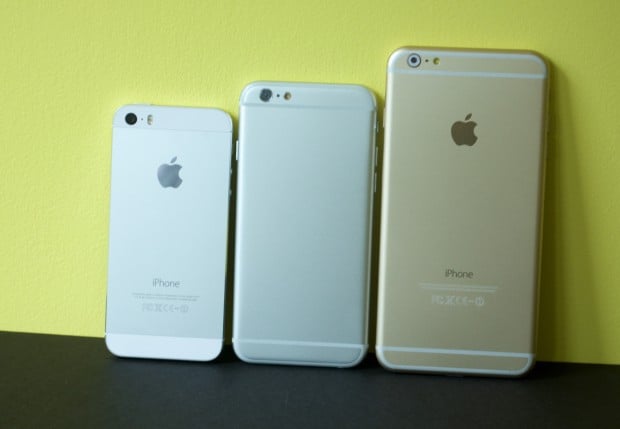 Rumors suggest that the initial iOS 8 update may not carry all of the update's new features. Transit directions for Apple Maps and split-screen multitasking, both of which have been rumored for iOS 8, might be held back from the initial public iOS 8 release. While the features may not arrive with iOS 8.0, it's possible that they could come with Apple's iOS 8.1 update in the future.
Apple's iOS x.1 updates are typically released into the beta process late in the year and are historically released several months later after developers, and Apple, poke and prod. An iOS 8.1 release date is still not known and we're likely months away from iOS 8.1 rumors.

This article may contain affiliate links. Click here for more details.