iOS 8 vs Windows Phone 8.1: A Look at Two Competing Upcoming Releases
Sales of the iPhone 5s aren't in danger of being surpassed by individual Windows Phone sales yet. That being said, it appears as if Apple is heavily positioning the iPhone with the iOS 8 update against Windows Phone 8.1, Microsoft's latest operating system.
Apple's Tim Cook and Craig Craig Federighi revealed the bulk of the operating system during the keynote at the World Wide Developer Conference. Apple isn't redoing much of the visual design it introduced in iOS 7. Instead, iOS 8 includes an absolutely dizzying array of extra features designed to combat the rising threat of Windows Phone.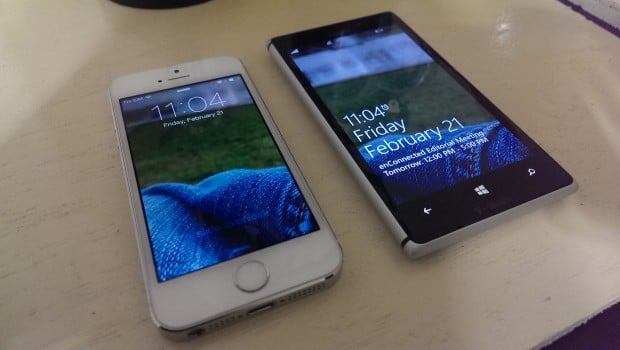 The first thing users are probably going to notice when they get iOS 8 on their iPhone 5s or the iPad Air is going to be the new Messages app. Apple has added the ability for users to create audio and video messages directly from the Messages app for iOS. Users will also be able to add friends to a thread, withdraw or silence a thread and place and reject phone calls from across multiple Apple devices. To be absolutely clear, this blows the Skype integration available in Microsoft's Windows Phone 8.1 out of the water. Windows Phone 8.1 includes integrating internet calling, but its notification system isn't nearly as remotely seamless as what Apple showed off on stage today.
Another big change is going to be the introduction of notifications and widgets. Like Android, iPhone 5s with iOS 8 users will be able to download apps that add new widgets directly to the notification shade that Apple overhauled last year. That means that users will be able to add calculators, start tickers and more to the notification area. Users will also be able to quickly delete, and reply to emails and messages directly from the notifications themselves. Windows Phone 8.'s  Live Tiles to let users quickly see their latest messages and updates. Unfortunately, users still have to dive into individual apps if they want to interact with that mail.
iPhone and iPad users are some of the most veracious consumers of apps there are, but until recently entire family members weren't able to share those apps without giving others direct access to their Apple ID. All of that is changing. Families who purchase apps on the same credit card will be allowed to use those apps on up to six devices. Children's accounts will be forced to ask their parents for permission before they're allowed to purchase new apps. The notifications will be presented in real-time so that parents can immediately grant or deny different app purchases. Windows Phone 8.1 allows users to create Rooms where they can chat, look at each other's calendar events, share notes and post photos.
For picture takers, Apple says that iOS 8 also includes smart editing controls so that users can quickly do things like straighten photos they've just taken. To back up the camera experience, Apple has also introduced iCloud Drive and tied the service directly to the photo app. With iOS 8, users will have access to photos from their Mac, Windows device and more. Pictures taken with iOS 8 be automatically uploaded to iCloud Drive. OneDrive does this on Windows Phone and devices running Android today; iPhone users have to open the OneDrive app to automatically upload pictures.
iOS 8 isn't just an effort to address the iPhone's shortcomings on its own. It's also about answering the deep philosophical questions concerning the iPhone and iPad's relationship to the Mac. Apple isn't melding its mobile and desktop operating systems like Microsoft is doing with Windows Phone 8.1 and Windows Phone 8.1. Instead, the company is focusing on enabling users to quickly move between their different devices. In short, instead of merging iOS from the iPhone and OS X on the Mac, Apple is smartly connecting the two where it makes sense. With iOS 8 and OS X Yosemite, users will be able to work on documents or access an app from their iPhone and then open it on their iPad quickly. Microsoft uses OneDrive to achieve similar results as iCloud Drive. As such, what Apple is doing here isn't all that new. That being said, that users can just swipe up from the bottom of their screen and resume what they're doing is pretty slick.
Siri is getting a few new features too. Users will be able to pair their iPhone with CarPlay enabled systems and give Siri commands without pressing a single button. Siri will be able to identify songs by connecting to Shazam as well. Windows Phone 8.1 includes Cortana, a new voice assistant with the speech and interpretation capability of Siri and the information gathering techniques that Google uses in Google Now. Today, Cortana in Windows Phone 8.1 can search for songs as well. It one ups Siri by allowing apps to directly integrate with Cortana for even more functionality and providing users with reminders and tasks based on where they are, as well as what time it is.
Then there are the developer features themselves, and Apple is adding a ton so that users can get the best controlled experience of any platform. Until now, Apple tightly controlled what apps could do. In effect, each app on the iPhone or iPad didn't know that the others existed. That's all changing with iOS 8. iOS 8 apps will be able to talk to each other by connecting with a specific set of functions that are enabled by iOS 8. The idea is that iOS apps will still be safe, but also interact with each other in ways that make sense. Microsoft is also experimenting with something akin to this in Windows and Windows Phone 8.1.
How successful either company will be remains unclear, though Apple stands a slightly better chance at pulling it off since developers usually quickly implement upcoming iOS features. A new system for letting the iPhone act as a health monitor and way to control thermostats and locks are included in iOS 8 too. Developers can also let users unlock their apps with the Touch ID fingerprint reader on the iPhone 5s.
For comparison, Microsoft has only announced a new partnership with a home automation company and added pedometer functionality to the Lumia 635 smartphone. Windows Phone 8.1 doesn't include much in the way of home automation, car integration, support for sensors like Touch ID or the ability for users to add new keyboards. That being said, Microsoft does have individual products in those areas that haven't been well integrated into Windows Phone thus far.
All told, iOS 8 should keep Microsoft on their toes. Apple has essentially called Microsoft's Windows Phone 8.1 bluff and decided that iOS 8, like Windows Phone 8.1, can keep users safe while letting apps interact with each other in new and exciting ways. It's also making sure that Windows Phone 8.1 isn't the only operating system that smartly integrates between multiple form factors.
Read: Windows Phone 8.1 Review — An iPhone Killer, Almost 
Apple has only confirmed that users can expect iOS 8 in the fall. Only those with an iPhone 4s or later will get the update when it becomes available. Windows Phone 8.1 should begin rolling out to devices this month, it'll come pre-installed on new devices sometime this summer.

This article may contain affiliate links. Click here for more details.