iOS 8 vs Windows Phone 8.1: My Experience So Far
As you read this, there are millions upon millions of users sitting or standing with their iPhones in front of them. They're excited and positively giddy. No, these aren't those people who've managed to get iPhone 6 release date pre-orders. The iPhone 6 and iPhone 6 Plus have been available for sometime now. No, these users are excited for iOS 8, the software that is already running on the iPhone 6 and iPhone 6 and is making its way to older iPhones now.
Read: iOS 8 Update: 5 Things You Need to Know This Weekend
Like the iOS 7, the software upgrade that preceded it, iOS 8 is a big deal. It's not important in the same way iOS 7 was, iPhone users aren't getting a user interface that's remarkably different or unseen. Instead, iOS 8 is important because it's another software upgrade that demonstrates just how much more mature the iPhone has become in the last few years. Here's how iOS 8 compares to Windows Phone 8.1 it's most direct competitor in terms of design philosophy and ease of use.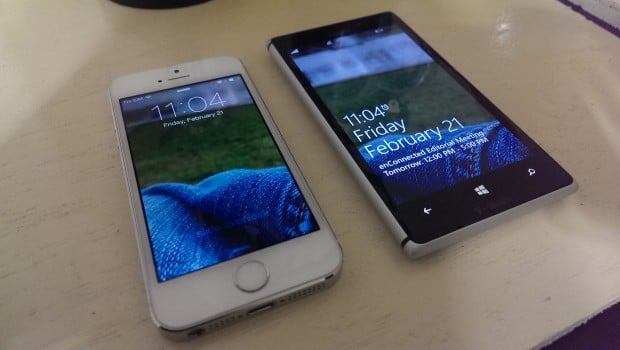 Embracing Developers
Microsoft's Windows Phone 8.1 operating system sort of started off as a mix between iOS and Android. Microsoft never said as much, but the things the two operating systems share are undeniable.
Windows Phone has always offered a closed app ecosystem. For the most part, it limits the options users have and only introduces major changes about once a year. One of the few ways the two operating systems were different software-wise was in their approach to developers. Since revealing the iTunes App Store, Apple had rested on its laurels. Developers could create apps and Apple always added new ways for apps to get better, but Windows Phone had always been upfront about giving developers ways to interact with the operating system. For example, developers can add commands for their apps into Windows Phone's speech recognition system – something iPhone developers can't do. There was also Music hub and People hub integration for music and contacts.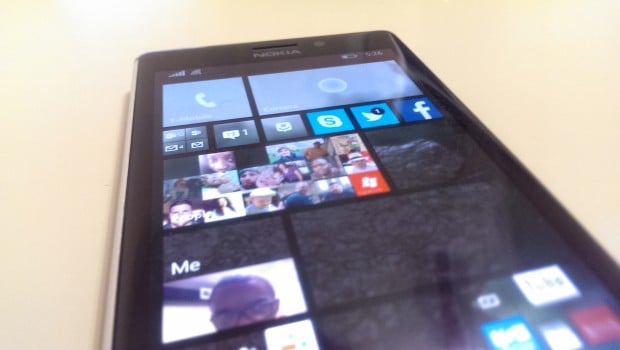 iOS 8 is absolutely jam-packed with features designed to bridge that gap. iOS 8 app developers can make everything from actionable widgets to sit in the Notification screen to keyboards that allow for predictive text. Apple has even given video game developers deeper access to iPhone hardware for faster, better looking games. Ordinarily operating system comparisons are about the features you can see and experience without a third-party app, but in this case leaving them out would be disingenuous. iOS 8 has a lot of features, but it's really all about developers and what they can create with it.
iOS 8 Vs Windows Phone 8.1: Ecosystem
We can all talk about features and apps until we're all talked out, but in the real world, smartphone makers like Apple and software companies like Microsoft aren't producing these things just for money. No, for them it's all an ecosystem play, they're all jockeying to get you into their walled garden and spend money.
One of the key ways these companies manage to pull that off is by making sure the smartphones they make fit into other things that they sell. Apple has made ecosystem plays with the iPhone for years. Music you purchase from their store only works on their devices. So does video. iOS 8 is the most aggressive ecosystem play Apple has ever pulled off.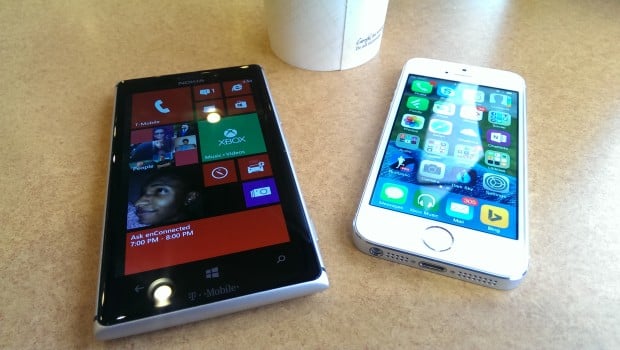 Continuity
Only users with iOS 8 and an early version of Mac OS X Yosemite can expect Continuity today, but it'll be a revelation for people who already have a Mac. Apple has insisted for sometime that it's not dedicated to adding new features as much as it is fixing problems that real people have. Almost everyone who owns a smartphone and a computer have sat in front of one and gotten a message or essential communication on the other. It's a problem every platform has.
Continuity is about closing the gap between the functionality of your iPhone your Mac. When a message shows up on your iPhone with iOS 8, it'll be available on your Mac and vice-versa. Users who want to continue browsing a website on something with a bigger screen can use continuity to do so. Even phone calls are part of the Continuity experience.
Windows Phone tries to offer some of this functionality. Skype, is the one true messaging service on Microsoft's platforms that's well supported on Windows devices too. Unfortunately, text messages and phone calls aren't exactly something it's capable of handing off. The same goes for email drafts. Documents can be synced when they're saved to OneDrive though, and so is practically anything else. With Windows Phone 8.1 Microsoft added app syncing, credential saving and favorites syncing, but it feels like there's more they could do. Windows Phone 8.1 and Windows are so close to offering what Continuity offers that it's a shame Microsoft isn't quite there yet.
That being said, you have to hand Microsoft points for offering some very cool integration points on its own. Windows Phone 8.1 and Windows 8.1 sync tile colors and users who purchase apps on one platform could find that they have the other version available to them too.
Spotlight
Having used a device running Windows Phone 8.1 for some time, I was a bit caught off guard when I went to compare Spotlight search to what's available with Windows Phone 8.1. In iOS 8 Spotlight lets users easily search for locations, apps, videos, music and websites from one central place.
At first I could have sworn there was some way to easily do all of this in Windows Phone 8.1. Turns out I was right, but it's not as straight forward. In Windows Phone 8.1 Microsoft added Cortana, a new digital voice assistant that helps users find what they're looking for. Windows Phone 8.1 presents all the same information using Cortana, including contacts, apps and more too. Even emails and videos are searched too. The two are comparable and Microsoft gets extra points for integrating all of this into their voice and text assistant. I do wish that the information that Cortana presents was as well-organized on Windows Phone 8.1 as it is on Cortana.
iCloud Drive
iCloud Drive is in the words of most users, a Dropbox replacement. You simply upload things there and they sync to your other devices automatically. Many forget that it's also a direct competitor to Microsoft's OneDrive service.
Overall, I'd say the two were comparable on mobile. iCloud Drive auto syncs pictures and videos just like OneDrive. One place I'd argue iCloud Drive wins out is ancillary offerings. There's a OneDrive app available for all major platforms and on the web. iCloud Drive doesn't come close to matching that.
Conclusion
There are lots of little tricks and differences, but Windows Phone 8.1 and iOS 8 are more alike than I think some people would like to admit. Where HealthKit gives users one place to track their fitness, Windows Phone has Bing Health & Fitness. Where iOS 8 has Passbook Windows Phone has the severely underused Wallet. You get the idea.
If you're choosing between a device that's running these operating systems, I have to recommend iOS 8 over Windows Phone 8.1 because the app store and platform are more mature. I think Apple has done a good job of creating unique ways for developers to plug into their operating system. Things like widgets and custom actions for notifications aren't available on Windows Phone yet and, we have no clue when we can expect another major upgrade.
iOS 8 is available now on the iPhone 5, iPhone 5s, iPhone 5c & iPhone 4. The iPhone 6 and iPhone 6 Plus have the operating system included. iOS 8 is also available on the iPad mini and versions of the regular iPad.

As an Amazon Associate I earn from qualifying purchases.