iOS 9.2.1 on iPhone 6s: Impressions & Performance
The iPhone 6s iOS 9.2.1 update is now available and today we want to take an early look at how it's performing on Apple's flagship device.
In December, Apple confirmed an iOS 9.2.1 update for the iPhone 6s. The confirmation came in the form of an iOS 9.2.1 beta for developers and testers. Unfortunately, it came without a specific release date for the public to look forward to.
We had a feeling Apple would release the incremental bug fixer early on in 2016 and today, our suspicions were confirmed. The iOS 9.2.1 update is here and it's available for all devices capable of running the iOS 9 operating system.
iOS 9.2.1 is a small update but it comes with important bug fixes and security patches. It also comes with the potential to wreck havoc on your device which is precisely why I am going to take a look at its performance today and in the coming weeks.
First, I want to take a look at the iOS 9.2.1 installation to give you a feel for what to expect when, and if, you decide to download iOS 9.2.1 on the iPhone 6s.
iOS 9.2.1 Installation
Make no mistake, this is a small update for the iPhone 6s. The iOS 9.2.1 update is about 40MB in size making it one of the smallest iOS 9 updates to date.
Don't expect the download and installation process to take more than 10-15 minutes. I'm weird and timed the update from start to finish and it took me, over a fast connection coming from iOS 9.2, about 7 minutes flat.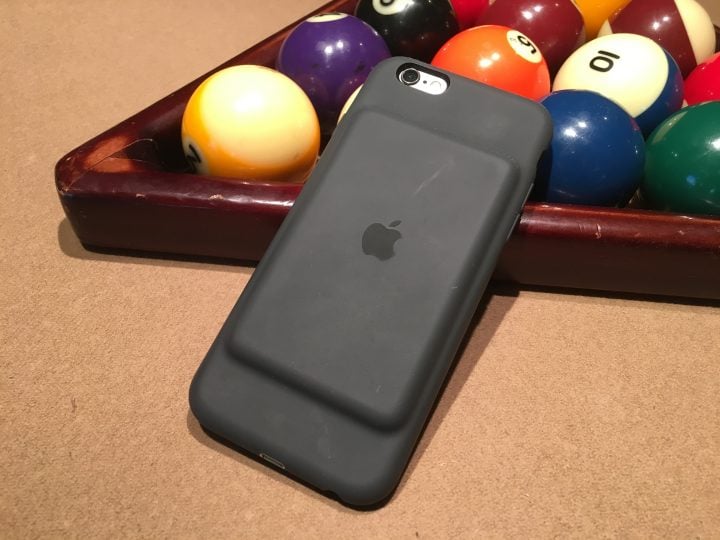 I haven't seen any server issues or any widespread complaints about installation issues or errors so it should be smooth sailing for you as well.
If your download gets stuck, try holding down the home button and power button for a few seconds until the phone reboots. This usually fixes that issue.
iOS 9.2.1 Performance
iOS 9.2.1 doesn't come with any new features so I'm going to key in on its performance.
This will look at the update's performance in a few key areas including battery life, Wi-Fi and Bluetooth. Two things to remember before you dig in.
First, it's early. Performance could change in the days ahead. And two, mileage always varies. I encourage you to dig into additional feedback before you make your move to iOS 9.2.1.
Apps
I haven't run into any problems with my applications, at least not yet.
I obviously haven't been able to test every single app on the App Store but my core applications (Asana, Slack, YouTube, Twitter, Instagram, Gmail, Hangouts, Chrome, Dark Sky, Amazon, SoundCloud, Spotify, and Xbox One Smartglass) are all performing well post-iOS 9.2.1 release.
Chrome and Twitter are two apps that consistently give me problems on the iPhone 6s and both of them appear to be stable. That's a good sign.
If you've downloaded the iOS 9.2.1 update and you're running into problems with your set of applications, there are a few things you can do.
You can install the latest update if reviews are solid. If that doesn't help, you can try reinstalling the app on your iPhone 6s. If nothing works, report the bugs to the developer or downgrade back down to the iOS 9.2 update.
iOS 9.2.1 Battery Life
I've only been using the iOS 9.2.1 update for a few hours so I can't give you any insight about long-term battery life. What I can tell you though is that the iPhone 6s is still holding an excellent charge with Apple's latest upgrade on board.
I haven't noticed any abnormal battery drain and I've been using apps and services virtually non-stop for three hours. It's holding up nicely. So far.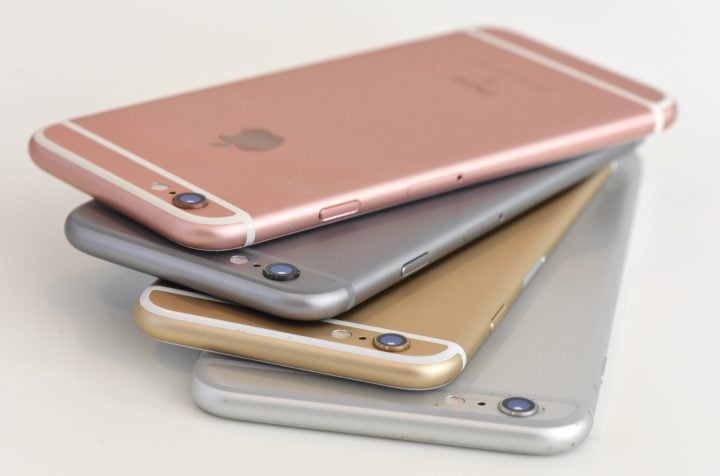 Some iOS 9.2.1 users are reporting odd issues with battery though there's a good chance those are related to something other than iOS 9.2.1. Probably a rogue app or bad habits.
If you do run into issues with battery life, take a look at our list of fixes.
Wi-Fi, Cellular Data & Bluetooth
I've tested the iPhone 6s and iOS 9.2.1 with several different routers and I haven't run into any problems with Wi-Fi. Speeds look good and so does range.
I've successfully paired the iPhone 6s (and iOS 9.2.1) with various Bluetooth devices including a pair of speakers and a pair of Bluetooth headphones. I haven't noticed any problems with sound and things appear to be normal.
Same goes for AT&T's LTE and 4G networks. The iPhone 6s continues to pull down excellent data speeds in my area.
iOS 9.2.1 Problems
So far, I've run into two problems with iOS 9.2.1 though I expect one of them to go away within two days of the release.
For some reason, my keyboard always lags immediately after an iOS update. My iPhone 6s keyboard is lagging a little bit after the iOS 9.2.1 update though I expect it to settle down before the week is over. (This exact thing happened after the iOS 9.2 update and the problem vanished a day later.) I wouldn't worry about it.
The other iOS 9.2.1 bug is the iPhone 6s battery percentage problem. Apple hasn't fixed it in iOS 9.2.1 which means that you'll need to wait for iOS 9.3 (or later) for a permanent fix.
I don't change time zones all that often so this isn't a problem for me. It might be a huge problem for you so make sure you jot down the fix.
Other than those issues, I haven't seen anything else. iOS 9.2.1 is very stable on my iPhone 6s.
Speed
The UI is still very fluid on my iPhone 6s and I haven't experienced any significant slowdown or lag in the hours since the iOS 9.2.1 release.
Some iPhone 6s users have been complaining about Control Center lag but I didn't notice any in iOS 9.2 and my device appears to be in the clear with iOS 9.2.1 on board.
Should You Install the iPhone 6s iOS 9.2.1 Update?
The iPhone 6s iOS 9.2.1 update is worthy of consideration. It comes with bug fixes and security patches and it appears to be very stable on the iPhone 6s. If you want to download it right now, you should be perfectly fine.
If you're feeling leery, wait a few days for more feedback to emerge. If there are major issues on iOS 9.2.1, they'll make themselves known this week or next.
9 Things to Do Before Installing iOS 9.2.1
Get Familiar With iOS 9.2.1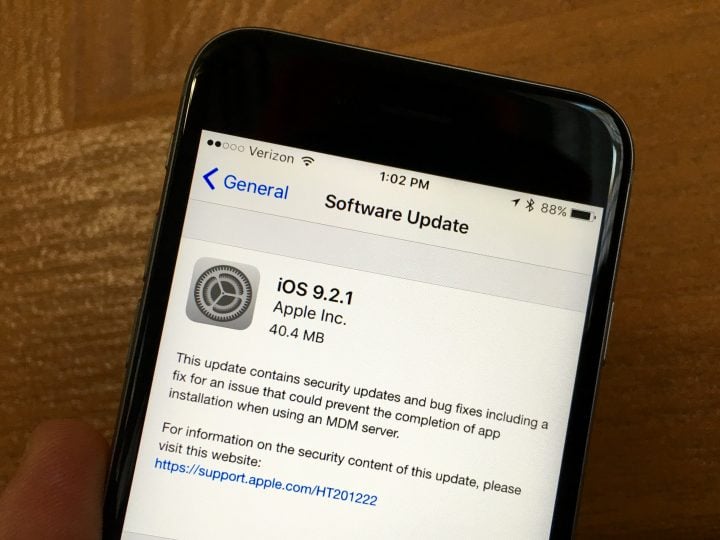 Before you install iOS 9.2.1, get familiar with the update and the changes it brings to the iPhone, iPad and iPod touch.
Because this is a small incremental update, it doesn't bring a whole lot to the table but that doesn't mean you can or should install the update blindly.
The iOS 9.2.1 update comes with "security updates and bug fixes including a fix for an issue that could prevent the completion of app installation when using an MDM server." For more on what the fix for MDM means, see Apple's website.
Get familiar with the iOS 9.2.1 change log right now.
If you're coming from a version of iOS not called iOS 9.2, you're also going to get the changes that came on board the iOS 9.2 update so it could be wise to get familiar with those features as well. If you're coming from something older than iOS 9, do the same.

This article may contain affiliate links. Click here for more details.