iOS 9.2 Jailbreak Release Rumors Heating Up
An iOS 9.2 jailbreak has yet to release after the update was just recently launched, but that may be changing after rumors says that an iOS 9.2 jailbreak could release soon.
iOS 9.2 was released earlier this month, coming with a handful of bug fixes, security enhancements, and performance improvements all around. However, we have yet to see a new iOS 9 jailbreak release ever since the original jailbreak released back in October for iOS 9.0.
The jailbreak arrived just a month after iOS 9 itself released to the public, which was quite a feat and it's certainly one of the quickest jailbreak releases we've seen for a major version of iOS in a while.
Read: iOS 9.2 Jailbreak: When Will We See It?
However, we have yet to see a new jailbreak release since then, as Apple patched up the original iOS 9 jailbreak with the release of iOS 9.1. The jailbreak community has been hoping for a new jailbreak release soon, but it's getting increasingly difficult for developers, thanks to Apple's relatively new quicker rollout of iOS updates.
The good news is that there are new rumors surfacing that claim that an iOS 9.2 jailbreak is close to releasing.
3K Assistant (a partner of the TaiG jailbreak team) officially announced on its Weibo account (via Superphen) that an iOS 9.2 jailbreak is being worked on and will be coming soon.
While the jailbreak isn't quite complete yet, there has been a breakthrough in its development, which probably motivated 3K Assistant to make such an announcement.
The full announcement translated from Chinese is below, courtesy of Superphen:
"It has been eight days since the official release of iOS 9.2, and in those eight days, 3K Assistant has diligently toiled on an iOS 9.2 jailbreak. Our efforts have achieved results: through eight days of hard work, 3K Assistant has finally achieved a breakthrough in regards to the iOS 9.2 official release.
Although iOS 9.2 cannot be jailbroken completely yet, I believe that it is not far off. An iOS 9.2 untethered jailbreak will definitely be released to everyone, so please wait patently, fellow-jailbreakers."
Apparently, the Weibo post has since been deleted.
Whether or not we'll see an iOS 9.2 jailbreak before Christmas is still up in the air, but considering that the holiday is less than a week away, it seems unlikely that TaiG is that close to a jailbreak release at this point. It's possible they are, so we're keeping our fingers crossed.
iOS 9.2.1 is currently in beta mode right now, which could be interesting as far as when we'll see an iOS 9.2 jailbreak. It's possible that TaiG could release the jailbreak once iOS 9.2.1 is released so that Apple doesn't patch up the exploits at the last minute.
That's perhaps a better way to go anyway and if that does end up being the case, then it's unlikely that we'll see an iOS 9.2 jailbreak in 2015.
An iOS 9.2 jailbreak has been rumored in the past, hinting that an iOS 9.2 jailbreak was essentially already complete with iOS 9.2 came out, but we have yet to see anything further come out of that rumor.
Best iOS 10 Cydia Tweaks: The Ultimate Collection for iOS 10, 10.1 & 10.2
Best iOS 10 Cydia Tweaks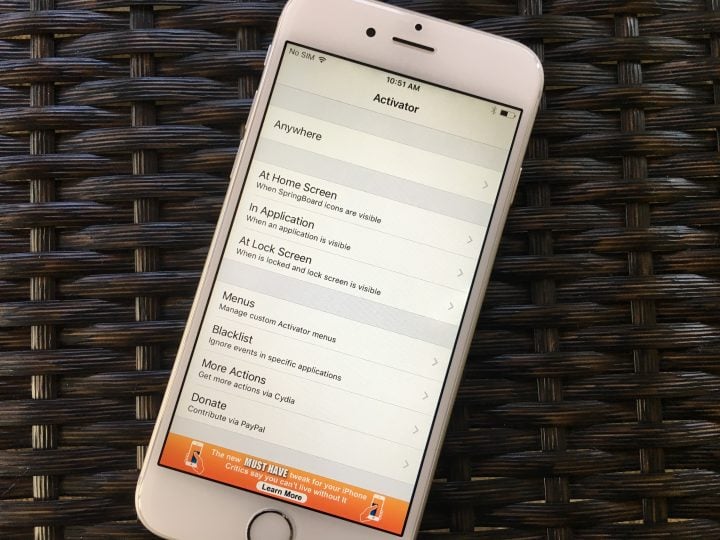 Activator
One of the most popular jailbreak tweaks of all time is Activator, and it's easy to see why. Activator allows you to set up automations as well as shortcuts for all sorts of different actions, like automatically turning on your alarms for the next day and even changing songs using the volume buttons.
This is especially true now that Activator works on iOS 10, so you can combine it with everything that Apple added to iOS 10 and iOS 10.2.
AppDrawer
One of the best features of Android is the app drawer, where all of your installed apps appear when you bring it up. Something like this is awesome, since you don't have to have all of your apps on the home screen, and now the feature is on iOS through Cydia thanks to AppDrawer.
Browser Changer
Do you use a web browser on your iPhone other than Safari? Then it might be nice to actually change iOS's default browser to your preferred one using Browser Changer. This means that any links from other apps will now open in the web browser of your choice and not just default to Safari.
Bytafont 3
iOS 9 added a new San Francisco font that is still in iOS 10. If you're not a huge fan of it, you can use Bytafont 3 to change the font to whatever you want. The possibilities are endless here.
DeleteForever
Not a big fan of the Recently Deleted folder in the Photos app? While there isn't an iOS 10 Cydia tweak to get rid of the folder, you can at least bypass it altogether when deleting a photo.
DeleteForever will allow you to permanently delete photos with one swoop, rather than deleting a photo and then having to delete it again from the Recently Deleted folder.

As an Amazon Associate I earn from qualifying purchases.