iOS 9 on iPad: First Impressions & Performance
Yesterday, as promised, Apple released its iOS 9 update for iPhone, iPad and iPod touch. We've spent the last day with the iPad iOS 9 update and today we want to share some first impressions about the update's performance on day one.
Last week, Apple finally announced when it would be taking the iOS 9 update and its features out of its developer and public beta programs. And much to the delight of iOS users around the world, Apple confirmed the iOS 9 release date for September.
Yesterday, Apple delivered. The iOS 9 update started rolling out at 10:01AM PT and millions of iPhone, iPad and iPod touch users around the world finally gained access to the company's brand new operating system.
The iPad iOS 9 update in particular is exciting because it brings new multitasking features to select versions of Apple's slate. The new Picture in Picture feature is just one of the highlights.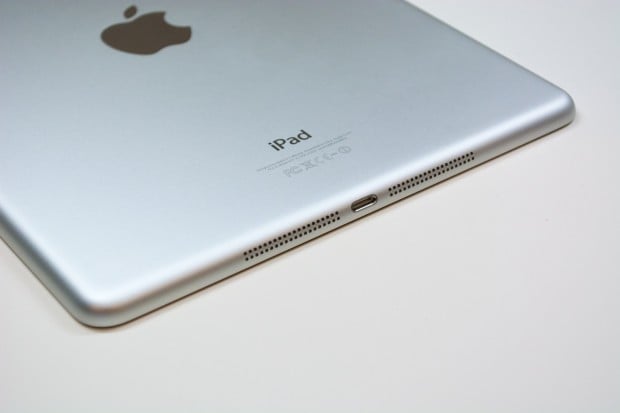 iOS 9 is a tempting update and it's one that I, like many others, installed immediately on the iPad Air and the iPad mini 2, two of Apple's most popular devices. The update replaced the iOS 8.4.1 update that rolled out earlier this year.
I've spent several hours with both of these updates (and my colleagues have spent time with several others) and today I want to provide you with some feedback about the iPad iOS 9 update and its performance.
My initial iPad iOS 9 update impressions don't serve as my final review of the software but they should help those of you who are still thinking about making a move to iOS 9. Just remember, there are some very good reasons to wait.
iOS 9 Installation
After running into download errors on my iPhone right at the iOS 9 release time, I decided to wait a few hours before installing it on my iPad Air and iPad mini 2. The decision paid off.
I'm using an extremely fast Wi-Fi connection and the two files downloaded very quickly. Like the ridiculous person I am, I timed the updates. The iPad Air update completed in 13:17 minutes and the iPad mini 2 update completed in 11:47 minutes. That's extremely fast for a major system update like iOS 9.
While the most annoying iOS 9 download issues have subsided, I'm still seeing various complaints about the installation. If you run into issues, you'll want to consult our list of iOS 9 problems and fixes for a potential remedy.
Most of you probably won't run into any trouble, not at this point anyway.
iOS 9 on iPad Performance
In these impressions, I'm not going to focus on iOS 9 features. We have a full length iOS 9 review that goes into detail about the best iPad iOS 9 features including those new multitasking functions I told you about. If you're concerned with features rather than performance, go take a look at the review.
My iPad iOS 9 impressions are focused on a few key areas. Before I get into them, please remember that I am just one person with one version of the Wi-Fi only iPad Air and AT&T iPad mini 2.
There's a good chance I don't use the same applications that you do and I probably don't use my iPad the same way that you do. Mileage always varies when it comes to iOS updates so use these impressions as a general guide.
iOS 9 Apps
Apple's iOS 9 update went through a lengthy beta that saw developers, and the general public, prod it for bugs and problems.
In the buildup to the iOS 9 release date, we started to see the fruits of developers labors. Several developers rolled out app updates with iOS 9 support. I downloaded them all in the hopes they would make the transition from iOS 8.4.1 to iOS 9 a smooth one.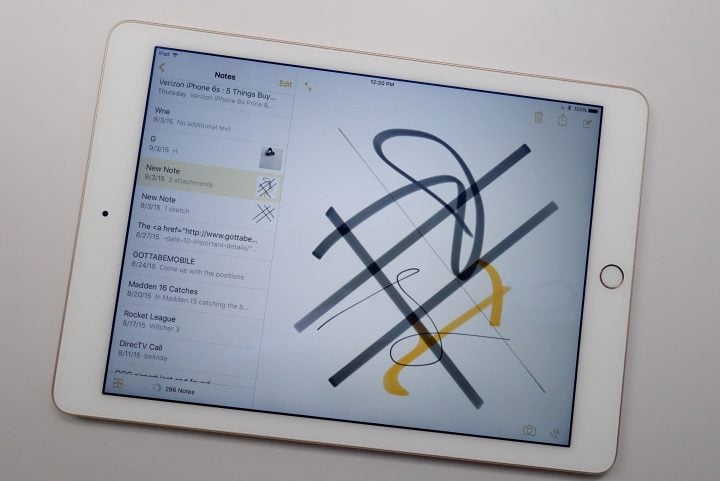 Surprise, I haven't had any major problems with any of my core iPad apps. My core group of apps include Asana, Slack, YouTube, Twitter, Instagram, Gmail, Hangouts, Chrome, Dark Sky, Amazon, SoundCloud, Spotify, and Xbox One Smartglass. Same as iPhone.
None of these, not even Chrome, have been acting up since the iOS 9 release. The stability is impressive and I hope it continues.
If you are having problems with your apps, take a look at our list of fixes for iOS 9 problems.
iOS 9 Battery Life
I've only been testing the official iOS 9 update for a few hours on the iPad Air and iPad mini 2 so I obviously can't give you any long term battery life impressions yet.
What I can tell you is that I haven't experienced any major battery life problems, at least not yet. I haven't noticed any abnormal drain during use nor have I seen any rapid reduction when the slates are in standby mode. That's key because my iPads are in standby a lot. (I mainly use the iPad at night.)
I haven't seen any widespread complaints about iOS 9 battery life and that's a good sign for all iPad users. Typically, major battery drain issues are spotted right after a release. I've seen complaints but they've all been isolated.
If you are dealing with battery drain problems after installing the iOS 9 update on your iPad (of any variety), take a look at our tips and fixes. There are some things in there that will almost certainly help you quell the trouble.
iOS 9 Wi-Fi, Cellular Data & Bluetooth
I've been testing both devices with several different routers and I haven't noticed any problems with Wi-Fi connectivity. They are both holding a stable connection and I've been able to capture solid download and upload speeds.
I've also been able to pair various Bluetooth devices with them. Several speakers and headsets I have lying around have all worked with the iPad Air and iPad mini 2 and my colleague Josh Smith tells me that Bluetooth is working on his iPad Air 2.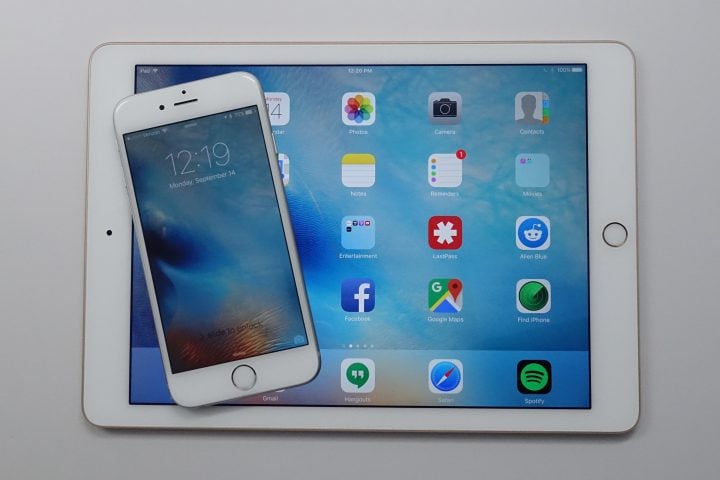 I only have cellular data on the iPad mini 2 and AT&T's LTE network is doing just fine. No complaints thus far.
If you do run into cellular data issues, and you might, please take a look at our list of fixes.
iOS 9 Problems on iPad
iOS 9 problems are starting to emerge as the smoke clears. Many of these are common issues like battery drain. Some are odd bugs like an issue downloading updates on the App Store.
So far, I haven't noticed anything suspicious on my two iPads. That doesn't mean that there aren't bugs on board it just means that I haven't spotted them yet. I'll definitely be digging over the next few weeks but so far, things are looking good.
With Apple focused on improving the performance of iOS after last year's debacle, this doesn't come as much of a surprise. I just hope they remain stable. Nothing has jumped out at me yet though.
iOS 9 Speed
iOS 9 is extremely fast on the iPad Air and iPad mini 2 and I'm hearing the same about the iPad Air 2. (My girlfriend owns an iPad Air 2.)
Animations and transitions are fluid and I've yet to encounter any serious slowdown on either device. iOS 8 treated both of these devices well so I'm confident that the speed is going to hold up in the weeks ahead. We'll see.
Should You Install iOS 9 Right Now?
For most of you, I think iOS 9 is going to be a solid upgrade. I am enjoying the new features (particularly the multitasking) and I haven't seen or heard about any widespread bugs or performance problems on the iPad Air 2, iPad Air, iPad mini 2, or any other model.
There are problems, there always are, but they're isolated and if you do a little prep work you should come out of the iOS 9 update unscathed.
If you're feeling nervous, you can always wait a few days for more feedback to arrive. I'll be back with a full review of the iPad iOS 9 update in a week or so.
12 iOS 9 Release Date Tips
Get Familiar with iOS 9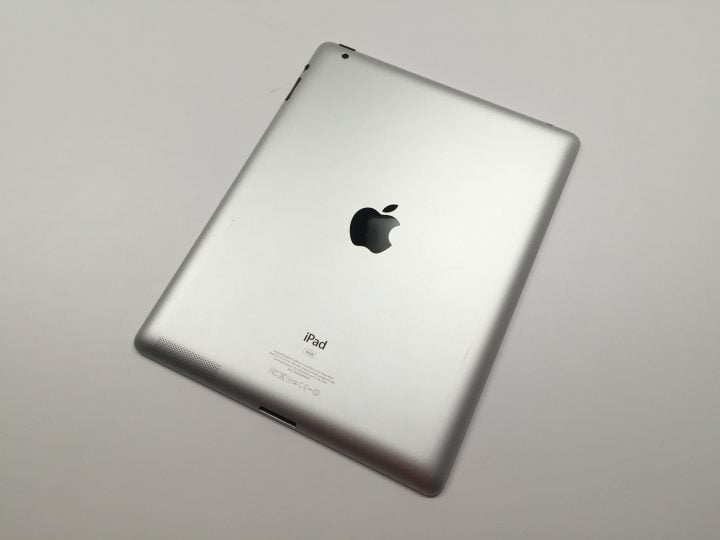 Before you install iOS 9, you should get familiar with iOS 9 and its changes. We've put together a walkthrough that will take you through these changes and we highly recommend taking at look at all of these changes before you make your move.
You'll also want to consult our full iOS 9 review for a broad look at features and performance on the iPhone 6 and iPhone 6 Plus.

This article may contain affiliate links. Click here for more details.