iOS 9 on iPhone 5: First Impressions & Performance
The iPhone 5 iOS 9 release is finally here which means users around the world now have access to the device's third major system update. With that in mind, we want to take a look at how the official iPhone 5 iOS 9 update is holding up on day one.
In June, Apple confirmed the iOS 9 update and an iOS 9 release window. For weeks, iOS 9 betas teased iPhone, iPad and iPod touch owners with new features and enhancements. Then, last week, Apple finally confirmed a iOS 9 release date for all compatible devices.
The iOS 9 release date is today and the iOS 9 update is now available for select iPhone, iPad and iPod touch users. Apple's iPhone flagship from 2012, the iPhone 5, is one of the devices capable of running the iOS 9 update and it's an extremely enticing download for those still rocking the first 4-inch iPhone.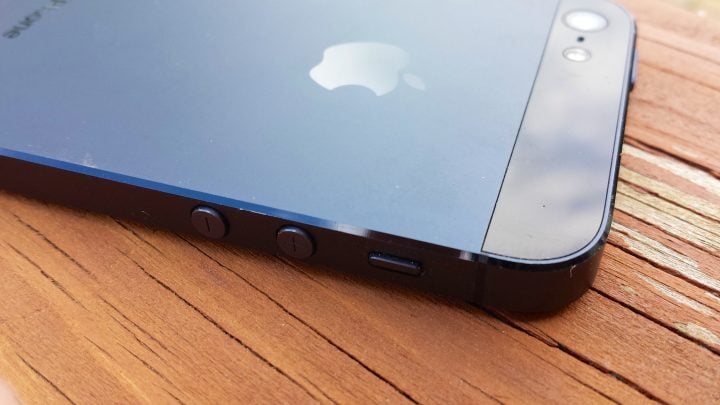 The iOS 9 update comes loaded with new features including a new Notes app, performance enhancements, changes to the keyboard, a new font, and more. It's a tempting update and one that I installed immediately.
Several hours ago, I made the jump from iOS 8.4.1 to iOS 9 on my iPhone 5. Per usual, I want to supply iPhone 5 users with some feedback about the update's performance in the hours after the initial iOS 9 roll out.
These initial iPhone 5 iOS 9 update impressions don't serve as my final review of the software but they should help those of you who are struggling over the decision to install now or wait. Remember, there are some very good reasons to wait.
iOS 9 Installation
At 10:01AM PT, Apple released iOS 9 for the iPhone 5. And I, like so many others, tried to download it Over-the-Air right when it was released.
As expected, Apple's servers got slammed with requests for iOS 9 and this lead to some initial hiccups that prevented me, and many others, from downloading the iOS 9 update Over-the-Air through Settings. The day was off to a great start.
Instead of sitting around waiting for the download problems to subside, I decided to try and install via iTunes. Oddly enough, I didn't have any issues installing the iPhone 5 iOS 9 update using the application.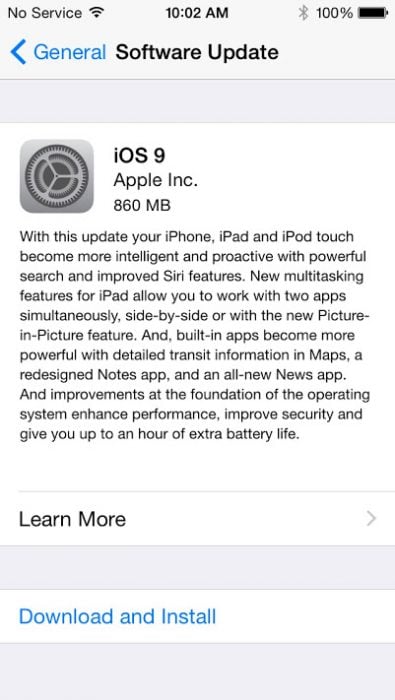 From start to finish, the iPhone 5 iOS 9 download and installation process took me about 25 minutes during peak hours. The 860MB download completed extremely fast. It was the installation process that took the longest.
Download issues are still popping up though they aren't the download issue that I saw early in the morning. Instead, some users are saying that their iOS 9 update is getting stuck.
If that happens to you, all you need to do is hold down the home button and the power button (mine doesn't work) at the same time and wait for the phone to reboot.
iOS 9 on iPhone 5 Performance
These iOS 9 impressions aren't going to touch on the many features that come with the iPhone 5's iOS 9 update. I've chosen to focus on performance instead. If you want to learn more about iOS 9 features, take a look at our full length iOS 9 review.
Before I dive into these impressions, remember that I am just one person with one version of an AT&T iPhone 5. I probably don't use the same applications that you do and I probably don't use my iPhone 5 the same way that you do. Mileage always varies when it comes to iOS updates so use these impressions as a general guide.
iOS 9 Apps
I've been using the iPhone 5 iOS 9 update for a few hours now and I've been testing the various applications on my device to ensure that they've made a smooth transition from iOS 8.4.1 to the iOS 9 update.
Prior to installing the iOS 9 update, I installed several app updates that came with iOS 9 support in the hopes that they would help keep things stable after the move.
Thus far, I've yet to encounter a single problem. My core group of apps include Asana, Slack, YouTube, Twitter, Instagram, Gmail, Hangouts, Chrome, Dark Sky, Amazon, SoundCloud, Spotify, and Xbox One Smartglass. These are the apps I use the most and all of them are performing well with iOS 9 on board.
This doesn't mean that I'm in the clear, app problems can emerge at any time, but it's still a very good sign. iOS 9 went through a lengthy beta process so I'm not surprised with the early results.
If you do run into some issues with the update, try installing the latest bug fixes, assuming they have good reviews on the App Store. If that doesn't help, try reinstalling the app. And if push comes to shove, contact the developer.
iOS 9 Battery Life
I've owned the iPhone 5 since the day it came out in 2012. And while I've dealt with my fair share of iPhone 5 problems over the years, bad battery life hasn't been one of them.
My iPhone 5's battery has been holding up extremely well and nothing has changed after the iOS 9 update. I'm not noticing any abnormal battery drain though I can't tell if iOS 9 has provided a significant battery boost. iOS 9 promises up to an hour of extra battery life. I should know more as I dig in over the next few days.
I haven't run into any major battery drain issues and I haven't seen any widespread complaints about iOS 9 battery. That's important because battery drain issues are typically front and center after major iOS updates.
If you are dealing with battery drain problems after installing the iOS 9 update on your iPhone 5, take a look at our tips and fixes.
iOS 9 Wi-Fi, Cellular Data & Bluetooth
Wi-Fi, Bluetooth and cellular data issues are also extremely common after major iOS updates. And while I've seen a few people complain about them post-release, I haven't seen the same kind of volume that I typically see after major system upgrades. iOS 8 was a black eye for Apple so the focus on performance isn't surprising.
I've used the iPhone 5 on several different routers without any problem. Speeds are normal and I've been able to connect without any issues. At least thus far.
I've been able to successfully pair the iPhone 5 with several Bluetooth devices including headphones and speakers. No problems there. I've also been able to pull down excellent LTE data speeds with AT&T's network. No problem there either.
Issues with connectivity can pop up at any time so I'm going to keep our list of fixes handy just in case I do run into something in the days ahead.
iOS 9 Problems on iPhone 5
I've already detailed some of the initial iOS 9 problems plaguing iPhone and iPad users. Most of these issues are small and from what I can tell, isolated. I haven't seen any widespread iOS 9 problems pop up today and that's a great sign for iPhone users. We typically see hero level issues emerge shortly after release.
Now, this doesn't mean that I don't have issues on board my iPhone, it just means I haven't run into any. Problems can pop up at any time and I've discovered bugs weeks after an iOS release. From where I'm sitting though, iOS 9 is stable.
I'm going to spend the next few weeks digging into the iPhone 5 iOS 9 update. I might find something, I might not. If I do, I'll be sure to warn you.
iOS 9 Speed
If you've followed my journey with the iPhone 5, you'd know that the iOS 8 update gave me problems. My device started exhibiting speed issues after downloading the iOS 8.1 update and it unfortunately, it still hasn't recovered.
I was hoping for an iOS 9 miracle but thus far, it's more of the same. It still lags a bit when I open a folder, open an app or scroll through the home screen. The lag is also apparent when using the phone's multitasking feature.
When I say lag, I am talking about a brief slow down, not a full on freeze. Lag is annoying but the phone is still usable.
My hope is that the problems vanish once the iOS 9 update settles in. That can sometimes take a few days. This is a three year old phone so I'm not expecting the world but it would be nice to once again see fluid animations and transitions.
Should You Install iOS 9 Right Now?
I love iOS 9's feature set and I think you will too. That said, if the iPhone 5 is your daily driver, my advice is to wait a day or two for the smoke to settle. The last thing you want is for iOS 9 to wreck your phone's performance.
Wait a day or two, gather feedback from a few other sources, and then make your decision. The iPhone 5 is an old phone and you need to tread carefully.
I'll be back in a week or so with a full review of the iPhone 5 iOS 9 update. For more on iOS 9 features, please take a look at our review.
12 iOS 9 Release Date Tips
Get Familiar with iOS 9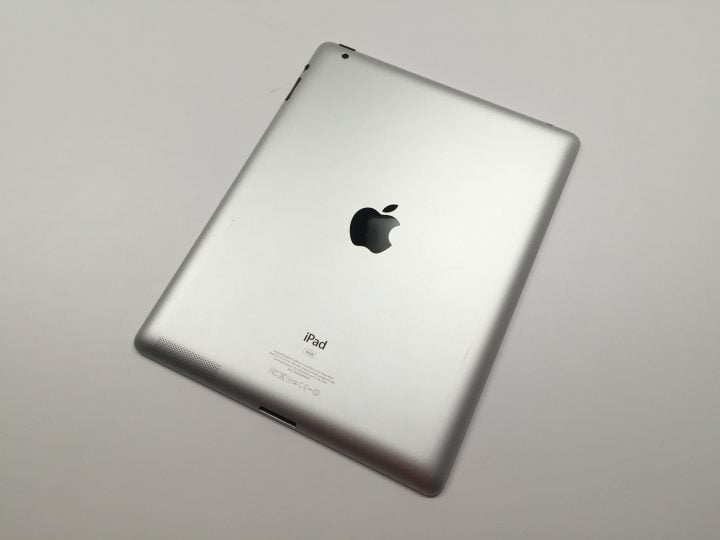 Before you install iOS 9, you should get familiar with iOS 9 and its changes. We've put together a walkthrough that will take you through these changes and we highly recommend taking at look at all of these changes before you make your move.
You'll also want to consult our full iOS 9 review for a broad look at features and performance on the iPhone 6 and iPhone 6 Plus.