6 Things the iOS 9 Update Tells Us About the iPhone 6s
During it's WWDC 2015 keynote, Apple confirmed an upcoming iOS 9 update for iPhone, iPad and iPod touch. As expected, Apple decided not to reveal a new iPhone, a device that's rumored to be called iPhone 6s. While the iPhone 6s launch probably won't come until later this year, Apple's iOS 9 update revealed a few potential clues about the iPhone 6s release.
In the buildup to the start of WWDC 2015, we heard a lot of rumors about new Apple products. Among them, an iOS 9 update, a new OS X update, and a new Apple Music service aimed at the likes of Spotify and Pandora. We did not, however, see any iPhone 6s launch rumors hint at an arrival at WWDC.
Those who were hoping for a surprise iPhone 6s launch this morning were left empty-handed. While Apple confirmed a new OS X update (El Capitan), Apple Music and iOS 9, it failed to confirm a new iPhone leaving that announcement for another day on the calendar.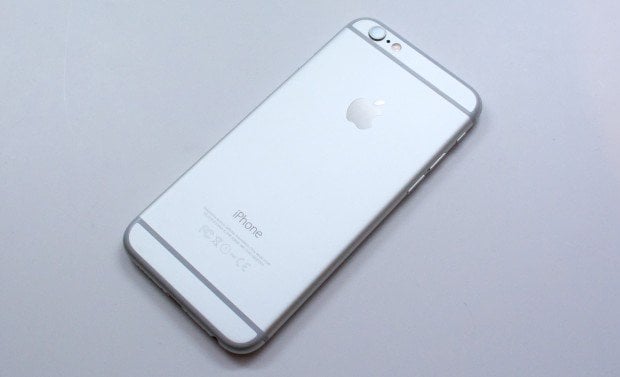 While the iPhone 6s still isn't official, we spotted some potential hints at what might be coming with the iPhone 6s. Some are more concrete than others but we feel like they all represent possible iPhone 6s features. The iPhone 6s is expected to feature some big time upgrades including iOS 9. Here's what we think Apple's new iOS 9 update tells us about the iPhone 6s.
iPhone 6s Release Date
Those of you who have even a slight understanding of Apple's iOS/iPhone release protocol know that Apple always releases new iOS software alongside new iPhone hardware. They go hand-in-hand. Always have. So when Apple revealed an iOS 9 release date this fall, our first thought was about an iPhone 6s release date in the fall.
If Apple is planning to release a new 2015 iPhone, and according to various credible rumors it is, then it will be running iOS 9 out of the box. And if iOS 9 is coming this fall, then there's a very good chance that Apple will release the iPhone 6s/iPhone 6s Plus in the fall.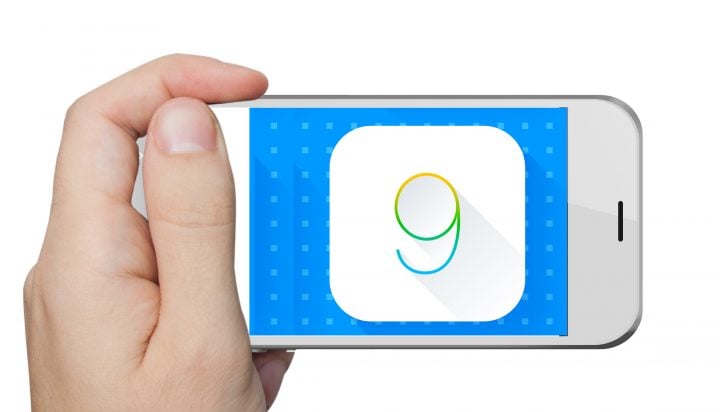 While there have been rumors of an early iPhone 6s launch, not everyone is convinced. 9to5Mac says that they've heard nothing about an August launch which means at this point, a September launch close to the start of fall (September 23rd) is the safest bet.
If we had to place a bet, we'd put our money on September 18th after an iOS 9 release on September 16th. Apple tends to release its iPhone on the third Friday of the month and that's what makes it the most likely date for an iPhone 6s release. September 18th or not, both the iOS 9 and new iPhone should arrive in the fall after iOS 9's stint in the beta program.
Longevity
Apple's always offered fantastic software support. While Android devices typically lose software support between the 18-24 month mark, Apple's always offered at least three years of support for its iPhone.
Last year, Apple released iOS 8 for the iPad 2, the device's forth update. And now, with iOS 9, the iPhone is moving beyond the standard three years of software support.
iOS 9 will be coming to all iOS 8 powered devices. This means that the iPad 2 will get its fifth iOS update while the iPhone 4s will get its fourth iOS update. This is huge because it's unprecedented for the iPhone.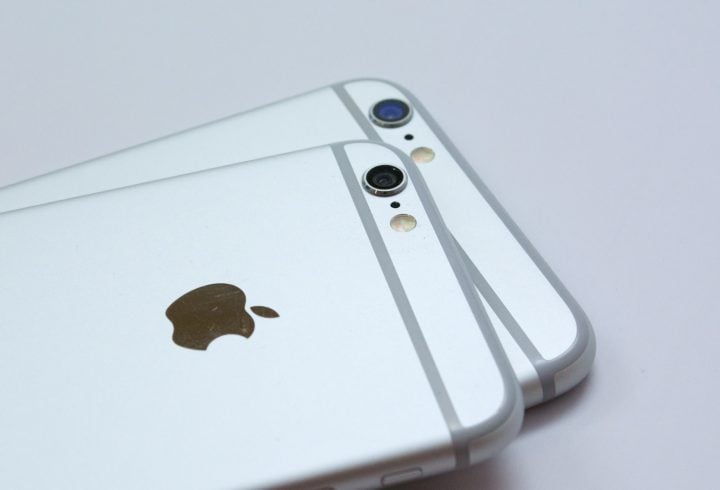 While nothing is confirmed, it leaves the door open for for years of software support for the iPhone 6s and iPhone 6s, something that would make them extremely sound investments. Remember, not everyone wants to spend the money to upgrade to a new phone every single year.
This also could make the iPhone 6s decision a little harder for current iPhone users. With the iPhone 4s and iPhone 5 getting an iOS 9 upgrade, users can opt to hold onto to those devices for a little while longer.
Aimed at Android Users
Thanks to iOS 9, we know that the new iPhone will once again be aimed at Android users.
Last year, Apple introduced two new iPhone screen sizes to entice those on Android and Windows Phone. This year, Apple is loading up its iOS software with features that should be attractive to people thinking about making the move to the iPhone in 2015.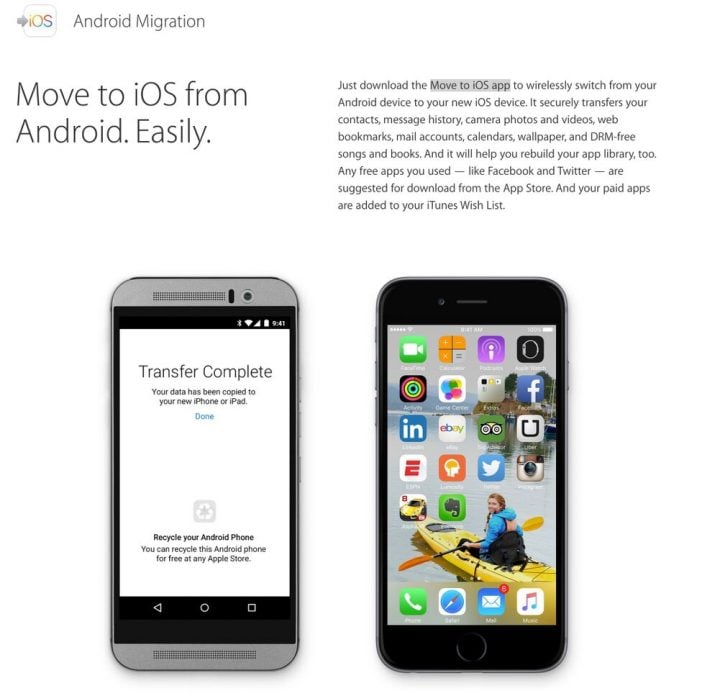 Apple's made improvements to its Maps application in an effort to better take on Google Maps. It's bringing a feature called "Proactive" to Siri so that its personal assistant can better compete with Android's Google Now. Apple has rebranded Passbook as Wallet, improved Spotlight to compete against Google Search, added Wireless CarPlay to compete with Android Auto, and brought in a new Apple Music service.
But maybe the most significant bait is a newMove to iOS app that Apple is introducing with iOS 9. The app will, according to Apple, make it painless to switch from Android to the iPhone:
It securely transfers your contacts, message history, camera photos and videos, web bookmarks, mail accounts, calendars, wallpaper, and DRM-free songs and books. And it will help you rebuild your app library, too. Any free apps you used — like Facebook and Twitter — are suggested for download from the App Store. And your paid apps are added to your iTunes Wish List.
If Apple is able to deliver on the hardware, and rumors suggest that the iPhone 6s will come loaded with high quality features including a new camera, the iPhone 6s will be a tempting proposition for those on the fence about Android vs. iOS.
Solid Battery Life & Performance
iOS 9 is going to be introducing tweaks that should help to improve iPhone battery life:
Across the entire operating system, apps and key technologies have been made more efficient to trim battery usage wherever possible — so you get more battery life for the things you do every day. Thanks to ambient light and proximity sensors, your iPhone knows if it's facedown on the table and prevents the screen from turning on, even when you receive a notification. And the new Low Power mode lets you extend your battery life even further.
It will also, according to Apple, make "more efficient use of the CPU and GPU to deliver faster scrolling, smoother animation, and better overall performance."
New iPhones always feature a new processing chip that helps to deliver excellent performance and often times, improved battery life. The iPhone 6s is rumored to have an A9 CPU with 2GB of RAM on board. Combined with iOS 9's tweaks, the iPhone 6s has a chance to put some space between it and the iPhone 6 and iPhone 6 Plus.
Touch ID
The iPhone 6s is rumored to have an improved Touch ID sensor. While iOS 9 didn't confirm those improvements, it did all but confirm the presence of a Touch ID sensor. That shouldn't come as much of a surprise to anybody familiar with the iPhone.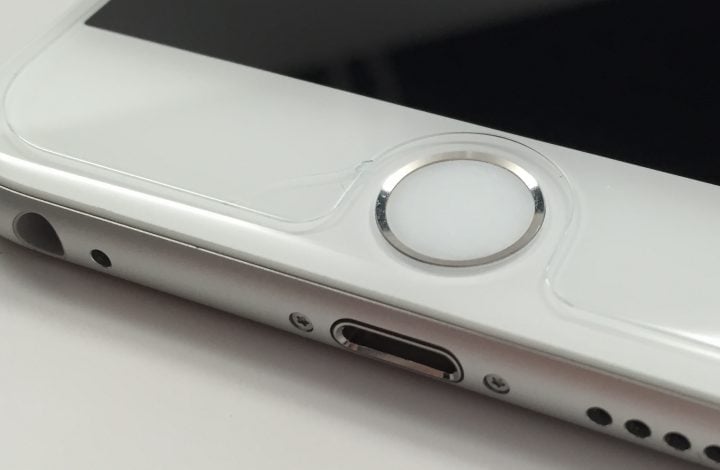 iOS 9 is bringing a series of security enhancements with it. One of them is a six-digit passcode that's tied in directly with the Touch ID fingerprint sensor:
The passcodes you use on your Touch ID–enabled iPhone and iPad will now have six digits instead of four. If you use Touch ID, it's a change you'll hardly notice. But with one million possible combinations — instead of 10,000 — your passcode will be a lot tougher to crack.
With new Touch ID features on the way in iOS 9, there's a very good chance that Apple's home button will once again feature a fingerprint sensor for added security and convenience.
16GB iPhone 6s Possible
Apple continues to keep the 16GB iPhone around despite the calls for a 32GB, 64GB and 128GB lineup. And while we could certainly see the company make the switch this year (especially now that Samsung has done that very thing with the Galaxy S6), the door is certainly open for a 16GB iPhone 6s.
First off, Apple's trimmed the amount of space needed to install an iOS update OTA. This is something that frustrated many 16GB users. While iOS 8 required 4.58GB of free space to install, iOS 9 will require just 1.3GB.
Apple's also introduced something called App Thinning. Here's how the company describes that feature on its iOS 9 developer website:
With iOS 9, the App Store allows users to download apps that are specifically optimized for their device. This means apps will download, install and launch faster while taking up less storage space than before. Build support for slicing, on-demand resources, and bitcode, and give your users smaller, more convenient updates to your apps.
These optimizations were clearly made with 16GB iPhone and iPad users in mind so it will be interesting to see if Apple decides to make the jump this year or keep the 16GB base model around.

This article may contain affiliate links. Click here for more details.