iOS and iPhone Timeline: From iPhone to iOS 5 in 5 Years
Since the introduction in 2007, the iPhone has shaken up the mobile industry with the iPhone, the largest app store, a tightly controlled but beautiful iOS operating system and yearly upgrades to the iPhone. As we approach WWDC 2011 where Apple will announce iOS 5 and may announce an iPhone 5 or may not announce an iPhone 5, we wanted to take a look back at the history of the iPhone and iOS — going all the way back to a time where we didn't have third-party apps or even 3G network speeds.
History of the iPhone and iOS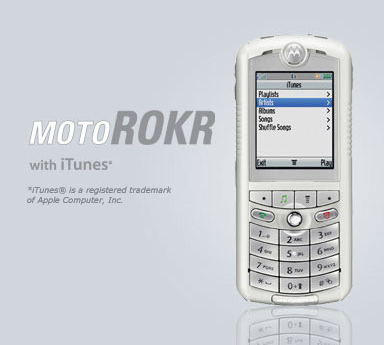 September 7, 2005 – Motorola launches the Motorola ROKR E1, a candy bar style phone that allowed users to sync their phone to iTunes for the first time. The ROKR E1 allowed users to sync 100 songs from their iTunes library to the phone. The phone was m,et with a lukewarm reception thanks to the song limit and slow transfer speeds. Around this time Apple introduced the iPod Nano, which may have contributed to the poor sales.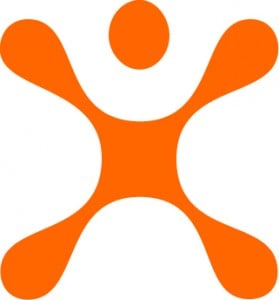 2005  – Apple begins working with Cingular to develop a touchscreen phone.
iPhone Announced
January 7, 2007
– At MacWorld 2007 Steve Jobs takes the stage to announce the first iPhone. This phone came in 4 and 8GB sixes  and had a 2.0MP camera. The first iPhone couldn't run apps made by third parties. Apple eventually released a 16GB version of the original iPhone.
At the time, the iPhone brings a collection of multimedia features that left the competition in the dust. While it is hard to imagine an iPhone without all the apps, the original iPhone only ran apps that came direct from Apple. Developers were limited to web apps, but this would soon change.
When the iPhone initially launched it was missing several features that the competition offered, namely copy/paste and the ability to multitask.
February 27th 2007 – Apple airs the first iPhone ad during the Oscars, pulling in a collection of clips of famous movie stars to say, "hello."
https://youtu.be/uk_Oa8TlfCU
June 29, 2007 – The iPhone launches across the U.S. to long lines and eager users. The iPhone is only available on AT&T's network and it's unsubsidized. Apple fans fork over $499 for the 4GB iPhone and $599 for the 8GB iPhone.
September 5, 2007 – Apple discontinued the 4GB iPhone just after selling it for just over two months. Apple also drops the price of the 8GB iPhone to $399, setting off a fire storm amongst early adopters. Apple soon offered a $100 Apple store credit to those that paid the orinal price.
Flickr – rudolf_schuba
November 2007 – The orignal iPhone launches in Germany, UK and France.
October 17, 2007 – Apple announces that the company is working on a SDK to allow developers to create iPhone apps.
February 5, 2008 – Apple launches the iPhone 16GB for users that need more space for music and movie files.
March 8, 2008 – Apple releases first beta of the tools needed to make iPhone apps and names the operating system "iPhone OS".
iPhone 3G Announced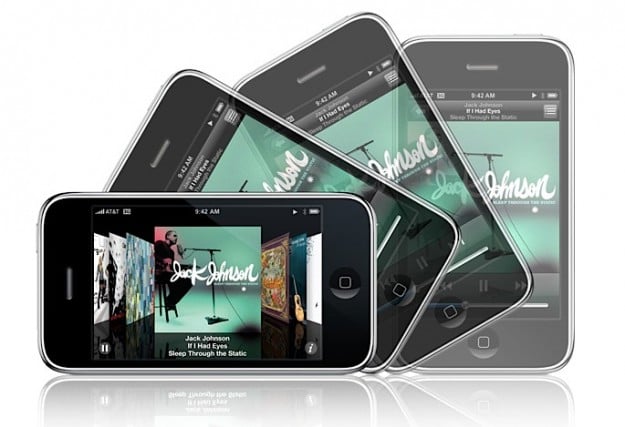 June 9, 2008 – Apple announces the iPhone 3G with faster 3G network connectivity and GPS. This new model came in 8GB and 16GB and was available in black and white. Apple also announces the inclusion of third-party apps. The App Store is one of the biggest changes, and marks the beginning of the iPhone's race to dominance.
The addition of GPS and a faster 3G radio allowed Apple to catch up to the competition which had the advantage of including 3G radios on numerous devices since the launch of the iPhone. In addition to data speeds Apple claimed 36% faster page loads than the top competition at the time — The Nokia N95 and the Palm Treo 750.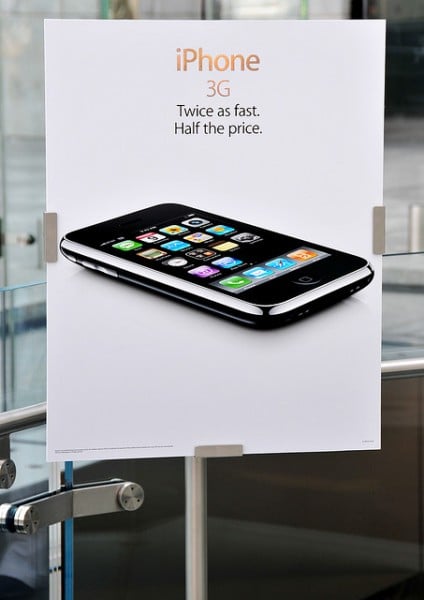 Flickr – Ed Yourdon
July 11, 2008 – Apple releases the iPhone 3G to lines of eager shoppers resulting in even more lines. Apple also retires the original iPhone on this date. The iPhone 3G is running iOS 2 at this point and 500 apps are available in the App Store.
iPhone App Store
July 14, 2008 – Within 3 days 800 apps available and over 10,000,000 app downloads.
September 9, 2008 – 3,000 iPhone apps in the App Store, with 55,000,000 app downloads.
October 22, 2008 – 7,500 iPhone apps in the App Store, with 200,000,000 app downloads.
January 16, 2009 – 15,000 iPhone apps in the App Store, with 500,000,000 app downloads.
March 17, 2009 – 25,000 iPhone apps in the App Store, with 800,000,000 app downloads.
April 23, 2009 – 35,000 iPhone apps in the App Store, with 1,000,000,000 app downloads.
iPhone 3GS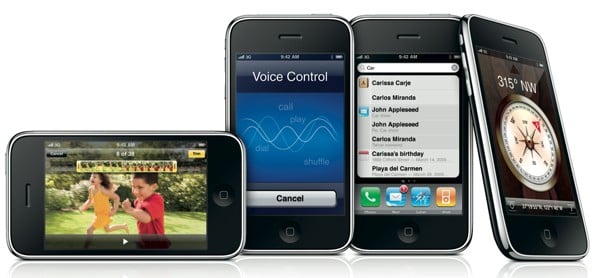 June 8, 2009 – Apple announces the iPhone 3GS with a new faster Arm A8 processor which allows the iPhone 3GS to deliver much faster performance across the board. The iPhone 3GS also includes a bump up to 256MB RAM, digital compass, support for Nike+ and an upgrade to a 3.0MP camera that shoots stills and video. The iPhone 3GS also marked the first time Apple fans could purchase the iPhone in a 32GB size.
The S is for speed. After bringing the iPhone 3G up to par with a 3G radio Apple focused on delivering a faster phone by using a 833Mhz processor that helped the iPhone 3GS handle gaming much better and complete other tasks four times as fast. The iPhone 3GS also introduced voice control to the iPhone, something which we expect to see get a big bump in iOS 5.
Flickr – adamjackson1984
June 19, 2009 – iPhone 3GS 16 and 32GB models available on day one. As expected, Apple experiences lines around corners.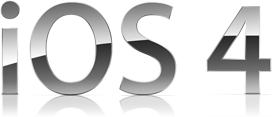 April 2010 – iOS 4 announced with a large number of improvements that allows the iPhone to catch up to the Android competition. Here are a few of the new features. Looking back, it's hard to believe the iPhone only gained these in 2010.
Multitasking – there is going to be a form of multitasking which allows some apps to run in the background and when you start something like downloading a large document will continue in the background even if you close the app that initiated the action
Support for Bluetooth keyboards even on the iPhone and iPod Touch
iBooks app to read eBooks
A unified inbox for managing multiple email accounts in a single folder
Support for multiple exchange accounts
Camera improvements including 5X digital zoom and tap to focus video
Folder organization of apps so you can put a number of similar apps in a single folder
Customize – Ability to customize your background wallpaper
Improved camera and video editing
Enterprise improvements for business environments
iPhone 4 Announced
https://youtu.be/FHngLJ0RlNg
June 7, 2010 – iPhone 4 announced with a faster Apple A4 processor, sharper Retina Display, longer battery, gyroscope, front facing camera and new antenna design.
The iPhone 4 marked a new look for the iPhone with metal edges and a glass back. At the time Steve Jobs called the iPhone 4 the thinnest smartphone. The new iPhone processor was a 1GHz processor, underclocked to 800Mhz, and saw a bump up to 512MB RAM to deliver additional speed increases and even greater graphical abilities which third part game developers were quick to show off.
https://youtu.be/R1wbQdVezio
Apple improved the cameras on the iPhone, adding a front facing camera and introducing FaceTime as a unified way for Apple iPhone users to chat with each other. The rear camera received a bump up to 5.0MP and gained the ability to record video at 720P HD.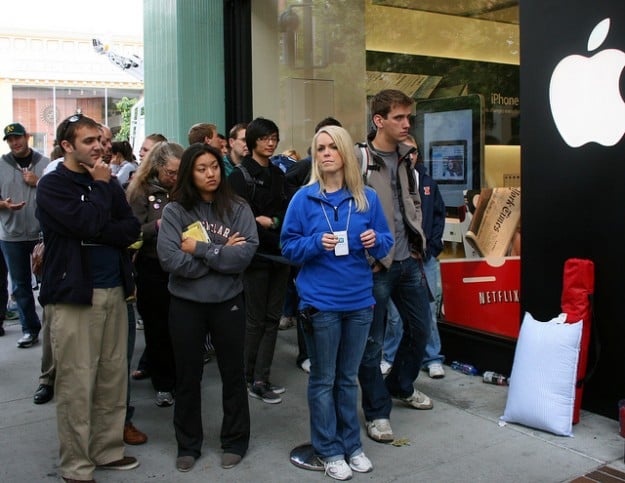 Image Credit – Richard Masoner
June 24, 2010 – iPhone 4 goes on sale to long lines across the country. As expected, sales were robust, but many users complained of dropped calls due to a faulty antenna design.
https://youtu.be/diuQJ3-ZHsw
July 16, 2010 – Apple holds a press conference to address antenna issues and offers free bumper cases to affected users. The antenna issue earned many names from the death grip to Antennagate. As you can see in the video, Apple took the issue in stride.
https://youtu.be/zO0cMFLBL6k
September 8 2010 – iOS 4.1 with Game Center and Ping. Apple introduces Game Center which allows iOS users to play against each other on the iPhone, iPad and iPod Touch as well as compare scores. Ping is a musical social network that was met with lukewarm reception.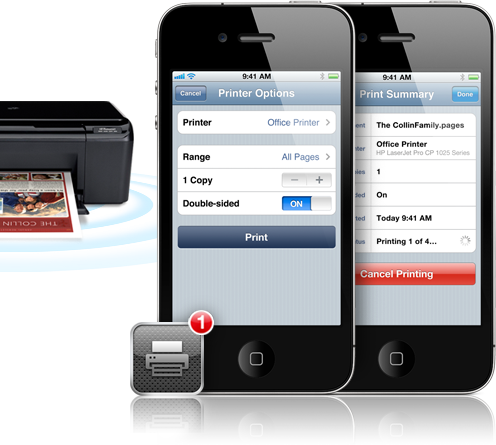 November 2010 – iOS 4.2 – brings iPad, iPhone and iPod Touch to same OS. Adds Airplay and AirPrint. Orientation switch switched to mute.
AirPlay allows iOS users to play music, movies and videos to their Apple TV from their iPhone or iPad. AirPrint allows users to wirelessly print to select printers, addressing the needs of a small, but vocal, group of users.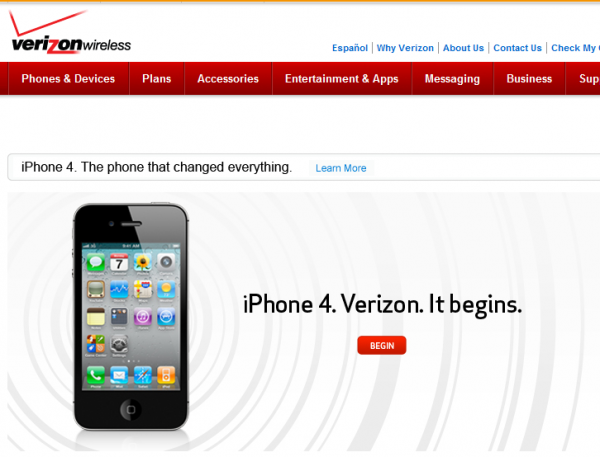 January 11, 2011 – iPhone 4 announced for Verizon. this is the same device we have seen on AT&T, aside from the new CDMA radio and a slightly different antenna design.
February 10, 2011 – iOS 4.2.6 released adding personal hotspot to the Verizon iPhone.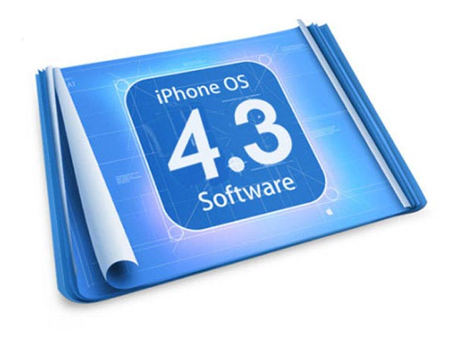 March 9, 2011 – iOS 4.3 arrived, delivering hotspot functionality, faster browsing, lock switch settings and improvements to AirPlay and Home Sharing.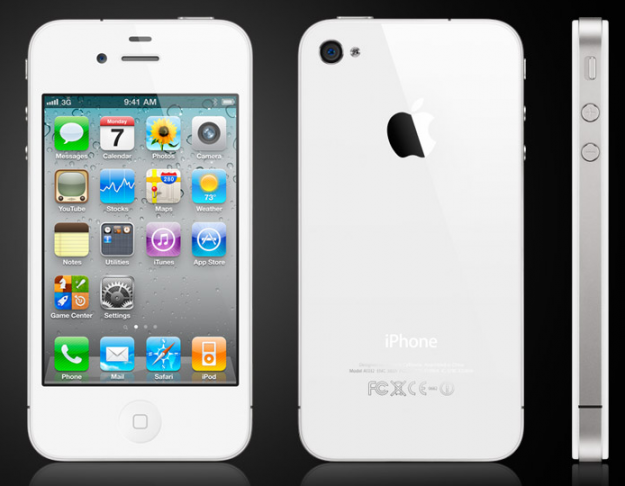 April 2011 – White iPhone 4 released on Verizon and AT&T after a long wait. Apple originally announced that the white iPhone 4 would be available during the Summer 2010. The company blamed quality control issues with the white version of the iPhone 4, but never released specifics on what caused the nine month delay.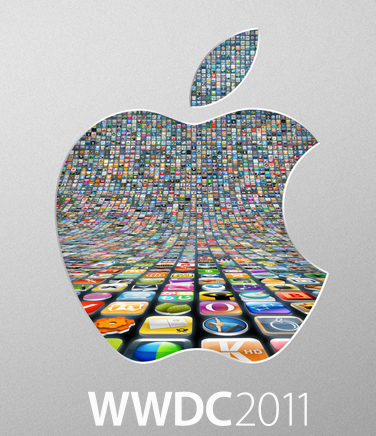 iOS 5 and Possible iPhone 5
June 6, 2011 – At WWDC 2011 Steve Jobs is expected to take the stage and announce iOS 5 with a collection of new features that may include better notifications, tun by turn navigation and cloud based music streaming.

As an Amazon Associate I earn from qualifying purchases.