iOS Apps That Touch You In All The Right Places
Last week Kevin brought the new iPad App, Paper, to your attention. The day before that I gave a "not ready for prime time" review of Taposé. Both of these Apps deserve recognition. Not just because they sprung from some of the minds that were behind the Microsoft Courier project, although there is something to that. In fact, Paper and Taposé, lead a growing list of iOS Apps that in my view prove that their respective developers are taking advantage of what iOS has to offer when it comes to user interaction. And in my view, that's what makes Tablets so special. You can, assuming Apps or the OS let you, interact in a much more personal way with your data or the content.
That might sound a bit questionable in light of how I viewed Taposé, but I do applaud the developers for attempting to create a user experience that is unique to the device and focuses on touch capabilities. I'd rather see bold missteps than the same old same old. If Tablets are going to become what quite a few think they might, that future depends on App developers who can push the envelope. As I said, these two Apps are not alone. There are a number of others we've seen in the last few months that I think help iOS stand above its competition. If you're going to create an App for a touch centric device, then user interaction should take advantage of the touch UI instead of just trying to make an App work with older metaphors for input and interaction. Admittedly, sometimes that requires a steep learning curve. But sometimes things just make sense and you're off an running.
Here's a list of some iOS Apps that I find unique and fun, both on the iPhone and the iPad. I'm sure there are many others I haven't discovered. So, we'd love to hear from you on Apps that you think show some new directions as well.
Kevin already did a write-up on Paper. As some one who is not a drawer or sketcher by nature, this App offers me an opportunity to be one if I choose. The cleanliness of the interface is addictive. I purchased the other pen tips (you get one with the free App).
Again, I gave this a "not ready for prime time" review last week, but I still applaud the developers for creating an App that seeks to take advantage of the touch screen to allow you to manipulate your work on the screen.
Flipboard has become my morning newspaper and my feed reader of choice. It's been around for awhile, but that doesn't diminish its significance. While it is a wonderful App for the iPad, I find I like some of the functionality on the iPhone even more.
Path is an iPhone social media App, although you can use it on the iPad in 2X mode. Unlike most social media or sharing Apps, Path only lets you add 150 friends, so the info you share and receive is more tailored to your liking. What I like most is the UI. It seems playful.
I've only just begun to figure this out on the iPad, and the learning curve is steep. (At least for me.) But I do believe that Apple is using iPhoto to show other developers what they can do if they set their minds to it. The UI gives you the feeling that you are working directly with the photo you might be editing.
Calculators might be a dime a dozen, but Rechner removes button pushing in favor of swipes and gestures to get your results.
Another old favorite that has recently been updated with new fonts and of course for the iPad's Retina display. That's not the cool part though and the inclusion here isn't about touch. Instapaper has had a feature to allow you to toggle between a dark or light mode (for nighttime reading.) Now, taking advantage of your location, it will automatically change based on the time of day at your location. There's also a new twilight sepia look that is quite attractive.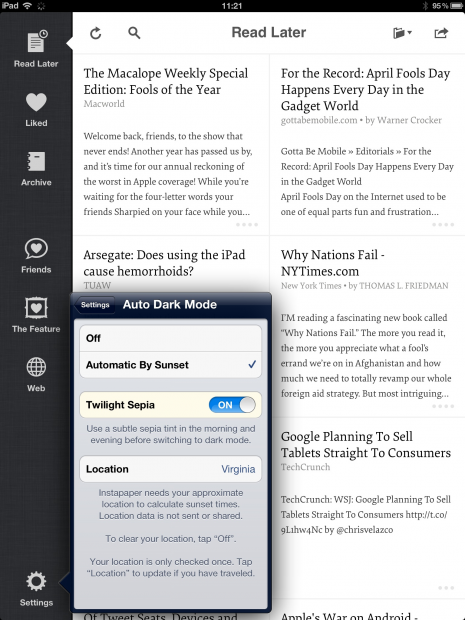 Brian Cox's Wonders of the Universe
Wandering through the universe in this App can be tons of fun. If this is the way education and learning is going to go in the future, then there's great potential ahead.

As an Amazon Associate I earn from qualifying purchases.