iOS Gets Free iPhone Navigation App with Offline Maps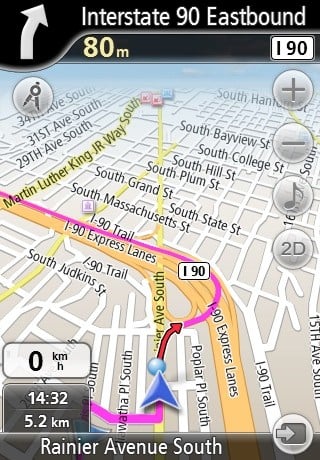 The iPhone is now getting its own free third-party GPS turn-by-turn navigation app with locally stored map data that doesn't require constant Internet access–unlike TeleNav (branded as AT&T Nav on the iPhone) or Google Maps with Navigation on the Android platform. The 1.6 GB worth of crowd-sourced map data is locally stored on your iPhone's flash memory. The app, called NavFree USA, is now available in the App Store. Aside from the basic navigation feature, add-ons like traffic and speed camera information will cost extra as an in-app purchase.
Free mobile navigation has been one factor that mobile OS platforms are trying to differentiate themselves from competing platforms. Nokia's free Ovi Maps features free downloadable maps that provide turn-by-turn GPS guidance for a number of countries across the world. Ovi Maps are stored locally on Nokia's Symbian-based phones, and the latest beta of the mapping software allows users to also download maps as they go along, much like Google Maps with Navigation on Android. Google had also rolled out free navigation on its Android platform, but Navigation does require an active Internet connection to download maps and directions.
Apple, after having made acquisitions of a few mapping companies, is also rumored to be developing a native iPhone mapping client. Currently, the iPhone relies on Google Maps, which doesn't provide turn-by-turn guidance on the iOS platform. A native solution from Apple would help the Cupertino, California company be less dependent on rival Google in the services space.
Apple's iOS already has a number of paid third-party turn-by-turn GPS solutions. Navigon, CoPilot, Magellan, and TomTom are among the large names in the iOS GPS space.
Via: Engadget

This article may contain affiliate links. Click here for more details.