iPad 2 Display Rumored to Have 4 Times the Pixels of Original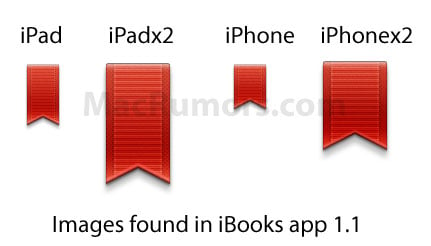 Recent leaks about the display of Apple's forthcoming second generation iPad state that the consumer tablet will increase its resolution four-folds when compared to the original tablet that was launched last year. Mac Rumors is reporting that while the current iPads sport a resolution of 1024 X 768, the new iPad 2 is said to "double" the resolution to 2056 X 1526 according to icons discovered in Apple's iBooks e-reader app.
The resolution is actually a quadruple increase–double of the horizontal and double of the vertical pixel count. In the past, when Apple had switched its iPhone to the Retina Display technology found on the iPhone 4, the company used the term pixel doubling, which has been picked up by most blogs, but in reality if the new display is accurate, the correct term should be pixel quadrupling. Apple is using the 2X moniker here in regards to the discovered new iBooks icons for the iPad 2, lending to confusion between actual pixel count and marketing jargon for the higher-res display.
The new display would give the iPad a 260 pixels per inch (ppi) density, which is under the 300+ ppi offered by the iPhone 4's Retina Display. It's unclear if Apple will call the new iPad 2 display a Retina Display due to its sub-300 ppi resolution; the company had stated at the press event that its Retina Display technology exceeds the 300 ppi standard used in print.

Additionally, parts-seller GlobalDirectParts is listing the iPad 2 display for sale with an MSRP of $218. The seller was credited as leaking the updated antenna for the iPhone, which at the time was believed to be for the iPhone 5 but later was found on the Verizon CDMA iPhone 4. The site is also listing a motor for the iPad 2, though no image was shown according to Mac Rumors. It's unclear how the motor would figure in or if Apple intends to provide the iPad with some sort of vibrating alert or haptics feedback mechanism. Vibrating alert would help the iPad deliver notifications in a more quiet manner or deliver feedback response to game play or screen taps if needed.

As an Amazon Associate I earn from qualifying purchases.