iPad 2 Gets Custom In-Dash Mount on Ford F150 Truck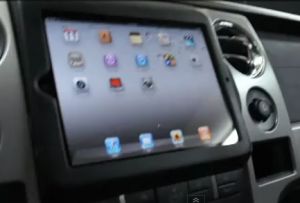 Tablets with integrated GPS by way of the 3G or 4G modem on WiFi + 3G models are great tools for navigation, thanks to their larger screens. Additionally, as Apple's iPad 2 also comes with integrated storage, wireless broadband access thanks to integrated AT&T or Verizon 3G, and a plethora of apps, its versatility as a navigation or car computer would make it a prime candidate for a hardware hack to integrate it into cars, trucks, and SUVs with larger dash consoles. The folks at Sound Man Car Audio in Southern California are at it again, this time creating a custom dash fitting for Apple's second-generation tablet.
While Google Maps works great with the WiFi + 3G iPad featured in the above Sound Man YouTube video, what I would really recommend is a turn-by-turn voice guided solution, like those from Navigon, TomTom, Magellan, CoPilot, or others. There are a number of third-party software on iOS that will have you familiar with the roadways in no time and can re-route you on the go should you stray off path.
It's great to see Sound Man Car Audio build a custom in-dash unit so quickly. The guys got the rig set up on the launch day of the iPad 2 and have been responsible with custom in-dash solutions for the original iPad. These guys really have a cult following for those who need to modify their rides.
While some may shun the idea of having an iPad as an in-car computer as the tablet doesn't have access to your car's on-board computer, it's really nice to see your route on a near-10-inch display, rather than a 3- to 4-inch smartphone display for GPS guidance. The iPad, however, can't integrate as a controller, for instance, for your car radio, or to detail you mile usage on your trip or other car settings. For that, you'd still need a solution from your auto-maker.