iPad 2: I Want Wireless Mirroring, Not an HDMI Adapter
The iPad 2's optional HDMI adapter is a big leap forward for sharing content, but this solution is not as good as I'd hoped for. I wish Apple's 'hobby' could be used in conjunction with the iPad 2 rather than the HDMI adapter.
The Apple TV (the hobby) is only $99 and is the piece of hardware Apple promotes the least. It's not even deserving of its own tab over at Apple.com, where Macs, iPods, iPhones and the iPad all get distinct tabs right up tip. If Apple wanted to boost sales of the Apple iPad dramatically, all it would have to do is figure out how to make it possible to mirror whatever's on your iPad 2 onto a TV connected to the Apple TV.
I've run HDMI cables from my notebooks to my HDTV before and the results aren't that pretty. The HDMI cord inevitably gets yanked or tripped on by adults, children or pets. Then there's the whole hassle of actually having to get up off the couch, dig around a junk drawer in search of the HDMI cable and plugging it into both the HDTV and my notebook.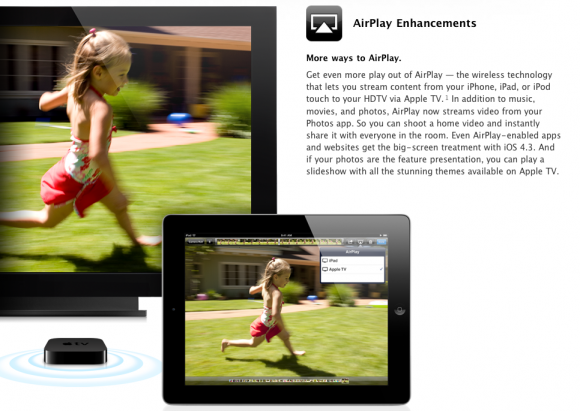 With AirPlay, you can easily display select content from your iPhone, iPad or MacBook on your HDTV in conjunction with the Apple TV. With iOS 4.3, you'll be able to stream even more content, assuming its within an AirPlay-enabled app.
But that's not good enough for me. I'd absolutely love the ability to show friends and family exactly what's on my iPad 2 without having to huddle around the thing. There are a lot of educators and presenters that would probably love to be able to demonstrate things, such as how to use the iPad or display content that isn't optimized for AirPlay.
Apple could have very well built HDMI directly into the iPad 2, but probably didn't because of style rather than tech or pricing constraints. The HDMI adapter isn't all that attractive either, but Apple will still earn a small fortune selling the accessory for $49 a pop.
Perhaps the current Apple TV or iPad 2 hardware isn't up to the task. Here's hoping for wireless mirroring in the next iOS and iPad updates

As an Amazon Associate I earn from qualifying purchases.