Installing a new iOS update on an old iPad is risky business, but so far the early iOS 8.1.3 iPad 2 reviews from users show an update that is safe to install. This is great considering the lackluster iPhone 4s iOS 8.1.3 performance we saw on video this morning. After reading through the user reviews of iOS 8.1.3 on the iPad 2 in the most important areas we can share a small collection of performance and app details from regular users.
It is still a tough choice to upgrade from iOS 7 to iOS 8, even with the new iOS 8.1.3 update that makes an update easier thanks to less storage space required on the device. Thanks to improvements in performance on iOS 8.1 many users upgraded, and now those users need to decide if it is safe to update to iOS 8.1.3.
The good news is that there is still a small window that allows iPad 2 owners to downgrade from iOS 8.1.3 to iOS 8.1.2, but this will close soon. If you are already on iOS 8, you can use this to test the new update on your iPad.
Read: 101 iPad Tips & Tricks
For users who cannot test this or who are still on iOS 7, we are sharing a collection of iPad 2 iOS 8.1.3 reviews to help you discover how the iPad 2 performs on this update. There are a variety of fixes in this update, but it is not one that every user may feel the need to rush out and download.
Here is a closer look at iOS 8.1.3 performance from iPad 2 users.
iOS 8.1.3 Installation
We heard about a few iOS 8.1.3 installation problems on the iPhone 4s and even on the iPhone 6, but there are not widespread reports from iPad 2 owners. It is still a good idea to use our iOS 8.1.3 release tips and follow our iOS 8.1.3 update guide to make sure you are ready and that you have a good backup.
https://twitter.com/kokernutz/status/560158911215722498
My iPad 2 upgraded to iOS 8.1.3 no issues. But my phone is now showing this. If you can, you might… https://t.co/a0ipvMoOdV

— Kevin Murray (@claystorm) January 27, 2015
If you prepare and set aside about a half hour you should experience an easy iPad 2 iOS 8.1.3 update.
iOS 8.1.3 on iPad 2 Performance
With user iOS 8.1.3 iPad 2 reviews we can highlight the performance and potential problems with this update. Keep in mind that not every iPad 2 user owns the same home network equipment, accessories and apps. The performance of the iPad 2 may vary from user to user with the iOS 8.1.3 update, so if you are unsure it is a good idea to wait a little longer, when we could see more reports.
With that out of the way, you can see the iOS 8.1.3 iPad 2 performance and hear about some problems with apps that users are reporting after a day of user.
iPad 2 iOS 8.1.3 Speed & Performance
The four-minute video below shows the iOS 8.1.3 speed on the iPad 2. This is impressively fast for an aging iPad 2. The language on the screen is Russian, but the model number checks out as a legitimate iPad 2.
Watch as the iPad 2 owner performs many common actions on the device with iOS 8.1.3 installed. This is the one video that many iPad 2 users need to watch before installing the update.
Apps
On the Apple Support Forums there are multiple reports of app issues including Facebook and Bento. It is possible that the owners need to install an update or that there are other network or account issues at play. We are not hearing widespread complaints about using Facebook on the iPad 2 after an iOS 8.1.3 update so users shouldn't be overly concerned.
A more troubling issue is with Safari on iOS 8.1.3. Curtp21 shares the following problem with his iPad 2 on iOS 8.1.3 on the Apple Support Forums.
"I have an Ipad 2, running IOS 8.1.3

Lately when I use Safari, almost every webpage I open keeps having the same problem.  It suddenly blanks out and starts reloading.  A message appears across the top of the browser screen that says "A problem occurred with this webpage so it was reloaded."

This happens CONSTANTLY no matter what the web page is…"
The issue is not unique to the iPad 2 or iOS 8.1.3, but this is still an issue to be on the lookout for.
iOS 8.1.3 Battery Life
If there are iOS 8.1.3 battery life problems on a specific device it is something we normally see users complain about quickly. While there are some people who need to fix bad iOS 8.1.3 battery life, this is not a big problem on the iPad 2 based on early user reviews.
WiFi, Cellular Data & Bluetooth
So far there are no widespread reports of iPad 2 WiFi or Bluetooth problems after the iOS 8.1.3 update. The same goes for cellular issues, but with fewer cellular iPad 2 models in use, it could take longer for any reports to surface.
Bugs & Issues
While there are some app problems and issues on iOS 8.1.3 and other devices like the iPhone 4s appear to run a little slower we are not hearing of any iPad 2 specific iOS 8.1.3 update bugs or issues.
Should You Install iOS iOS 8.1.3?
If you own an iPad 2 and you are already running iOS 8, this is an update you can safely install. There are not any major issues that would earn a hold at this time. With the iOS 8.1.3 iPad 2 performance as good as we see on video, there is even more reason to upgrade.
For users still on iOS 7, this is not a move you make as lightly. The performance is good, but some users still feel that iOS 7 is better on the iPad 2. There is no way to go back to iOS 7 after upgrading to iOS 8.1.3, so it's a good idea to wait a week or two if you are tempted to make the jump. You may also want to wait for the iOS 8.2 update that is coming in early 2015.
What's New in iOS 8
iOS 8 vs iOS 7 Walkthrough - Home Screen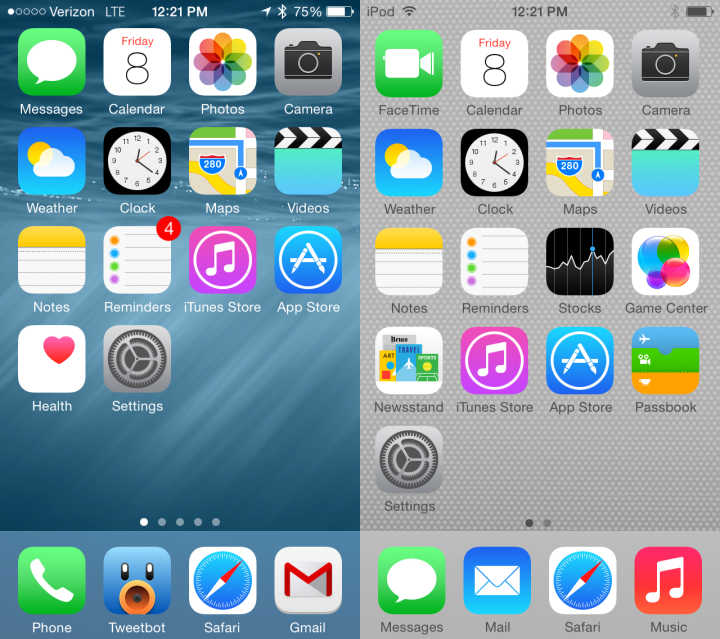 We start our iOS 8 vs iOS 7 walkthrough with the iPhone home screen, which is where you'll start your iOS 8 experience after an update this fall.
These screens are incredibly important as you see them anytime you turn on the iPhone or need to choose an app to launch. There is no way around using them, so Apple needs to make sure they work just right.
As you can see in the iOS 8 vs iOS 7 comparison above, there is no change between the home screen in the new iPhone software. Apple changed the status bar and some other small visual changes in iOS 7, but there are no updates for iOS 8.
We could see Apple change the home screen slightly for iOS 8 for the iPhone 6. The new iPhone will feature a larger 4.7-inch display with a higher resolution. This is something Apple may use to add more icons to the screen. Or they could stick with the current layout, it's tough to tell.

As an Amazon Associate I earn from qualifying purchases.