iPad 2 Price Drops to $399 with New iPad Launch
The iPad 2 is now priced at just $399, which is quite a steal if you don't need the latest and greatest technology.  The new iPad looks great, but the iPad 2 will suit many users just fine.
Apple will also sell a 16GB 3G model for $529. Both prices put it in a better position to compete with Amazon's Kindle Fire which is priced at $199.
While we generally encourage readers to buy the latest models of phones and other gadgets, the iPad 2 price break allows consumers to get into the tablet game without breaking the bank. The best value with the new iPad 2 pricing is the 16GB WiFi only version.
16GB is the only storage size that the iPad 2 will come in.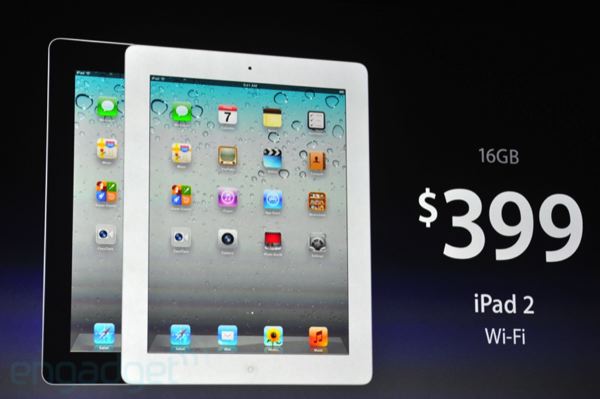 The iPad 2 models are now priced at  $100 off their original prices. The iPad 2 was announced a year ago with the same prices as the new iPad. The WiFi-only iPad 2 was originally priced at $499 (16 GB). Apple priced the iPad 2 WiFi + 3G at $629.
New iPad 2 Prices
$399 iPad 2 16 GB WiFi
$529 iPad 2 16 GB WiFi + 3G
Why You Should Buy the iPad 2
The iPad 2 is arguably better than any other consumer media tablet besides the new iPad. You'll still be able to get your money's worth, especially if you plan to use your iPad 2 regularly.
With the starting price now at just $399 you'll get a lot of bang for your buck.
Why You Shouldn't Buy the iPad 2
The $100 discount might sound tempting, but if you have enough cash to spare you should really buy the newer model, especially if you're planning on using AT&T's or Verizon's mobile data services.
That's because the new iPad offers 4G LTE data capabilities for both AT&T and Verizon which will offer data speeds that can reach up to 10 times faster than those found on a normal 3G network.
The iPad also, of course, features aging specifications.
Apple's new iPad boasts a Retina Display that offers quadruple the resolution of the iPad 2, a dual-core A5X processor that features quad-core graphics, and an upgraded iSight 5MP camera.
The new iPad will be out in select countries on March 16th and pre-orders will begin today.

This article may contain affiliate links. Click here for more details.