iPad 2 Still the Only Tablet I'd Buy Mom
Why should I buy an Android tablet for my mom? Android tablet manufacturers still can't answer that simple question with conviction. So guess which tablet we bought mom for her birthday?
Our family pitched in and bought my mom a white 16GB iPad 2 for her birthday. She was very excited when she unwrapped her birthday gift the other day and she's busy learning how to use the thing this week.
This isn't the first time my brother and I have given mom a gadget for her birthday. Last year she received an iPhone 4 and she got a Kindle DX the year before that.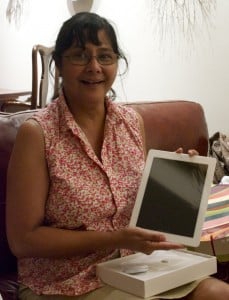 So why did we buy her an iPad instead of a Xoom, Galaxy Tab 10.1 or some other Honeycomb tablet? The short answer is that she wanted one. She's borrowed my iPad 2 on a couple of occasions, watched two of her grandsons play games on an  iPad 2 several times and watched her friends work on their Apple tablets.
I think my mom is a pretty typical electronics consumer. She doesn't follow gadgets on a daily basis, but does enjoy using them. She's seen ads for both the iPad 2 and some of the Honeycomb tablets, but she's never so much as mentioned the Android devices. So why would I even think of buying her anything other than an iPad?
Some Honeycomb tablets out-spec the iPad 2, but consumers don't buy specs. Tegra, 4G LTE and Android 3.1  are all Greek to Mom.
Consumers buy experiences and as of now, the iPad 2 offers the best tablet experience on the market. There are countless apps built specifically for the iPad 2. There are countless cases and accessories built for the iPad 2. There are free iPad classes at Apple stores where tablet newbies can learn how to use the devices.
The Honeycomb market is exciting and evolving. There's certainly a ton of potential, but these devices aren't catching on in the mass market quite yet. Enthusiasts and geeks are following Android tablets closely, but the cause is lost on people like my mom. Things might change in the near future, but for now the iPad is the tablet market as far as my mom's concerned.
There's a huge segment of the population that are similar to my mom. They covet products that are reliable and easy to operate. They enjoy using technology, not tinkering with it. I don't think they're going to have Android tablets on their radars anytime soon.

As an Amazon Associate I earn from qualifying purchases.