iPad 2: Waterfield Designs Cases Redesigned for iPad 2
Waterfield Designs makes some great mobile cases, so when we learned that they are now making iPad 2 specific versions of their excellent cases, we were excited to see them. We've taken a look at some of their cases for the iPad and notebooks finding them always to be of high quality.
These are not new designs but rather just updated designs to fit the smaller thinner iPad 2. Here is what they have with the starting price of each case.
The Smart Case for iPad 2 – $59
The iPad Smart Case for the original iPad was one of the first cases we reviewed for Apple's tablet. It has ultrasuede scratch-free liner with an impact-resistant screen-protecting insert that also will clean the screen. The outside is water-resistant and comes in six colors with  naturally tanned distressed, brown leather.
The Slip Case for iPad 2- $29
Like the Smart Case, this simple case is smaller and is designed for those who want a thinner case. It also comes in six colors.
The Suede Jacket for iPad 2 – $19
The scratch-free custom-fitted Ultrasuede Suede Jacket holds the iPad 2 in this ultra-lightweight design. It is very snug so there is a small pull-tabs which helps the user remove the iPad 2. There is also an optional pocket which stores accessories.
The iPad Ultimate SleeveCase for iPad 2- $55
The IPad Ultimate SleevCase is my favorite of Waterfield Designs new iPad 2 cases because it looks great, protects the device and has a flap to keep it fully covered. We reviewed their version for the MacBook Air. It has a scratch-free lining and is so compact. The protection is made of  multiple layers of materials, with an inner screen-cleaning Ultrasuede liner hugging the iPad. The outer layer is made of the specially-made, and nearly indestructible, ballistic nylon shell and inside that is a shock-absorbing neoprene layer. A bottom loop helps with removing the iPad 2. Case customization options include: horizontal or vertical orientation, lead Indium or brown leather trim, a shoulder strap and/or a removable "Piggyback" accessory pouch. Below is the version for the MacBook Air. The only difference is size.
The EXO SleeveCase for iPad 2- $49
The EXO SleeveCase is designed to hold the iPad within another case. So if you use the Apple Smart Cover or some other protective case you can get this one to add extra protection. It is made of the same kinds of material you get with the above cases – the ballistic nylon, neoprene liner and customization options available with the above SleeveCase.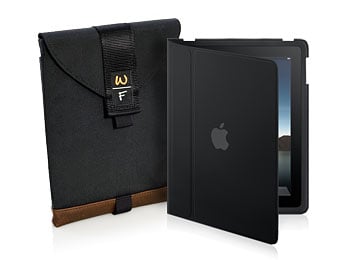 The iPad Wallet – $79
The iPad Wallet is designed to be used for those who travel with their iPad and lots of accessories. But the main thing that sets it apart is the internal pocket designed to hole the Apple Wireless Bluetooth Keyboard.. We reviewed the case at Notebooks.com. The buyer can use it as is, carry it in a bag or add optional D-rings to wear it as a stand-alone case. It is available in six colors with distressed brown leather sides.
With a number of these cases they come in multiple colors and have optional shoulder straps, add-on accessory bags, and all are made of high quality hand sewn materials. You won't be disappointed with a Waterfield Designs case. In addition to the above redesigned cases, you can still get the great Muzetto leather bag for the iPad 2. It is a premium case and the iPad version is $199. It is made of either black or brown leather and has colorful accents. It was previously reviewed in the larger notebooks size by Rob Bushway.

As an Amazon Associate I earn from qualifying purchases.