iPad 2's A5 Processor Offers Dynamically Changing Clock Speeds, Faster RAM
Furthering Apple's refusal to compete based on solely on specs, the iPad 2's A5 processor, which integrates Imagination Technologies' SGX543 graphics cores, is reported to have dynamically changing clock speed. Steve Jobs mentioned that the A5 chip is capable of delivering up to twice the processing power and up to 9 times the graphics power of the prior generation iPad with the A4 chipset, but didn't go into specific technical specs or details about the CPU.
Recent speed tests and benchmarks show that the Apple A5 performance, which is based on the same ARM Cortex A9 reference design as the Tegra 2 CPU made by NVIDIA, blows away performance of the Tegra 2-powered Android 3.0 Motorola Xoom tablet along with the A4-powered iPad 1.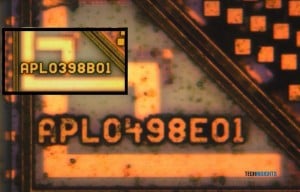 While both the A4 and the Tegra 2 both promise 1 GHz of computing power–1 GHz single-core on the Apple A4 chip and 1 GHz per core on the dual-core Tegra 2 chip–the A5's clockspeed was mysteriously missing from Jobs' keynote. Reporters at the keynote had inferred "twice the CPU performance" to mean 1 GHz of dual-core performance and Apple's iPad 2 website later confirmed the 1 GHz specs, but recent analysis finds that the A5 chipset is not set in stone and can change dynamically based on the workload required. According to AppleInsider, "In addition to much faster graphics based on the dual core SGX543MP2 graphics technology licensed from Imagination Technologies, the A5 also boasts dual processing cores based on ARM Cortex A9, with a dynamically set clock speed."
The A5 processor was reported by some early benchmarks to hover around 900 MHz, quite a bit shorter than Apple's website listing of 1 GHz, and this could be due to the dynamic speed adjustments that Apple had integrated with the A5.
So how does this affect users of the iPad 2? Well, if the workload doesn't require the full gigahertz of computing power, down-shifting to a lower clock speed would lighten the power consumption and lead to longer battery life when users don't tax the processor. With more CPU-intensive apps, like Garage Band or iMovie editing, the system could increase the CPU speeds so that the user would benefit from a faster experience on the iPad 2.
Also, when compared with the A5 chip, Apple also utilizes a faster Low Power DDR2 DRAM memory. Because of the faster DDR2 RAM and other components of the A5 CPU, UBM Tech Insights report that the chip would cost Apple about $25 to build, which is $10 more than the Tegra 2 chipset found on the Motorola Xoom and Atrix 4G.

As an Amazon Associate I earn from qualifying purchases.