iPad 3: Everything We Know About the New iPad
Apple is rumored to announce the iPad 3 on March 7th at an event held at the Yurba Buena Center for the Arts. Apple hasn't made anything official yet, but thanks to a large number of leaks, we have a pretty good idea about what the iPad 3 will look like and what kind of spec updates we can expect.
As the iPad 3 release date gets closer, we can expect more leaks, with better information, and that's what we're already seeing.
Apple will likely through a curve ball on stage, but other than Tim Cook's version of, "One more thing.", this is what you can expect the iPad 3 to look like and what you can expect to power it.
iPad 3 Design and Looks
The iPad 3 should look much like the iPad 2, if the leaked iPad cases are correct. The iPad 3 looks to have a more tapered edge, which is bad news for those of you hoping to reuse all your iPad 2 cases on the iPad 3. The iPad 3 will likely have a larger camera lens to accommodate a 8MP camera, like the one found on the iPhone 4S, though there is no flash.
iPad 3 Retina Display
The most noticeable improvement on the iPad 3 will be the Retina Display, a high-resolution screen with four times the resolution of the iPad 2. You can see a close up image of the iPad 3 Retina Display above. The Retina Display will offer  a better viewing and reading experience, with clearer images and text.
iPad 3 Processor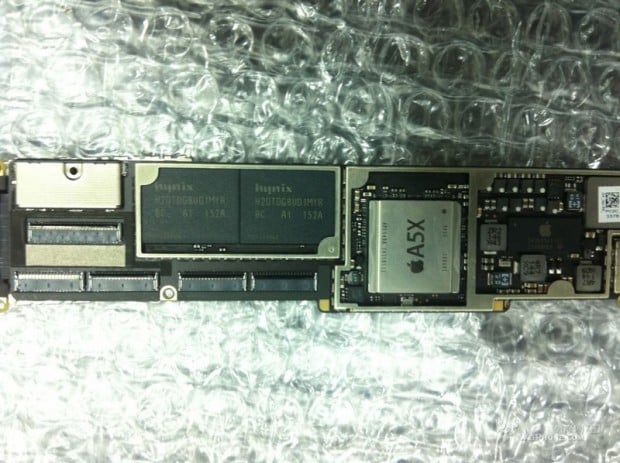 We had heard that the iPad 3 would have a quad-core Apple A6 processor, but recent leaked photos suggest that Apple will continue to use an A5 dual core processor in the new iPad. The image below shows an Apple A5X processor, which is supposed to power the iPad 3. This will likely be a faster iPad processor than in the iPad 2. Combined with a faster graphical processor, we can expect nicer looking, smoother graphics on the iPad 3.
4G LTE
We expect to see 4G LTE included in the iPad 3, a first for an Apple product and a glimpse at what to expect when the iPhone 5 is announced later this year. As you can see in the video above, 4G LTE is up to 10 times faster than 3G, and a perfect fit for an iPad with a Retina Display and Siri.
iPad 3 & Siri
Apple hasn't offered any confirmation of Siri on the iPad 3, but there many reasons why the iPad 3 will have Siri. Apple is most likely building in the enhanced processing power and ability to "hear" better into the latest A5 processor. With increased focus on FaceTime and an enhanced camera, Apple could easily include the dual microphones needed to make Siri work in noisy environments.
8MP Camera
Based on the leaked parts and the leaked iPad 3 design, we have a good feeling about the iPad 3's camera. Specifically, we are expecting a camera on par with the iPhone 4S. This will make the iPad 3 much more usable as a camera outdoors and add to the usability of apps that make it easy to edit photos and movies on the iPad's larger display.
Check out these iPhone 4S sample photos for what to expect.
iOS 5.1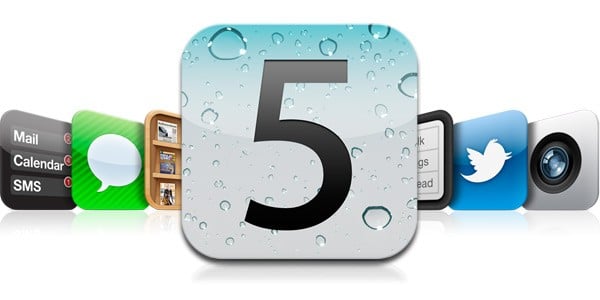 We expect to see iOS 5.1 announced alongside the iPad 3 on March 7th. For the older iPads and the iPhone 4S, expect to see iOS 5.1 arrive as soon as March 9th. iOS 5.1 is rumored to bring better battery life management, a new lockscreen for the iPhone and other improvements.
iPad 3 Release Date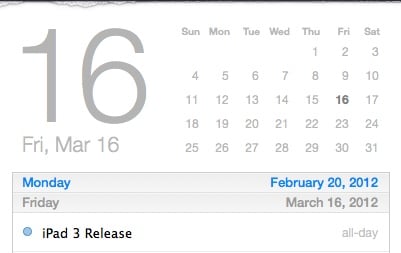 Based on the timing of the iPad 3 announcement, iOS 5.1 and Apple's past release preferences, we have a good idea about when the iPad will be available to purchase. Unless Apple throws a curveball, we can expect to see the iPad 3 in stores on March 15th or 16th. We could see online iPad 3 preorders start earlier that week, but no promises.
—
Stay tuned for more iPad 3 news and our iPad 3 review when the new iPad launches.

As an Amazon Associate I earn from qualifying purchases.