iPad 3 to Have Thinner, Longer Lasting Battery
Thought the iPad 1 and iPad 2 had an impressively long 10-hour battery life in a sleek package? Well, Apple may be looking to shrink the tablet's thickness even further with an even thinner battery pack that's supposed to deliver the same performance and can be recharged more times than the current and previous generation iPads.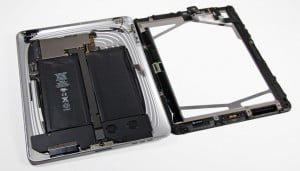 According to the latest report, Simplo Technology Co. and Dynapack International Technology Corp. will be supplying Apple with the iPad 3 batteries. As the battery for the iPad 3 will be thinner than the current iPad 2 battery, supply costs will increase for Apple by 20-30% just for the new battery packs. Additionally, the new battery will also meet CTIA's new standard:
Furthermore, the new battery pack will also be required to meet CTIA IEEE 1625 standard for better quality and safety reliability, a trend that has been commonly seen nowadays, especially in the U.S. For example, consumer electronic devices with coming ordinary battery packs are banned by AT&T, the country's largest service provider, from sales on its product shelf as well as from its mobile network services, until with IEEE1625-certificated battery packs.
The battery for the iPad 3 will have a longer service life than batteries used in iPad 1 and iPad 2 tablets.
The iPad 3 is speculated to be shipping in early 2012. The space savings afforded by the new battery may allow Apple to either create a thinner tablet or utilize the freed up space for better components, like the long-rumored Retina Display quality screen for the tablet.

As an Amazon Associate I earn from qualifying purchases.