iPad 3 Will Have Retina Display According To Replacement Screen
It seems like we already know almost everything about the iPad 3 before Apple has even announced the tablet. We've heard and seen so much about the rumored Retina Display on the next iPad that it already seemed confirmed. Now MacRumors claims to have confirmed that the next iPad's screen will definitely  be a Retina Display.
The claims come from a display that should be inside the next iPad. It's a 9.7-inch display with the same dimensions as the iPad 2 screen, but it has four times as many pixels. This display has a resolution of 2048×1536, which is quadruple the 1024×768 screen in previous iPads.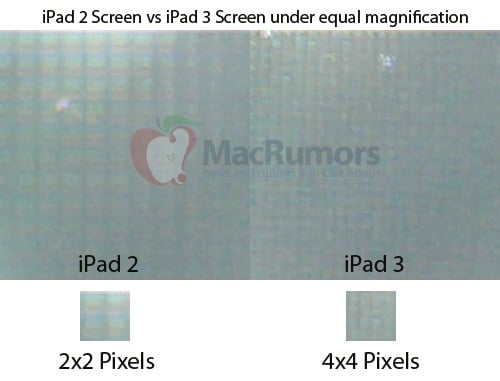 Even without any way of powering the screen, photos show that the display has far more pixels than the iPad 2 screen.
A display with that resolution would make it incredibly difficult to see individual pixels at a distance. Holding it in your lap or on a table as you would with an iPad it would look just as good as the iPhone 4/4S screen does. The screen could almost look like a really bright, backlit piece of paper because you see no pixels at all.
MacRumors bought the display from TrueSupplier a "mobile phone accessories wholesaler," so there is a chance that it's "OEM iPad 3 LCD Screen Replacement" isn't exactly real, but it does match up to other parts we've seen recently. All evidence points to this display being the real display that we'll see in the iPad 3.
If it is, expect this iPad to be a huge leap from the iPad 2. Also expect to have almost any other screen in your life suddenly seem terrible by comparison.

As an Amazon Associate I earn from qualifying purchases.