iPad 4 vs iPad Mini Retina: What Buyers Need to Know
Earlier this week, Apple revived the fourth-generation iPad to replace the aging iPad 2. $399 now buys a lot more iPad than it did just last week; the iPad 4 comes with a huge spec bump over the iPad 2, as well as the inclusion of a Retina display and Apple's new Lightning connector on the bottom.
The iPad mini with Retina display comes in at the same price of $399, making it even tougher decision to choose between the iPad mini Retina and the fourth-generation iPad. Of course, the iPad 4 is slightly last-gen with an older A6X processor, but the full-size display is something that a lot of users want.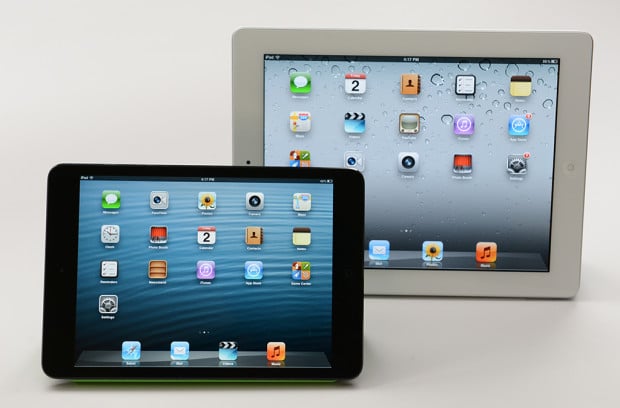 Which one should you buy, though? We already talked about why the iPad 4 is a great buy, but what about when compared to the Retina-equipped iPad mini? Since both are priced at $399, the price point isn't a deciding factor, so features are what it's all about when comparing these two tablets. It comes down to which one will suit your needs more. Let's take a deeper look into both tablets to see which one is right for you.
Bigger vs Smaller Display
The iPad 4 comes with a 9.7-inch screen, while the iPad mini with Retina display comes with a 7.9-inch screen. Both operate a resolution of 2048 x 1536, so pixels aren't a big deal when deciding between the two tablets. The only difference here is about two inches in screen size, but that can make all the difference depending on what you use your iPad for.
We've found that the full-size 9.7-inch iPads are best for reading PDFs and other documents, since the fine print can be hard to read on smaller screens. The larger iPads are also best for typing on the on-screen keyboard. Many users don't do a lot of typing, so that really isn't a big deal, but if you use your iPad for documents, the larger screen may be beneficial.
However, where the iPad mini with Retina display shines is its compact size, and we've found it to be the perfect consumption device while on the go. While the iPad 4 is best for reading, that doesn't mean the iPad mini with Retina display is worse at it — you just won't be able to fit as many words in on the smaller screen; we're still able to read ebooks and documents just fine on the iPad mini's display.
Thicker vs Thinner Bezel
This might not be a huge deal for iPad users, but the difference in bezel size can be the deciding factor for some. The iPad 4 as a full bezel all the way around, making it perfect to hold without your thumbs getting in the way of the screen.
The iPad mini, on the other hand, has a thinner bezel on the sides. You have to be a bit more careful about thumb placement so that you don't block any part of the screen. We suppose this may be a deal-breaker for some users, but I personally don't think it's a huge deal, and thanks to palm-rejection technology, you don't have to worry about tapping the screen with your palm when holding the tablet.
Performance
This is where the deciding factor comes into play. Most people care about how quickly their iPad can get tasks done, such as launching apps, and how smoothly it'll do it. While the iPad 4 is a last-generation tablet, it still packs a punch when it comes to performance. The A6X processor can still handle anything you throw at it.
The iPad mini with Retina display sports a newer A7 processor with 64-bit architecture for even quicker performance when handling apps and games. Benchmarks prove that the iPad mini with Retina display is the faster of the two tablets. In fact, the iPad Air (which come with the same internals as the iPad mini Retina tablet) is twice as fast as the iPad 4, making it a pretty good spec bump.
However, benchmarks aren't everything, and as with any product comparison, we doubt you'll notice much of a huge difference when it comes to blindly playing around with them separately.
Wrap-Up
Our suggestion is that if you plan to use your iPad for producing content, whether it'd be documents, images, videos, etc., we'd recommend getting the iPad 4. Yes, it's an older-generation tablet, but it still kicks but, and it'll be getting support from Apple for the next year or two.
However, if you'll be using your iPad mostly for consumption purposes, such as watching movies, playing games, etc., the iPad mini with Retina display is perfect for this. The screen size makes it perfect for when you're on the go and doesn't take up a lot of space in your bag.
Either way, you'll be paying $399 for an iPad if you choose either one of these tablets. Of course, if you're considering getting the iPad 4, why not and spend just a bit more to get the newer iPad Air? The way we see it, is that if you're going to spend $400 on a tablet anyway, you might as well spend an extra $100 to get a newer, lighter and faster full-size iPad, but the choice is ultimately yours.

This article may contain affiliate links. Click here for more details.