Possible "iPad 5" Case Shows New Design
A new case for the rumored "iPad 5" recently appeared in Hong Kong showing what could be a new design for Apple's next generation tablet.
Engadget found the case at the Hong Kong Electronics Fair, and the staff at the booth that housed the case said it came from a leaked mold of the new iPad. If the case does in fact show the design of the "iPad 5," it would mean the new tablet would have a design similar to the iPad mini with a flatter back and thinner bezel.
Comparing the possible fifth-generation iPad with the case for a current iPad model shows the new case is not as wide, which would indicate the next generation will have thinner bezels on the left and right of the screen like the iPad mini. The leaked case also has dual speakers surrounding the Lightning port of the bottom of the tablet like the iPad mini.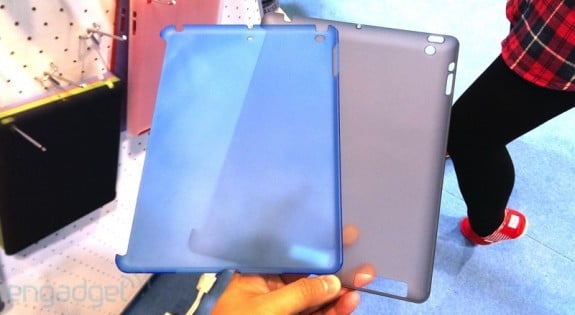 The "iPad 5" case lines up with recent leaks of the next generation tablet. A recent leak of the glass front panel of the tablet showed the iPad mini-style bezel and previous leaks showed a flatter back that mirrors the iPad mini. There is a chance that Apple will change the design before release, but all leaks seem to point to the same design.
Such a design change would make the fifth generation iPad the first to undergo a major design change since the iPad 2.
Other recent rumors for the "iPad 5" say Apple can cut down on the size of the device by switching to a more efficient display. Much of the size and weight in the current iPad is due to the massive battery the Retina Display requires. A new display may make the next iPad thinner and lighter than previous models.
It's not clear when Apple will launch the new "iPad 5" or the next generation of the iPad mini. Some rumor claim the release will come this month while others say Apple will wait until summer.

As an Amazon Associate I earn from qualifying purchases.