iPad 5, iPad mini 2 Go Head-to-Head in New Leaked Photos
We've already seen plenty of photos of what allegedly are the new iPad 5 and the iPad mini 2, but the man providing all of these secret shots, Sonny Dickson, is back with more, only this time it's a direct comparison of the two tablets. In a generous gallery of new photos, Dickson shows off a comparison between the two new iPads that show us the differences and similarities between the two slates.
These photos are a continuation of Dickson's Twitter tease yesterday, when he posted a photo comparing the two tablets in size. However, he has now posted a full gallery providing a more up-close of the new iPad and iPad mini.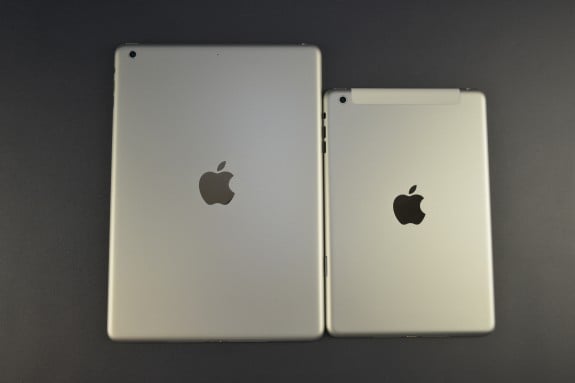 At first glance, it seems that we're looking at two units of the same model, but in fact we're looking at what is said to be the 5th-generation iPad and the 2nd-generation iPad mini. Based on the photos, Apple is adding some uniformity to its iPad lineup, giving both the iPad and the iPad mini the same design on the outside, including the same curvature around the edges.
Both models also sport the same black buttons toward the top-right corner, as well as similar-looking camera modules. Even the speaker grills on the bottom are clones of one another, with the larger iPad sporting a slightly larger speaker grill for better sound (we hope). The headphone jack is also placed on the top-left edge on both devices.
In rumors past, we've been hearing that Apple was changing the design of the full-size iPad to something a bit more like the iPad mini, and even shrinking it down to make it a bit smaller by introducing thinner bezels on the side. From these photos we're seeing today, there isn't a huge difference in size between the two tablets, although it's very clear that one is smaller than the other.
We knew that Apple wouldn't be announcing new iPads during their September 10 event, but it's possible that the company could schedule something for next month, like they did last year. This would be the time that new iPads would be announced, and we could also see some other new stuff as well, including new MacBook Pros equipped with Intel Haswell chips and 802.11ac network technology.

As an Amazon Associate I earn from qualifying purchases.