iPad 5, iPad mini 2 With Retina Display Pegged for October Again
The iPad 5 and iPad mini 2 launch event looks good for October as parts enter production and rumors converge on a new look for the larger iPad 5 as well as a high-resolution iPad mini 2 with Retina Display.
It's been over a year since we've seen a new iPad design for the full size iPad and almost 9 months since the iPad mini splashed down to a successful holiday season and multiple sources agree Apple is planning for an iPad event in October to duplicate the success of the iPad holiday launch last year.
Read: iPhone 5S and iPad 5 – Breaking Up Is Hard to Do
Two well-known analysts and multiple other industry reports point to an iPad 5 launch in October, and some agree the event will include an iPad mini with a Retina Display as well.
Earlier this week The Wall Street Journal reported the iPad 5 touch panel is in production. This new type of touch panel allows Apple to make a thinner and lighter iPad 5 with an iPad mini design.
A new report in Bloomberg claims Apple is working on an iPad mini 2 with a Retina Display, which lines up with a previous Wall Street Journal report of a higher-resolution iPad mini using a Samsung made display. Up until last month, sources were back and forth on an iPad mini 2 with a higher resolution display, but sources are converging on a iPad mini with Retina Display for 2013.
The iPad mini launched last October with a non-Retina iPad mini which proved popular, despite the lower-resolution display.
iPad 5 & iPad mini 2 Launch in October
Three reports point to a holiday iPad 5 and iPad mini 2 release, which would start with an iPad mini launch event in October.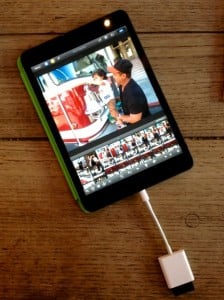 In April CitiGroup claimed the iPad 5 launch event would arrive in October, soon after an iPhone 5S event in September. Now that the iPhone 5S event is all but confirmed by an invite for September 10th, this report gains some additional credibility.
A note to investors from Piper Jaffray analyst Gene Munster claims the iPad 5 and iPad mini 2 launch event will take place in October, though he does not add any new details about an iPad mini with Retina Display.
There is also chatter of an iPad mini 2 release for November due to a delay in production. This traces back to a note from Ming-Chi Kuo who claimed the iPad mini 2 will come with a Retina Display but won't arrive in October.
We could see an iPad 5 release soon after an iPad event, and a slight delay for the iPad mini 2 release to give the larger iPad time to gain sales.