iPad Air 2 Deal Knocks $109 Off Entry-Level Model
If you're looking for a killer iPad Air 2 deal, look no further, as you can get Apple's latest tablet for $109 off for a limited time.
The deal is on eBay, where you can get the entry-level 16GB WiFi-only iPad Air 2 for just $389, which is an incredible deal, especially considering that we're not in the middle of a big shopping season or anything.
Of course, this isn't the best deal that we've ever seen for the iPad Air 2, but it's very close. Last year for Black Friday, Target gave iPad Air 2 buyers a free $140 gift card with the purchase of the new tablet at full price, essentially knocking the cost down to as low as $360 for Apple's latest slate.
Best Buy also discounted the iPad Air 2 on Black Friday, knocking $100 off the price, allowing buyers to purchase the tablet for as low as $399.
Perhaps the best deal that we saw on Black Friday was a $100 discount on the iPad Air, knocking the price down to just $299. Both Target and Walmart offered the discount on the iPad Air.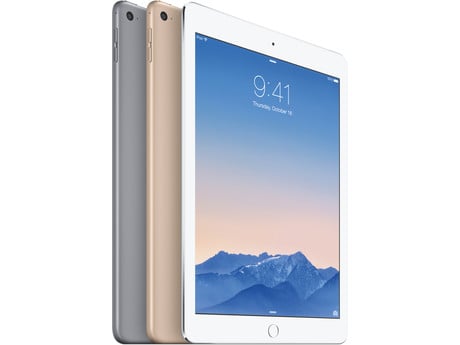 However, today's might not be tempting for some users. We've discussed in the recent past that getting the entry-level 16GB iPad model isn't the best option for many users, simply because with all the apps, games, videos, photos that you'll most likely store on your iPad, that 16GB will fill up incredibly fast.
Instead, we'd recommend getting at least the 32GB iPad model, which isn't on sale today, but we wouldn't be surprised to see more deals pop up over the next couple of weeks, especially with Valentine's Day coming up.
Of course, if you really want to take advantage of today's deal, you can get by with a 16GB iPad and there are a few things that you can keep in mind to make sure that you're not constantly running out of storage space.
Some things you can do to get by with a 16GB iPad is to use the cloud for all of your music, movies, and other media needs. Plus, it's helpful if you frequently audit your apps. Apps themselves don't take up a lot of space — usually under 200MB a piece for most, but additional data such as cache, history, etc. can add another couple hundred of megabytes to that. Plus, if you intend on having a ton of apps, the storage required can really add up. There are also bigger apps like GarageBand, which can take up almost a gigabyte by itself.
Obviously, the more apps you have, the more storage space is being taken up by these apps as a whole, and I'm sure we've all been there before: You download a handful of apps, but never actually end up using them except for maybe a couple of times per year.
These are the apps that you should just get rid of. Every now and then, go through your apps and delete any of them that you haven't used in a long time, as you'll most likely never need them again. Doing this can constantly free up space on your 16GB iPad with very little effort.

This article may contain affiliate links. Click here for more details.