iPad Air 2 Sale Knocks $70 Off 64GB Model
If you missed out on all the great iPad deals during the holiday shopping season last year, now is your chance to redeem yourself, as eBay has the iPad Air 2 for $70 off.
You can grab the 64GB version of Apple's latest tablet for just $529, which is an absolute steal, especially since we haven't been seeing any good iPad deals lately. Furthermore, you can also grab a 16GB first-generation iPad Air for just $329.
Granted, these aren't the best deals that we've seen, but considering that January is usually a slow month for iPad deals to begin with, we'd say these deals today are worth taking advantage of if you're in the market for a new iPad.
The best deal for an iPad came around Black Friday, where several stores had the iPad Air 2 for $100 off the normal price, as well as the iPad Air and the iPad mini 3. Target arguably had the best deal, where you could buy an iPad Air 2 and get a free $140 store gift card, effectively knocking down the price to just $359 for the latest Apple slate.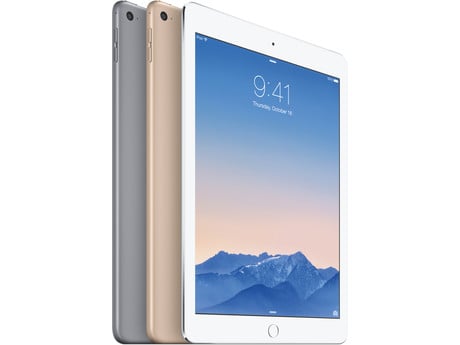 One thing to keep in mind (if you're planning to buy the 16GB iPad Air), is that getting the entry-level 16GB iPad model isn't the best option for many users, simply because with all the apps, games, videos, photos that you'll most likely store on your iPad, that 16GB will fill up incredibly fast.
Instead, we'd recommend getting at least a 32GB iPad model, which you can only get with the iPad Air for $50 more, while you'll have to upgrade to the 64GB iPad Air 2 for $100 more. This makes the $70 off of the 64GB iPad Air 2 is extremely tempting.
The storage option you choose really just depends on what you'll use your iPad for, but we've discovered that 16GB just isn't enough for most users. We'd really only recommend the 16GB model for those who don't plan on consuming a lot of media or playing games. It can also be good for those who plan on consuming a lot of media but use the cloud for that instead. Personally, I use the cloud for everything — Netflix for movies and TV shows, Spotify for music, and Dropbox's instant upload for photos and videos. Because of this, I never get close to filling up my 16GB iOS devices.
You can still get by with a 16GB iPad by using the cloud, auditing your apps frequently, and only playing lightweight games, but if you don't think you'll have that much self-control, it never hurts to go ahead and get the 32GB model. And with this Best Buy deal, you can grab a 64GB for the same price as you would normally get a 16GB model for, so this is the perfect time to take advantage of more storage on a new iPad.
Black Friday was obviously the best time to take advantage of an iPad deal, with Target arguably having the best iPad deal around, by giving shoppers a $140 Target gift card with the purchase of an iPad Air 2.
However, both Target and Walmart were selling the iPad Air starting at $400 with a $100 store gift card after purchase, meaning that you can technically get the year-old Apple tablet for just $300 for the 16GB WiFi-only model. While Apple's latest tablet certainly saw a lot of attention on Black Friday, the iPad Air saw the ultimate deal for frugal shoppers looking to buy an excellent tablet at a great price.

This article may contain affiliate links. Click here for more details.