iPad Air 2 vs Surface 2: Which to Buy
It's fair to say that together Apple's iPad Air 2 and Microsoft's Surface 2 represent the future of computing. That being said, they're two different versions of what the tablet computer can be.
Ever since it started making tablets back in 2012, Microsoft has maintained that what users need is a way to stay productive while also having all the comforts of an entertainment device. The Surface 2 with an add-on keyboard represents that vision. As it announced the iPad Air 2, Apple maintained that what users really need as a way to browse the internet and do light work that doesn't involve a lot of complicated hoops to jump through.
Here's how Apple's best tablet to date, the iPad Air 2, compares against Microsoft's best tablet to date, last year's Surface 2. To be clear, we're comparing the Surface 2 to the iPad Air 2 because it's the only pure tablet that Microsoft makes in the iPad Air 2's price range. There is the Surface Pro 3 which debuted this year, but it's more of an MacBook Air competitor than a iPad Air 2 competitor.
Design
If you've ever seen an iPad before, you know what the iPad Air 2 looks like mostly. The rear shell edges are gently curved. That rear shell is aluminum just like all the iPad devices that preceded it. On the bottom is the Lightning port and speakers. Facing users is an upgraded FaceTime camera and a high-definition 9.7-inch display.
On stage Apple revealed that the iPad Air 2 has upgraded camera optics on its rear for better photo taking and uses new display technology to hit its thinner profile. All told, the iPad Air 2 is a whopping 18% thinner than the first generation iPad. Besides the thinner profile, better screen and upgraded internals there's a TouchID fingerprint reader. This is the first time the iPad line has had TouchID.
The iPad Air 2 weighs just 0.96 pounds and is 6.1-milimeters from front to back. Most of Apple's devices have always had curved edges. When creating the Surface line Microsoft had to balance making a device that was just as attractive as the iPad without looking too much like the iPad. I'd say Microsoft mostly succeeded though the iPad Air 2 still wins out.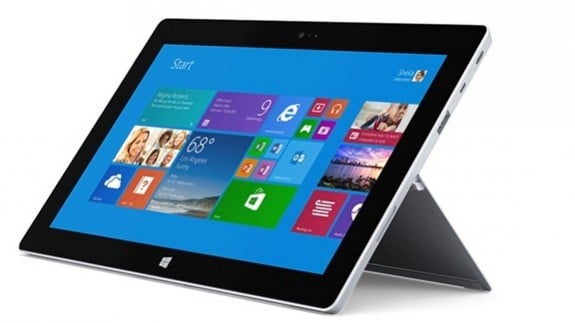 The Surface 2 is a rectangular slab of a tablet. On its right edge are a charging port, a full-size USB port, a speaker and display port for connecting to external displays. The bottom edge of the Surface 2 has a keyboard dock port for connecting to eternal covers. The top edge holds a power button, and the left edge is for volume controls. On the front is a Windows button and a 10.6-inch full-HD screen and a web cam. The Surface 2 comes in just silver. That's a stark contrast to the Gold, Black and White of the iPad Air 2.
The Surface 2's edges are blockier and stick out more and it weighs 1.5lbs. In short, users are getting a heavier, blockier looking tablet that's pretty awkward to use in landscape mode. That being said, in portrait mode a two-step kickstand and full-size USB port make it awesome for productivity in a way the iPad Air 2 still needs a ton of accessories to achieve. The Surface 2 measures 8.9mm from front to back.
Display & Internals
With upgrades for the iPad Air 2, the barrier to getting users to upgrade is higher than it is with other Apple devices. Users want a new iPad, but justifying a new iPad purchase every year – or even two years – is difficult. Apple seems to be adjusting to this new reality by throwing everything it can at internals.
The 9.7-inch display on the iPad Air 2 has a resolution of 2048 x 1536. That's a short way of saying it has more pixels per square inch than a normal high-definition television does. Power this display is a processor that Apple says is 40% faster than last year's model and has better graphics. iPad Air 2 buyers are looking at battery life of around 10 hours.
The base model gets users 16GB of storage which isn't a lot to store all the pictures and video its 8 megapixel rear-facing camera is going to capture. There's no flash for this camera but that's ok for now. Of course, there are no options to plug in a USB keyboard or add an external media card. This is, after all, an iPad.
The Surface 2 aims to get users 10 hours of video playback on its 1920 x 1080 10.6-inch screen. To be clear, those videos should look just as good as the iPad Air 2 for the untrained eye, but the difference also comes down to screen size and aspect ratio. With the iPad Air 2 Apple is giving users a screen that's wide. The screen in the Surface 2 is narrower so that watching video doesn't necessarily require staring at black bars all the time. An NVIDIA Tegra 4 processor handles everything inside the Surface 2 and each device comes with at least 32GB of storage. The kicker here is that the Surface 2 allows users to expand on that storage with media cards. The iPad Air 2 just doesn't offer that.
The Surface 2 has two cameras. The one for video chatting and taking selfies is a 3.5 megapixel camera that should easily beat the 1.2 megapixel front-facing camera in the iPad Air 2. That being said, it's absolutely inconceivable that users won't see better performance out of the iPad Air 2's 8 megapixel rear-facing camera than they will with the 5 megapixel camera inside the Surface 2's rear shell.
Both the Surface 2 and iPad Air 2 have a slate of accessories and software extras that could push users in either direction.
First-party accessories, that is those made by the tablet makers themselves, are the most important here and the ones I'll focus on. Apple makes a pretty nifty smart cover that controls when the iPad Air 2's screen turns on and when it goes to sleep. It can also be used as a kickstand. Those are a $49.99 and add something the Surface 2 already has: that kickstand.
The Surface 2's kickstand is built in, but to tech advantage of it for things other than video, users are looking at dropping at least $119 on a Touch Cover or $129.99 on a Type Cover. To be clear, either device can be used without these accessories but I think they complete the experience and should be factored into the initial cost at some point.
Apple includes its iWork suite of productivity apps free with the iPad Air 2, but I'd think most would agree that they don't come close to topping the Surface 2's free Microsoft Office suite. Users get Outlook, Word, PowerPoint and OneNote with every Surface 2 purchase. Normally, that'd cost another $129.
Pricing
The Surface 2 with 32GB of on-board storage starts at $449. That's without any covers or accessories. The iPad Air 2 starts at $499 and includes 16GB of storage. There's a Surface 2 with 64GB of storage and another with 64GB of storage and LTE compatibility that costs $679. It lets users connect to mobile data networks for internet access just about anywhere. An LTE iPad Air 2 with 16GB of storage costs $629.
Should you buy the iPad Air 2 of Surface 2?
Tablet purchases so often come down to ecosystem choices. The iPad Air 2 makes a great companion for anyone who already has an iPhone and a Mac. There's no way of getting around that. For users who do have those things and don't have a previous iPad their choice is clear: get the iPad Air 2.
Ecosystem plays aside, I'd have to say that the Surface 2 is a better tablet based on value. The built-in kickstand is great for watch movies or browsing sites without having to purchase extra accessories. Microsoft Office is the world's best productivity suite and it's included free of charge. The full-size USB port on the Surface 2 makes printing documents or transferring pictures a breeze. The base level Surface 2 even comes with more storage than the iPad Air 2 and an option to add more. Where the Surface 2 runs into problems is apps. The Windows Store is growing, but not being able to download apps like iTunes to the Desktop hurts it.

As an Amazon Associate I earn from qualifying purchases.