iPad Air: 5 Last Minute Details
With Google's Nexus 5 launch now official, we move on to another big name device that is set to arrive on shelves in just a few hours as well. Apple's new full-sized iPad, the iPad Air, is scheduled to go on sale tomorrow for the first time, replacing the iPad 4 as the company's flagship model. Ahead of its release date, here are five last minute details for prospective iPad Air buyers.
For much of 2013, we heard the rumors that suggested that Apple would be delivering two brand new iPads to replace the iPad mini and the iPad 4, the fourth-generation iPad that launched last October and replaced the iPad 3 which had arrived earlier in the year. Those rumors proved to be fruitful as earlier this month, Apple took the stage in San Francisco and debuted, yup, two brand new iPads.
The first new iPad, the iPad mini with Retina Display, also known as the iPad mini 2, a device that delivered the feature that consumers wanted most: Apple's Retina Display. The company also outfitted it with a brand new 64-bit A7 processor, upgraded iSight camera, and a sleek design that is on par with the original iPad mini's. Unfortunately, buyers still have a bit of a wait as the iPad mini 2 isn't expected to arrive until late November, possibly November 21st.
Apple's other new iPad is the iPad Air, an upgraded 9.7-inch iPad that takes the place of the iPad 4 and delivers a brand new design that is more compact and more lightweight than the previous designs. This will help to make it way more portable, something that likely has buyers intrigued. What's more is that it will come with the same A7 64-bit processor, a new camera, and iOS 7. However, unlike the iPad mini 2, the iPad Air's arrival is upon us.
In just a few short hours, the iPad Air will go on sale for the first time. And with details swirling, we take a look at a few last minute details that iPad Air buyers should know about.
Midnight Orders Are a Go
While many people likely assumed that the iPad Air would go on sale at 12AM PST, Apple never confirmed this to be the case leaving many buyers wondering if the device would be available early in the morning. Well, while we still haven't received confirmation from Apple, we do know that some places will have the device available at midnight.
AT&T and Verizon have both confirmed that the iPad Air will be on sale early in the morning with Verizon telling Gotta Be Mobile that the device will be available to order at 12:01AM PST. Sprint and T-Mobile remain mum about specifics but we expect them to follow suit. At the very least, they should have the device in stock tomorrow morning.
We doubt Apple is going to let these carriers launch without it so iPad Air buyers should be safe going to Apple's website or ordering through the Apple Store application from bed tonight.
Keep in mind, the U.S. Cellular iPad Air won't be available tonight. The regional carrier confirmed that it will be arriving on November 8th alongside the iPhone 5s and iPhone 5c.
Retailers Opening at 8AM
Apple did confirm that it would be opening up its doors tomorrow starting at 8AM. That's an hour earlier than usual and it will help to accommodate any consumers who don't want to grab the device early in the morning or want to try and snag the device before work. We don't expect there to be massive lines for the iPad Air though buyers will still want to show up before 8AM just to be safe.

Best Buy also confirmed that it will be opening up its doors early at 8AM but that doesn't mean that every retailer will be opening up early. RadioShack told Gotta Be Mobile today that while it will be offering the iPad Air tomorrow morning, it will not be opening its doors early. Instead, it will be opening at regular hours.
Cheapest iPad Air Price at Walmart
Those who are looking for an iPad Air deal on release day won't want to look at the Apple Store or through carrier stores but will instead, want to take a look at Walmart. Walmart has a history of undercutting the competition, it did so with the iPhone 5s, and it will be offering its customers a bit of a discount off the $499 starting price.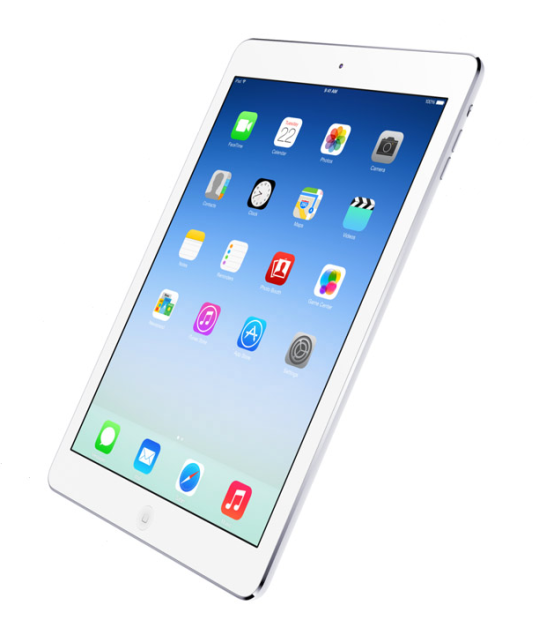 Walmart still hasn't said if the discount will apply to all models of the iPad Air but at the very least, the 16GB Wi-Fi only model will come with a $479.99 price tag, $20 off the $499.99 price through Apple and other retailers. For the moment, this is going to be the best deal that buyers can get as new Apple products tend to have static pricing.
With Black Friday coming up, it's possible that we could see some deals to encourage consumers ahead of the holiday shopping season, but as far as day one deals are concerned, Walmart appears to be the only big name retailer offering one.
Supply Should Be Good
From what we can tell, iPad Air stock should be plentiful when tomorrow arrives. We haven't heard anything about iPad Air supply issues and rumors suggest that there will be plenty of stock for those in need of a new full-sized iPad. Now, that doesn't mean that there won't be a sell out. Often, we'll see one or two variants see their shipping times pushed back. Buyers will still want to show up early and be on their toes to make sure they get what they want.
It appears that Apple Stores may hold back stock for Personal Pickup, said to be an option for iPad Air customers and customers that arrive later. So, stores may hold back until after a certain time at which point they will release their entire stock. Still, we shouldn't see any massive supply issues affect Apple Stores, carriers and retail stores. Even Best Buy is saying that it should have ample stock.
iPad mini 2 Pre-Orders Doubtful
Whispers pointed to the iPad mini 2 going on sale alongside the iPad Air ahead of its late November release date. While it's still possible, the fact that Apple hasn't announced anything, the fact that carriers haven't announced anything, means that iPad mini 2 orders are doubtful for tomorrow. That doesn't mean that there won't be a pre-order though.
Rumors suggest that it will be coming out on November 21st and Apple typically lobs a pre-order at consumers about a week before the release date. So if there is a pre-order, expect it to be deeper into November.

This article may contain affiliate links. Click here for more details.