iPad Air and iMovie Make for Easy Shooting and Editing Video
I took the new iPad Air out for a video shoot and then edited the resulting shots in iMovie on the new tablet. The refresh in the video and processor chips boosted the iPad's speed, and makes the lighter and thinner iPad Air a useful video creation solution on the go for very simple projects.
First, let's make one thing clear. While some professionals used earlier iterations of the iPad for professional quality videos, they did it as a publicity stunt. No one making a living shooting and editing video will willingly use an iPad and iMovie for more than a stunt, or personal fun. However, when someone needs a quick and simple solution to get a video put together and they don't own a decent video camera and computer, the iPad Air and iMovie can do the trick. They're fun to use for simple family home movies like I did.
My family went to a local restaurant on the Catawba River Boardwalk. I shot and edited the video below on the iPad Air using iMovie. I uploaded the movie to YouTube directly from the iPad as well. While, I won't win any film festivals and likely will get in trouble with my mother-in-law (see the video to understand), the system helped me create a memory that our family will enjoy seeing in the future and I did it all while enjoying dinner with my family.
https://youtu.be/eTnQBOfefTE
Shooting video feels awkward with this slab of glass and aluminum, however it's more enjoyable than the earlier models thanks to the thinner, lighter iPad with faster performance.
After some adjustment, shooting video with the iPad felt good thanks to the big 9.7-inch screen. It's easier to see the little details on a 9.7-inch display than on a 4 to 5-inch phone or camera display. I took more stable shots on the iPad than I can on an iPhone or a small video camera.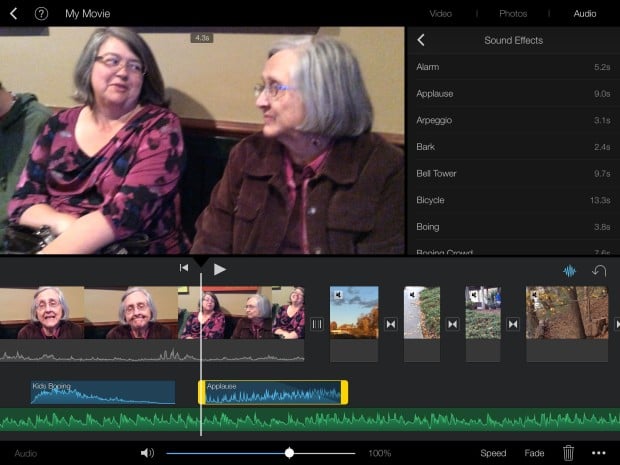 When using the basic movie editing mode, it's easy to collect shots and then edit them together with the new version of iMovie, updated and distributed free for iOS 7. The latest version of iMovie comes with some nice user interface enhancements (see above). It's easier to use and offers surprisingly powerful options for a simple video editor. Some new features include:
Theater – share movies to other devices via iCloud
Adjustments bar – make video look better and sound better with these tools
Slow motion
Cutaway, picture-in-picture and split-screen
Duplicate, split, trim clips
High-frame-rate video recording
Share with Mail, Messages or AirDrop
Faster 64-bit support
iMovie starts up with three sections:
Video – shows available videos on the iPad
Projects – the video editing projects either in progress or completed
Theater – the finished product ready to share or watch
In the Video section users can view all their videos with an option to watch them in high-speed mode or slow motion, along with normal speed. This screen also lets users mark favorite clips for later use.
In the Projects screen one can see finished or in-progress projects, open them or add projects to the list. Users can also import them from iTunes or by create a new project.
When importing projects from iTunes, the project and its files come from the OS X version of iMovie. The user shares the project to iTunes from the Share button as seen below.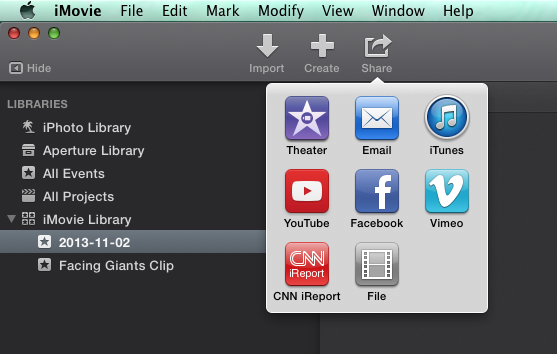 When a user creates a new project the app offers two options: a new movie or a new Trailer. The Trailer option offers a list of shots to take and then automatically organizes those finished shots into a cool video that looks like a movie trailer. It adds graphics, transitions and music for a complete product.
The new Movie section is where users create a traditional movie with a number of attractive templates.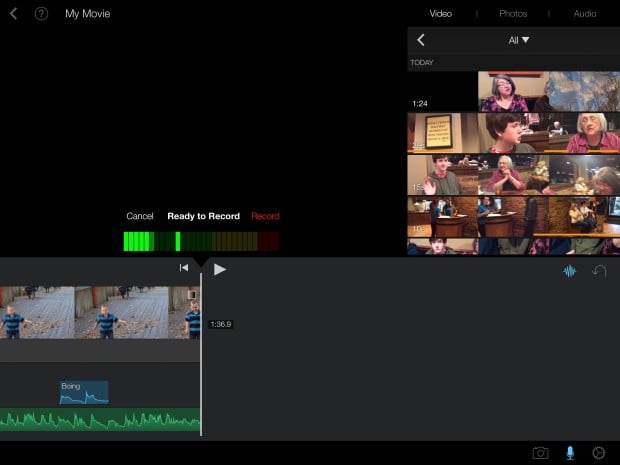 When a user creates a Movie instead of a Trailer, they see the movie editing screen. It's a timeline based system with collected videos from the camera roll in the upper right, the preview window in the upper left and the timeline to edit on the bottom as shown above.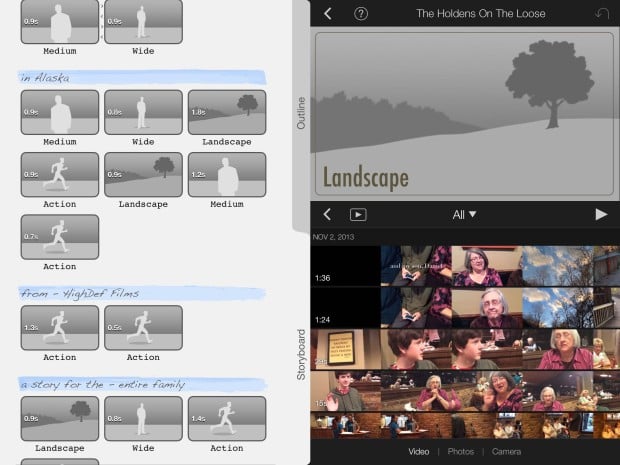 The movie editing section offers nice features for:
Adding audio – music, sound effects or voice overs
Adding photos from the camera roll or photo stream
Shooting new videos and pictures to add
Creating transitions
Editing the look of video with color/exposure correction and filters
Inserting transitions
Fading video/audio in or out
Adding titles (as seen below)
Making a movie with iMovie on an iPad Air is simple and fun. However, we're more likely to shoot the video on an iPhone first and then import it to the iPad from Photos Stream or from a video camera and import it via a Lightning to SC Card dongle or a Lightning to USB dongle.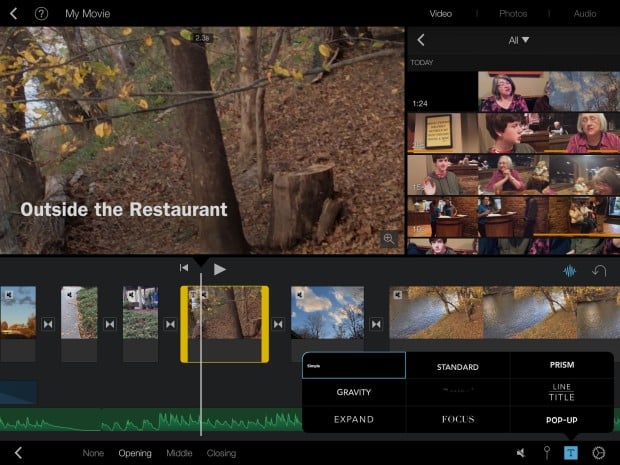 Shooting video and editing it on an iPad Air takes some getting used to. Using a camera or even a phone and editing on a computer takes less time and offers more options. However, for quick and simple edits, I like iMovie and an iPad Air. The newer iPad works faster than the older models and exports the resulting project quickly.

As an Amazon Associate I earn from qualifying purchases.