iPad Air (iPad 5) Release Date & Price Confirmed
As expected, Apple announced the new fifth-generation iPad 5 today, a device that is now known as the iPad Air, will be coming in just a few days to replace the current iPad 4 and join the iPad mini 2 as the company's offerings this holiday shopping season.
Ahead of today's event, rumors suggested that the iPad 5, now called iPad Air, would be coming to replace the iPad 4 with a brand new design that would make the larger full-sized more portable than its predecessors. Apple delivered on those rumors today, revealing a redesigned iPad Air that will be coming with a host of improvements that will make it a big upgrade over last year's models.
The iPad Air will sport a 7.5mm frame, 20% thinner than the iPad 4, and one that weighs just one pound. It will come with a thinner bezel, just like the iPad mini, as well. Apple's new iPad Air will come with the new A7 processor, which will help with performance with gaming and more. The battery life will remain the same and offer users fantastic all day battery life.
It will also come with a brand new iSight camera and will run Apple's new iOS 7 operating system which arrived last month with the iPhone 5s and the iPhone 5c, Apple's new iPhones.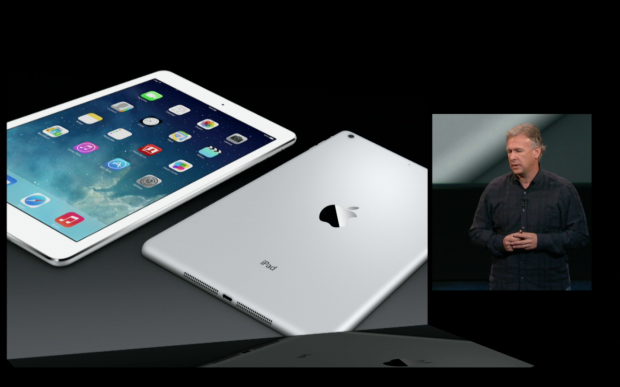 Apple also announced the iPad 5 release date, confirming the device for release on November 1st, just like the iPad mini 2. It will be starting at the same $499 price that Apple has offered for years for its full-sized iPad line. Apple will offer 32GB at $599 and the 64GB at $699. The largest model, the 128GB iPad Air, will start at $799. The LTE version of the iPad Air will start at the same price point as the iPad 4 LTE.
Apple's price point makes the iPad Air just $100 more expensive than the iPad mini 2 which will start at $399, a $70 price increase over last year's $330 iPad mini without Retina Display. The iPad Air's arrival will push the iPad 4 out of the Apple Store and the iPad 2 will stay at $399. Those looking for the iPad 4 should be able to find the device through the refurbished section on the Apple Store.
Unfortunately, it appears that Apple won't be offering a pre-order for those who are interested in the iPad Air and iPad mini 2, the company did not announce a date and its website does not list a pre-sale.