iPad Air Release Date: What to Expect
Finally, after weeks and weeks of rumor, Apple confirmed the expected yesterday, debuting two brand new iPads in the new iPad mini with Retina Display and the new iPad fifth-generation, now called iPad Air. And while the iPad mini 2 release date hasn't been confirmed, Apple has tagged the iPad Air with a November 1st release date. Here, we take a close look at what prospective buyers should expect from its November 1st release.
For much of 2013, iPad buyers have had to deal with rumors pointing to a new full-sized iPad and a new iPad mini with Retina Display. While many buyers simply opted to grab the iPad 4 or the iPad mini, others put themselves through months of turmoil as rumors built the devices up, piece-by-piece, ahead of their launch date.

Earlier this month, Apple finally confirmed the launch date for the iPads, marking October 22nd on the calendar as the day on which it would debut new products. October 22nd was yesterday and Apple did, in fact, debut a host of new products including two brand new iPads that will be coming to shelves this holiday season.
One of those devices is the new iPad mini with Retina Display, a device that brings a new high-resolution display, A7 processor, new iSight camera and a $399 price tag along with it. The other, the iPad Air, also known as the iPad fifth-generation, will be joining the new iPad mini on shelves with a host of upgrades that should help to make it appealing to those in the hunt for a new full-sized tablet.
Apple's new iPad Air retains the same 9.7-inch Retina Display but comes with a frame that is both slimmer and lighter than the one found on last year's iPad 4 model. The company has also outfitted the device with a brand new A7 processor, iSight camera, 4G LTE speeds for AT&T, T-Mobile, Sprint and Verizon and a familiar $499 price point.
The company did not confirm a release date for the iPad mini 2, only saying that it would be arriving later in November. It did, however, confirm a release date of November 1st for the iPad Air. Here, a few days out from its release day, we take a look at what to expect from the iPad Air release date on U.S soil.
Midnight Orders
The iPad Air will go on sale on November 1st. And while Apple or the iPad Air's carriers haven't announced when the device will go on sale, it's pretty clear, based on past iPad and iPhone launches, that Apple will offer up the device starting at 12AM PST on November 1st. What this means is that as soon as the clock strokes midnight, or perhaps a few minutes after that, iPad Air sales will commence.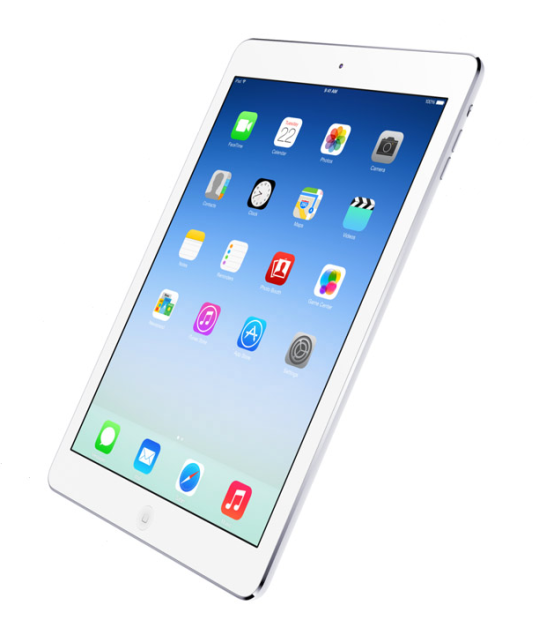 Of course, this is when sales will start online. Those who won't want to or simply can't stay up that late to order their new iPad will be able to head down to a local store to buy an iPad Air. Those who want the device on day one will have to go down and buy the iPad Air in store. While Verizon is apparently testing same day delivery, Apple doesn't offer the option. Instead, the device will roll out to buyers that day and arrive within two business days.
Stores Will Open Early
The company did a poor job of announcing specific details at its launch event. Not only did it not confirmed a midnight start time, it also neglected to provide shoppers with concrete information in regard to what time it would go on sale on November 1st in-stores. Thankfully, we have Apple's website which provides the clue that iPad Air buyers have been looking for.
Buried on Apple's website is a casual statement about November 1st. According to Apple, shoppers will be able to buy the "iPad Air at your favorite Apple Retail Store beginning at 8:00 a.m." This confirms Apple's plans to open its retail stores early to accommodate those that want to get the iPad Air on the first day of availability.
This does not, however, confirm early store openings through retailers and carriers though we do expect them to open their doors early as they do every launch day.
Lines, But Nothing Crazy
Orders will likely start at midnight and stores will definitely open early. So, essentially, it's shaping up to be a typical Apple release day. We don't, however, expect to see the typical release day lines for a couple of reasons. First, while the iPad is a popular device, it's not on the same level as the iPhone. There will be demand, but it won't be as crazy as the demand for the iPhone 5s.
The nail in the coffin is the fact that the iPad mini 2 will be going on sale on a different day. Had these been released together, we could have seen some crazy lines outside Apple Stores. Instead, we think there will be some lines for the iPad Air on November 1st, but nothing like we saw with the iPhone 5s or the iPhone 5.
No Surprise Pre-Order
Those hoping for a surprise pre-order announcement ahead of November 1st are going to be sorely disappointed. Apple would have been wise enough to offer a pre-order date for the iPad Air at its launch event, if there was a pre-order date to offer. And even if it decided not to announce that detail on stage, the website would at least have some kind of hint at a pre-sale.
Thus far, nothing has emerged and we expect Apple to stick to an approach similar to the iPhone 5s release. That means, announcement to release date. So, at this point, those interested in the iPad Air will want to circle November 1st on their calendar, with pen, as it's unlikely to go on sale any sooner than midnight on that date.
Widespread Release
At the event, Apple didn't go into detail about iPad Air retail availability. Fortunately, without Apple's help, the pieces are falling into place and we have a pretty good idea about where the iPad should be available come November.
The Apple Store is a given, it will be available there. However, from the looks of things, it will also be available at AT&T, Verizon and Best Buy as all three of those have put up teaser pages for the iPad Air and they, along with Sprint, should have the device available on November 1st. Right when the device first goes on sale online. We imagine that T-Mobile will join its fellow carriers as well.
These likely won't be the only places to buy as we expect Apple to utilizes a great number of retailers to peddle its wares. Moral of the story, iPad Air shoppers should have a ton of options as far as their shopping needs are concerned.
Minor Supply Issues
Finally, we expect there to be some minor iPad Air supply issues. Ahead of yesterday's event, we had heard that the iPad mini 2 might be in short supply for the holidays, something that was seemingly confirmed by Apple's vague November release date. The iPad Air, however, saw no such rumors and was given a concrete release date, a sign that Apple is confident about its stock.

That said, there is almost always some type of sell out with Apple devices and we expect at least a few of the iPad Air models to get their shipping times pushed back a few weeks, at most. We still recommend buyers prepare to buy the device early as it's possible that demand could take Apple by surprise but at this point, we don't expect any crazy issues.

This article may contain affiliate links. Click here for more details.