Apple released their new iPad Air, the fifth generation of the company's popular tablet, and we picked one up at 8:00 a.m. at the Best Buy nearby.
The new iPad boasts a much lighter and a little smaller hardware design than the iPad 4th gen. In fact a few people we asked agreed that the iPad Air feels about as light as the iPad mini Apple sells for $299.
We unboxed the iPad Air on camera for you to see. Here's what we experienced the first time opening the new iPad Air in Slate Gray with 128GB of storage.
Apple iPad Air Unboxing Video
We also picked up the iPad Air Smart Cover in light blue and unboxed it for you. It's a little darker than the earlier model and looks exactly like the iPad mini design. The magnet seems to hold the iPad better.
Here's that video:
Our iPad Air came with some smudges along the side that we first thought were scratches. Instead the glue from the manufacturing process leaked over the edge. Apple's manufacturers use glue to hold the screen in place. The assembly line people got a little careless with this one.
At this early stage, we're pleased with the iPad Air. We look forward to working with it more. Keep visiting GottaBeMobile for info on the Apple iPad Air.
If you haven't picked one up yet, get one at WalMart, Apple or Best Buy if possible. WalMart offers a price of $479 for a 16GB Wi-Fi only model. We learned that Apple and Best Buy will match that price on the 16GB Wi-Fi model only.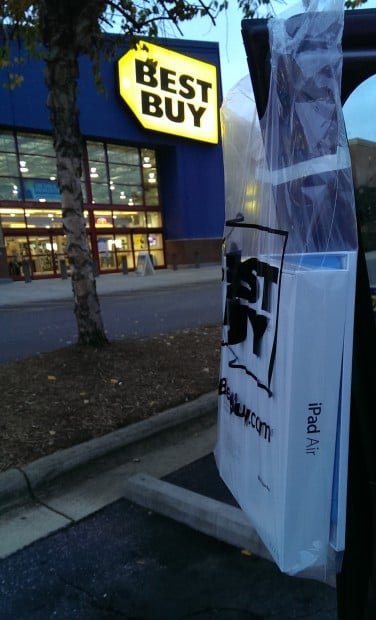 There weren't any lines at the Best Buy near our house and one of our team found that the Apple Store didn't have a lot of people there either.
Tell us about your Apple iPad Air buying experience at various spots.

As an Amazon Associate I earn from qualifying purchases.