iPad Air Unlocked Partially, Not Compatible with All Networks (video)
The new iPad Air with 4G LTE isn't locked down like Apple and its wireless partners would like you to believe. Though Apple and its partners tell buyers that their devices are locked to AT&T, Sprint, T-Mobile or Verizon unless traveling abroad, that simply isn't true. We've confirmed that the iPad Air that comes with an AT&T SIM will also run on T-Mobile's and Verizon's 4G LTE networks. However, the AT&T iPad Air will not run on Sprint's network out of the box.
I bought the 128GB AT&T iPad Air on launch day from the Apple's flagship San Francisco retail store. It came with a nano SIM card installed that is identical to those found in the iPhone 5 and iPhone 5s.The AT&T iPad Air isn't subsidized upfront, but AT&T does offer a $100 credit for those who sign up for a two-year contract. I declined the $100 credit and opted to go month-to-month.
I happen to have a Verizon iPhone 5s, Sprint iPhone 5s and T-Mobile iPhone 5, so I popped out all of the SIM cards and tried putting each into the iPad Air.
The Verizon SIM card worked flawlessly and acquired a strong 4G LTE signal. One intersting thing is that the iPad automatically switched over to Verizon in the cellular settings, which means I could log into my account to check data usage. This suggested that Apple really is selling a single unlocked model.

The T-Mobile SIM card also acquired an LTE signal, but I had trouble loading pages. I noticed that Safari was attempting to redirect to a T-Mobile activation page. It looks like the iPad Air I bought will indeed work on T-Mobile's network, but I'd have to activate it as a new device to get it working properly.
I tried my Sprint SIM card last and quickly learned that my iPad Air wasn't completely unlocked. The iPad Air appeared to recognize the Sprint SIM card and briefly connected to the network, but the device then displayed an "Activation Required" notice. At first I thought this would be an issue like what I saw with T-Mobile, but it wasn't.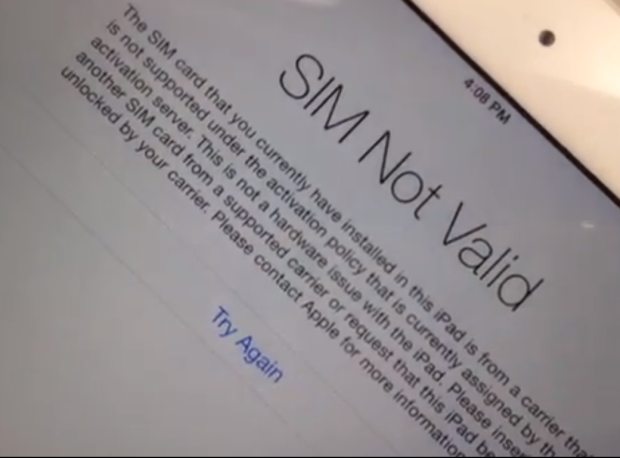 The iPad Air forced me to re-enter my passcode and prompted me to connect to a Wi-Fi network. It then displayed the above splash screen, warning that the SIM was not valid and read:
The SIM card that you currently have installed in this iPad is from a carrier that is not supported under the activation policy that is currently assigned by the Apple activation server. This is not a hardware issue with the iPad. Please insert another SIM card from a supported carrier or request that this iPad be unlocked by your carrier. Please contact Apple for more information.
So in other words, the iPad Air sold with the iPad Air is indeed locked to some degree. For some reason Apple allows the iPad Air to pretend to be an unlocked device so long as you're cheating on AT&T with Verizon or T-Mobile. Insert a Sprint SIM and all of a sudden there's a problem.
The iPad Air is the first Apple device to support all of the LTE bands necessary to support all of the U.S. wireless carriers with a single piece of hardware. Until the iPad Air, Apple launched multiple versions of iOS devices to handle different wireless networks. The single iPad Air 4G model (A1475) supports a total of 14 bands and is compatible with dozens of overseas carriers.

As an Amazon Associate I earn from qualifying purchases.