iPad App Store Updated Ahead of New Hardware Announcement; New Catalogs Cateogry Added
Ahead of Apple's scheduled media event today, the Cupertino, California iOS-maker has updated the way the App Store is displayed on the iPad tablets. The event is slated to bring new hardware refreshes for both the iPad tablet as well as Apple's set-top box in the form of Apple TV.
On the App Store on iPad tablets, the Top Charts feature now scrolls horizontally rather than vertically.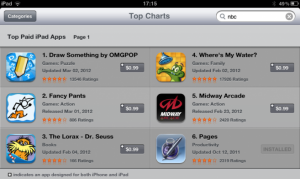 Additionally, Apple has also given catalogs its own separate category. The category is now present in the App Store, but is blank for the time being, perhaps serving as a place holder for new apps that may debut with a Retina Display-capable iPad 3 or iPad HD. Apple's expansion of the category could be a significant move for the company as it tries to enter the consumer and home shopping sphere. After revolutionizing music sales and the way movies and TV shows are distributed digitally, can Apple help retailers reach consumers with the iPad and encroach on popular destinations today like Amazon.com?
"The impact of the iPad in the shopping and publication industries has been massive.  Many thousands of apps have been added over the last 2 years to address the consumers need to interact with their favorite books, magazines and brands within an iPad optimized experience.  Just last week at eTail in Palm Springs, hundreds of retailers gathered to here from thought leaders in the mobile space about how important the iPad is for prospecting, engagement and customer acquisition.  Catalog Spree has been the leader in the catalog shopping app space since first launched in late April 2011.  Until today (the day before the "iPad 3″ launch), Catalog Spree and dozens of other shopping entertainment apps have been categorized in the "Lifestyle" category in the Apple App Store.  Today, Apple has added a new top level category called "Catalogs" to the App Store.  As of yet, there are no listed apps in that category but we expect that to change tomorrow after Apple's "iPad 3″ announcement.  Adding an app category is not something that Apple does lightly and we believe Apple's decision reflects the importance of this usecase in the Apple App Store ecosystem."
Apple could potentially be following distribution models for books, newspapers, periodicals, and magazines with Catalogs by perhaps allowing retailers to create and distribute their own catalogs and advertisements through the App Store. This way, Apple could not only monetize on ad placements within these catalogs through iAds, but can also get a percentage of sales based on what consumers buy. It's unclear what Apple's intentions are for the category and if the company intends on monetizing its new venture. The company had experimented with consumer shopping app in the past with its Apple retail store app, allowing customers to self checkout in retail stores rather than have to wait for a retail associate to help them with purchases.
Apple's changes to the App Store display comes just as Google announced a rebranding of Android Market to the Google Play Store.
Via: 9to5 Mac

This article may contain affiliate links. Click here for more details.