New iPad: AT&T 4G LTE vs. Verizon 4G LTE
The iPad 3rd generation models are the first Apple products compatible with Verizon and AT&T's 4G LTE networks. This is a serious upgrade from the iPad 2's mobile wireless feature since 4G LTE offers speeds that are several times faster than 3G and many wired Internet connections. But which carrier should you choose?
(Read: New iPad Speed Tests: AT&T vs. Verizon 4G LTE)
There are pros and cons to both AT&T and Verizon. Below is a breakdown of the difference between Verizon 4G LTE and AT&T 4G LTE. Each network has its advantages and disadvantages. We suggest evaluating the differences carefully before purchasing your new iPad since you're locked into either AT&T or Verizon once you make the purchase.
Coverage
To start, you should be aware that there's a difference between 4G and 4G LTE. Both types of networks offer speeds faster than 3G, but 4G LTE is far faster than just plain 4G, which is largely a marketing term.
Both AT&T and Verizon Wireless have 4G LTE service now, but AT&T's coverage isn't as wide as Verizon's. AT&T does have wide 4G (non-LTE) coverage and they're rolling out LTE in more cities through the year. While this is a good thing, it's impossible to predict how fast and reliable AT&T's 4G LTE will be in your neighborhood before it's live. As with all wireless networks, speed and reliability can vary from block to block.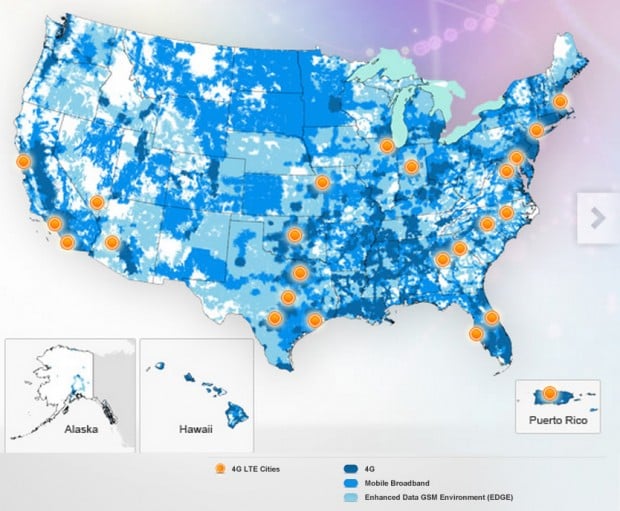 When you look at AT&T's coverage map, don't pay attention to the blue bits. Just look at the orange dots — those are the cities with LTE coverage. As you can see, most states simply don't have 4G LTE coverage.
Meanwhile, Verizon's LTE map is much more extensive, though it does favor the East and Midwest.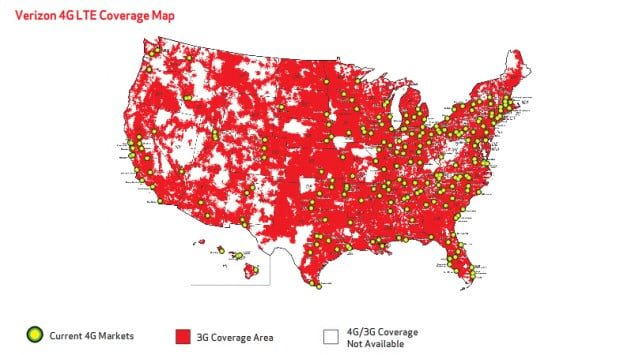 If you don't live in an area covered by AT&T LTE, you should consider going with Verizon Wireless unless AT&T plans to bring LTE to your city within a timeframe acceptable to you.
Network Speed
Since Verizon's LTE network is more mature than AT&T's, there are more people on it. That has an effect on network speeds, though not a major one. In the year since Verizon first rolled out LTE in New York City I've seen a slight decline in speed, though on average it's still faster than what the company promises.
There are only a few devices even capable of accessing AT&T's LTE network, including the recently released Samsung Galaxy Note. Right now this network is very fast — about the same as Verizon a year ago.
I've recorded speeds in different neighborhoods and boroughs around New York City for the past couple of weeks on an AT&T LTE device (Galaxy Note) and several Verizon LTE devices (HTC Thunderbolt, Galaxy Nexus and Samsung Galaxy Tab 7.7).
AT&T's LTE network averaged 18.82Mbps downloading and 11.84Mbps uploading. The fastest tests usually hit 21 – 24Mbps down and 12 – 14Mbps up.
Verizon's LTE network averaged 17.28Mbps downloading and 12.69Mbps uploading. When the network is fast it's super fast (26 – 27Mbps), though I usually only see these scores in my neighborhood, which isn't as densely populated as many parts of Manhattan or Brooklyn. The highest upload scores are between 12 and 14Mbps.
In the video below you can see our new iPad speed test, a head to head comparison of AT&T 4G LTE and Verizon LTE in San Francisco.
Plans and Pricing
Most of the data plan prices haven't changed from the iPad 2 even though 4G LTE is dramatically faster than 3G. The exception is that AT&T now offers 3GB for $30 instead of just 2GB. iPad owners still have their choice of three AT&T plans and four Verizon Wireless plans. Just as before, these are month-to-month plans. This means you don't have to sign any long-term contracts that lock you in for two years.
| | | | |
| --- | --- | --- | --- |
| Carrier | Data Per Month | Price | Price Per GB |
| AT&T | 250MB | $14.99 | $59.96 |
| AT&T | 3GB | $30.00 | $10.00 |
| AT&T | 5GB | $50.00 | $10.00 |
| Verizon Wireless | 1GB | $20.00 | $20.00 |
| Verizon Wireless | 2GB | $30.00 | $15.00 |
| Verizon Wireless | 5GB | $50.00 | $10.00 |
| Verizon Wireless | 10GB | $80.00 | $8.00 |
AT&T's 250MB per month for $14.99 plan is the least expensive, but the worst deal. It's very easy to hit this low of a data limit, especially on 4G.
iPad owners get access to a data tier on Verizon Wireless that customers on other devices don't: $20 for 1GB per month. If you're looking for a low-cost bargain and don't use much data, this is a better choice than the least expensive AT&T option.
AT&T jumps up to 3GB from the lowest plan. At least you're getting a better cost per GB, and it's better than Verizon's $30 tier, which only offers 2GB. Both carriers have a $50 for 5GB plan. Verizon offers one further tier: $80 for 10GB.
If you want to keep costs down, Verizon is the way to go. If you intend to use a lot of data, Verizon is also the better choice. If you plan to stick to 2GB or 3GB, AT&T wins out. But Verizon at least gives you more options. And then there's this:
Mobile Hotspot
Apple announced that the new iPad is capable of mobile hotspot functionality, but they didn't promise their carrier partners would offer it.
Initially there was some confusion on this issue similar to what we saw when the iPhone with mobile hotspot capability launched. But yesterday Verizon Wireless confirmed that the feature will work on the Verizon 4G LTE model and that it won't cost any extra money.
(Read: Mobile Hotspot Included in Verizon's iPad 4G LTE Data Plan)
This applies to all data tiers from 1GB up to 10GB (I suggest the 5GB or 10GB if you plan to use the hotspot much). No need to call for activation or pay $20 more per month. This is a better deal than Verizon Wireless smartphone customers enjoy since they do have to pay more for this feature.
By contrast, AT&T says that they aren't offering the mobile hotspot service right now. Since the iPad is hotspot capable it is possible for AT&T to change their minds at a later date. Keep in mind that, right now, only AT&T smartphone customers with the 5GB plan can activate the hotspot feature, so this may be true for the iPad as well if the carrier changes its mind.
Hopefully this has helped you make a decision between AT&T and Verizon for your new iPad.

As an Amazon Associate I earn from qualifying purchases.