iPad BookArc Stand from TwelveSouth Review
TwelveSouth makes a great iPad stand called the iPad BookArc Stand. It is a solid piece of aluminum bent into an arc that stands up and holds the iPad or iPad 2 in the cutout down the middle of the stand. It has a silicone insert that protects the iPad from the metal so you don't scratch the device while placing it in the stand.
There are two different inserts, one for the naked iPad or iPad 2 and one that fits when the iPad is in a narrow case or the iPad 2 Smart Cover. The four silicone feet on the stand keep it stationary even on the slickest of surfaces. We placed it on wood, metal, and glass and it did not slide around at all.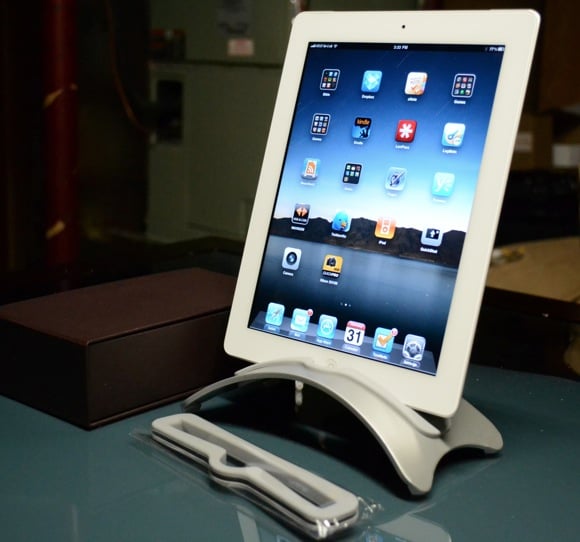 We really like the BookArc stand even though it is limited compared to a case stand that travels well with the iPad. But for setting up the iPad for use on your desk, it is a great solution. And while it is heavy enough to be sturdy and hold the iPad securely, it is light enough that you could carry it around. We could see people using the stand to hold the iPad as a presentation tool at trade shows in their booth. It looks very professional.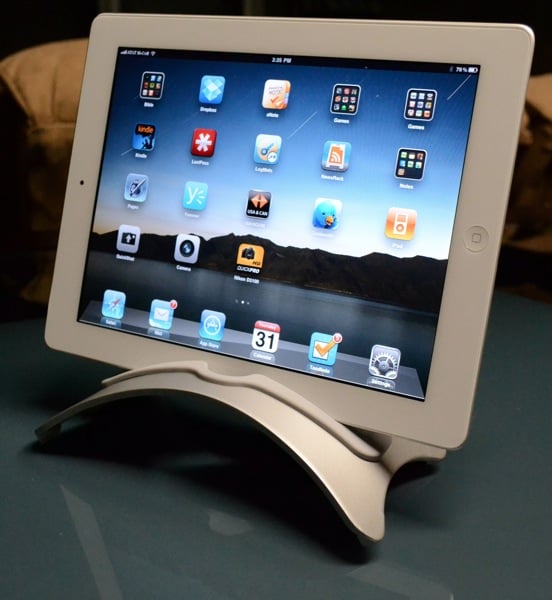 We like that it works in both portrait and landscape modes. It does allow for users to have their ipad at a full 90 degree angle for times when it is best to have the iPad straight up. But the second mode tilts back slightly, which is better for when you want to use the iPad as a monitor with an external Bluetooth keyboard, like a computer or for viewing video or slideshows.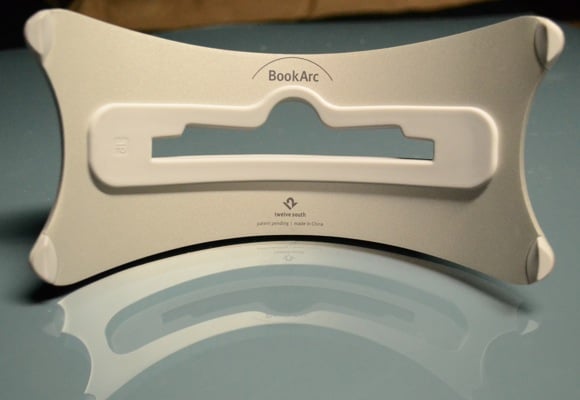 The cutout has room for the charging cable to go down into the stand so that you can keep it hooked up to a power source or a computer while in the stand. Above you can see the hole. Above that is a picture with the iPad in the stand. You can see how the hole allows room for the cable even with the iPad is in the stand. You should turn the iPad around so that the cable is not as noticeable.
Video Review of the TwelveSouth BookArc Stand:
The BookArc stand is available now for $29.99 from TwelveSouth. That is a surprisingly reasonable price since most Apple product accessories seem to be at least $40 to $50. The company also makes BookArc stands for the MacBook Pro and MacBook Air which we reviewed at our sister site Notebooks.com.
Pros:
Sturdy
Looks professional
Non-skid silicone feet hold it in place
Good price
Cons:
Not as portable as a stand case
Only two angles
Gallery: