iPad Cup Holder Mount Is Your New Travel Companion, Great for GPS
The Satechi SCH 121 iPad Cup Holder Mount looks like just the thing I've been looking for to help me use my iPad as a GPS device.
For nearly a year I've struggled to keep my iPad in place on the road. I love the large screen for easy viewing on the road, but because it's bulky I need a good mounting solution. Otherwise my iPad jostles about too easily as I take turns or if some jerk suddenly stops in front of me.
Read: Why I Bought the iPad 3G
The mount fits tablets from 7-10 inches or it will fit your smartphone with one of two included cradles. The base fits into your car's cup holder and the shaft lifts the device high enough to make it easily visible as you're driving and to allow you to put your big 32 ounce Slurpee in the other cup holder.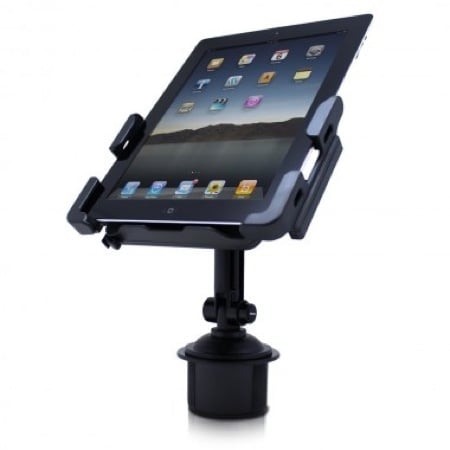 The company mentions the iPad, Samsung Galaxy Tab and Kindle Fire in their press release, but I can't see why it wouldn't work with almost any 7-10 inch tablet. The cradle designed to hold a smartphone will work with your phone inside its case, something many other car mounts won't do. It will fit the iPhone and larger Android devices too.
You can rotate the mount 360-degrees so you or the passenger can easily read the screen. It also tilts 180-degrees on both vertical and horizontal axis. The base expands to secure itself in almost any sized cup holder.
Order yours for $29.99 at either Satechi.net or Amazon.