iPad Fourth-Gen Benchmarks Say It's Faster Than iPhone 5
Apple's new iPad is much faster than the iPad third generation, and even faster than the iPhone 5 in early GeekBench benchmarks according to SlashGear.
The early benchmarks likely come from a journalist who has the iPad fourth generation for review. A similar thing happened with the iPhone 5. These new benchmarks give the iPad fourth generation a GeekBench score of 1757, which is the highest of any iOS device that's taken the test before.
The previous highest scoring iOS device on GeekBench was the iPhone 5, which has a GeekBench score of 1571. The iPad third generation scores much lower at 791.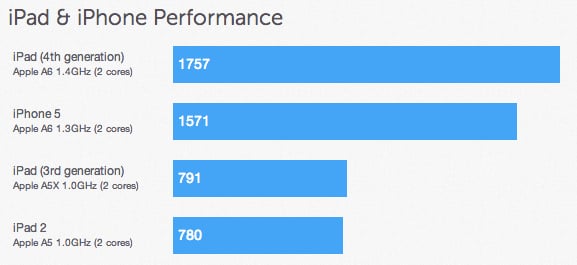 The test confirms that Apple uses a dual-core ARMv7 processor in the iPad fourth generation. Apple calls the chip the A6X. The iPhone 5 uses the ARMv6-based dual-core A6 processor which is a bit slower than the A6X processor.
Both the iPhone 5 and the iPad fourth generation use 1GB of RAM.
The benchmarks show why some users might want to consider upgrading from the iPad third generation to the iPad fourth generation. The better scores won't help users who just want to use their iPad for reading books, magazines, and websites. Users who play a lot of games on their iPad might see these benchmarks as a compelling reason to upgrade, however.
While the iPad third generation introduced the Retina Display on the iPad which made for smoother-looking games, the game lacked some of the detail of the iPad versions. Pushing quadruple the number of pixels really taxes a processor, so it can't render as many details in games like particle effects for smoke. That meant that while games looked nicer and smoother on the iPad third generation the same games on the iPad 2 sometimes had a few more effects to make up for it.
Games should run much more smoothly and look even better on the iPad fourth generation, as soon as developers start to make games optimized for it.
The only other change to the iPad fourth generation is the inclusion of the Lightning port which is now a part of the high-end model of every iOS device and the iPod nano.

As an Amazon Associate I earn from qualifying purchases.